Shine Kon Enterprise Co., Ltd., established in 1983, has been dedicated to development and production of plastic sheet/film production equipment. The company is capable of supplying turnkey equipment to meet customers' special requirements in production.

Since its inception, the company had been producing products in Taiwan until 2003, when it established an affiliate—Shanghai Shine Kon Enterprise Co. with a new plant in Shanghai, mainland China. The company employs 59 workers in Taiwan and another 70 in China.

In addition to self-developed models, the company also accepts orders on the ODM (original design manufacturer) basis. At present, the company's Taiwan headquarters is capable of selling US$10 million wroth of products per year, and its Shanghai affiliate US$5 million.

With the expansion into the mainland, Shine Kon has also revved up product lines to boost its competitiveness in the international marketplace, offering one-stop-shopping services to customers from around the world.

At present, the company's major whole-plant supplies include flexible PVC (polyvinyl chloride) sheet and film plant equipment, rigid/semi-rigid PVC sheet and film plant equipment, PVC leather and sponge leather plant equipment, tarpaulin coating equipment, dry/wet PU (polyurethane) and PVC synthetic leather plant equipment, automatic screen printing equipment, DMF (dimethylformamide) solvent recovery equipment, plant utilities, etc.

Over the past several years, the company has been striving to upgrade production efficiency of its machines. The speed reaches 150 meters per minute for the calendar line, 200M/Min for the coating line, and 30M/Min for the laminating and embossing line.

In addition to turnkey plant equipment, Shine Kon also specializes in such single-unit production equipment such as three-layer laminating machines, laminating and embossing machines, foaming oven and after treatment, knitted and woven cloth binder coating machines, and BOPP coating machines, among others.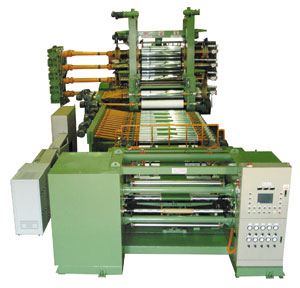 Semi-rigid PVC sheet and film production line developed by Shine Kon.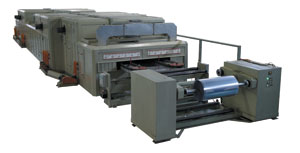 Stretched film machine.
Shine Kon Enterprise Co., Ltd.
Tel: 886-3-329-7218
Fax: 886-3-329-1327
Website: www.shinekon.com.tw
E-mail: sk_sales@shinekon.com.tw