Shiuh-Chuan Machinery Co., Ltd. has impressed its industry with efficient plastic-molding machines. Founded three decades ago, the company supplies machines that help its customers save production costs by allowing them to reduce manual-labor input.

The company entered machinery production line about two years after its launch as a mold supplier when management spotted the quickly growing demand from electronics manufacturers for packaging-foal cushions for protection of their products.

Its model range includes fully automatic pre-expanded foam machines, vertical single-door fully automatic block-molding machines, horizontal single-door fully automatic block-molding machines, fully automatic EPP molding machines, fully automatic EPS/EPE molding machines, and fully automatic EPS/EPE molding machines.

These units have at their core a programmable logic control-based (PLC-based) computer used for the control of materials feeding, heating, cooling, and de-molding, and enable operation of a unit by just one worker under normal conditions.
In addition to single machine units, the company offers custom-design whole-plant equipment.

Among Shiuh-Chuan's clients are the manufacturers which need reliable plastic cushions and insulators to protect their products from damage. These products include household appliances, electronics devices, agricultural-use products, and aquatic products. The firm's machines can also manufacture cushions inside motorcycle seats and inside car bumpers as well as building insulation.

The firm tests its machines at a plastics-processing affiliate. Its widespread reputation for quality manufacturing has resulted in a steady inflow of orders from many of the island's big-name electronics manufacturers, such as picture-tube maker-Chunghwa Picture Tube Co.

Overseas markets currently absorb 90% of Shiuh-Chuan's total output. The company's models go to market carrying the firm's "CS" brand logo.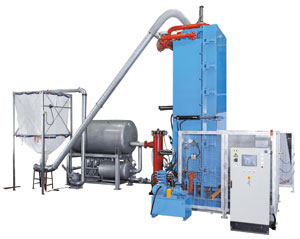 Fully automatic vertical block molding machine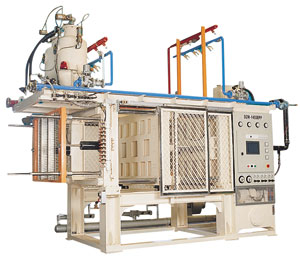 Fully automatic EPP shape molding machine
Shiuh-Chuan Machinery Co., Ltd.
Tel: 886-2-2291-3336
Fax: 886-2-2291-4207
E-mail: foamscm@ms27.hinet.net