Worldly Industrial Co., established in 1995, has been supplying machines under its own "Welead" brand to over 200 clients in 23 nations, with all products approved by ISO9001:2008 and CE Mark.

Partnering with internationally renowned firms has enabled Worldly to gain abundant experience to apply such background to develop innovative design, manufacturing technique, quality management, marketing strategy, and eco-friendly products.

Located in Taichung Industrial Park, central Taiwan, the company focuses on high-quality products and is know for industry-leading accountability. Over the past few years, the company has been dedicated to develop B2B (business to business) marketing services.

In pursuit of good quality and high efficiency of printing machinery, Worldly has developed humanized and automatic operating functions. Through central control system with human-machine interface touch screen and PLC control, plus automatic alarm system, operators can accurately and simply control the printing quality.

Recently Worldly introduced a new model of laminating machine—the multi-functional, high efficient dry-and-wet laminating machine that works on various plastics; while the dual-functional design is especially notable for its capability to save customer's upstart cost.

The Worldly multi-functional laminating machine can help operators increase production efficiency and create infinite advantages as it works on PET, CPP, PVC, OPP, PE, PP, nylon, paper and aluminum foil, with the unit being able to be powered by steam, oil, gas, and electricity.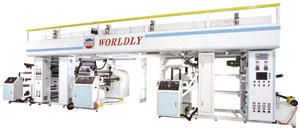 High-speed dry-wet laminating machine developed by Worldly.
Worldly Industrial Co., Ltd.
Tel: 886-4-2359-9850
Fax: 886-4-2359-6625
E-mail: welead@ms17.hinet.net
Website: www.welead.com