Formed by a group of seasoned technicians, Yida Machinery Works Co., Ltd. is a dedicated manufacturer of production equipment for pressing industry, multi-axis tapping machines, etc.

The company's products are widely adopted by the metal-sheet industry. The equipment developed by Yida can help metal-sheet factories upgrade their competitiveness in the international arena by boosting their production quality and slashing production costs.

Aided by sophisticated production equipment and advanced software, the company is capable of providing total solutions to help customers with maximum production efficiency and effective product diversification.

At present, Yida's major product lines are multi-axis tapping machines, screw-hole testing machines, X,Y,Z-axis table systems, vertical riveting machines and horizontal riveting machines, suitable for the production of liquid crystal display TV back covers, LCD monitor back covers, parts for CD-ROMs, PC cases, server appliances, office printers, all-in-one multi-functional printer cases, power supply cases, and other stamping parts.

Yida offers pre-sale and after-sale services to help customers operate the machines in an accurate and effective way. In addition, the company also teaches customers to develop their own abilities to repair and maintain the machines.

To go in line with the wave of the relocation of production lines by domestic manufacturers, Yida has set up sales services strongholds in mainland China in a bid to better grasp the latest development of the lucrative market there.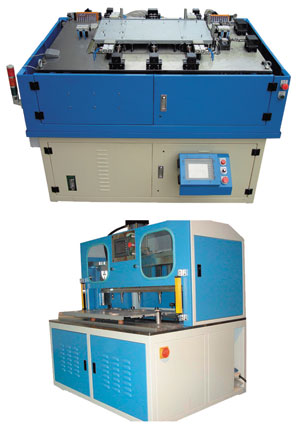 Tapping and riveting machines developed by Yida.
Yida Machinery Works Co., Ltd.
Tel: 886-3-363-9995
Fax: 886-3-363-5787
E-mail: ja@yidatek.com
Website: www.yidatek.com