Yinsh Precision Industrial Co., Ltd. is one of Taiwan's specialized manufacturers of precision parts and components for the national defense, diagnostics, and aerospace industries, such as locknuts for bearings used in a variety of machine tools.

The company has incorporated cutting-edge high-tech thread grinding technology into designing processes to meet the rising requirement for precision thread specifications. The company boasts its precision thread applications to the photoelectrical and precision plastic mold industries have met stringent international standards.

Thanks to its efforts to upgrade the quality of its products through a reliable occupational safety system, the company has been certified to meet such international industrial standards as ISO9001, ISO14001 and OHSAS18001.

The company's precision locknuts can help customers overcome problems in mounting the ballscrew bearings and thrust bearings. Its specially designed precision locknuts feature inner-hole thread which can be finely ground at one time.

With the long-term support of its R&D team, Yinsh is capable of developing innovative products to meet customers' special requirements. At present, the company's major self-developed product lines can be roughly divided into three categories, including YS-series precision locknuts, SBL-series superfine balanced locknuts and SGL-series superfine grinding locknuts. The company also accepts orders on an OEM (original equipment manufacturer) basis.

The company's precision flank locking unit presents a 30-degree thread angle locking function. The unit has an excellent locking design, which makes threads of fixed copper completely mesh with the counter threads, leading to a perfect anti-release effect. Its 30-degree-angle thread design also reduces the torque effect engendered by the tightening of the screw.

Yinsh has exported its products to over 20 nations worldwide, mainly to Japan, Germany, Italy, Spain, the U.S., mainland Chin, and Southeast Asian nations. Its major clients include Okuma Corp. of Japan and DMG Group of Germany.

The company will showcase its latest developed products at the 2009 EMO International machine tool show, slated for Oct. 5-10 in Milano of Italy.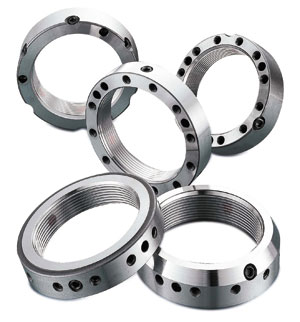 The SBL-series superfine balanced locknuts developed by Yinsh.
Yinsh Precision Industrial Co., Ltd.
Tel: 886-4-2244-7899
Fax: 886-4-2245-2402
E-mail: yinsh168@ms36.hinet.net
Website: www.yinsh.com.tw