Golden Spot Industry Inc., established in 1978, has been well versed in production of a variety of welding machines, and is stepping up development of more automatic welding and soldering machines to meet increased market demand worldwide.

"We have developed much expertise to roll out various types of reliable spot welding machines," says Huang Ching-tung, president of company. " We also welcome the orders on the original equipment/design manufacturer basis."

Currently the company's major products include double housing type spot welder, H-type butt welder, automatic air-pressure spot welder, seam welding machine, various automatic welding machine, mesh welding machine, auto line welding stand, auto rotary stand, micro-computer weld control device, iron shelving whole plant, automatic pneumatic spot welding machine, and other special-purpose welding machines.

Golden Spot boasts its automatic pneumatic spot welding machine is equipped with advanced variable-stroke compressed cylinder with lubricating-oil-free bearing, suitable for high-speed operations. The machine can also save consumption of compressed air.

The company's major export outlets include Malaysia, Thailand, Indonesia, Vietnam, the Middle East and mainland China.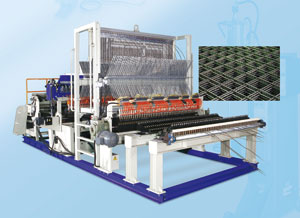 Auto spot welder developed by Golden Spot.
Golden Spot Industry Inc.
Tel: 886-4-2406-5040
Fax: 886-4-2406-1060
E-mail: goldspot@ms24.hinet.net
Website: www.goldspot.com.tw