Brake hoses, hydraulic hoses, PTFE hoses, steam hoses, chemical hoses etc.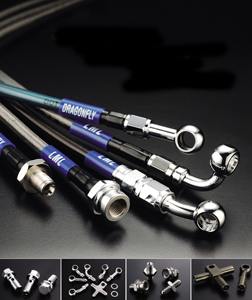 Lung Ming Li supplies high-grade PTFE brake hoses.
Established in 2000, Lung Ming Li Co., Ltd. specializes in hose assemblies for various applications, including automotive, motorcycle, paintball-gun, and others, able to supply a variety of hose types, fitting designs and configurations to meet a variety of demands.
The company's major products include brake hoses, hydraulic hoses, polytetrafluoroethylene (PTFE), or Teflon, stainless steel braided brake hoses for various kinds of vehicles, machinery and other equipment, distributing such items under its own Dragon and Dragonfly brands as well as filling original equipment manufacturer (OEM) orders.
Offering hoses ranging in diameters from 1/8 to 1 inch in any length, this maker adopts Italy-imported Teflon hoses to reprocess into hose assemblies to meet special requirements for fitting, size, and length.
Lung Ming also provides a full range of accessories as PU tubes, nylon tubes, PVC air hoses etc. for pneumatic tools, with its major line being well received by major customers in the U.S., Germany, Japan etc. (QL)
Lung Ming Li Co., Ltd.
Bldg. C, No. 30, Alley 689, Lane 18, Hsinan Rd., Sec. 1, Wujih Hsiang, Taichung Hsien, Taiwan 414
Tel: (886-4) 2335-9090
Fax: (886-4) 2335-9191
Website: www.cens.com/lungmingli
E-mail: lomili.tflex@msa.hinet.net