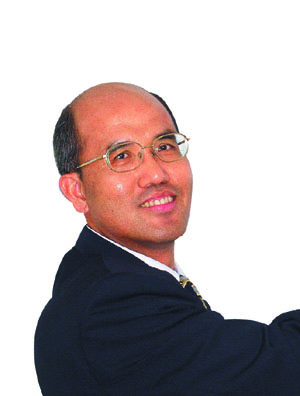 Jet Shu, an automotive expert with more than 22 years of experiences known for upgrading Taiwan`s powered-vehicle lines.
As the optimistic buzz continues to whirl around EVs, the mode of transport that supposedly is seen as the savior of mankind amid equally busy buzz surrounding global warming, with potentially disastrous consequences as rising sea levels that are forecast to inundate even cosmopolitan hubs as London and New York City, the same roadblocks remain, regardless of battery electric vehicles (BEV), hybrid electric vehicles (HEV), plug-in hybrid electric vehicles (PHEV), that stability and performance of lithium-ion cells that power EVs still are far shy of popular expectations. Besides bulk, weight and cost of such batteries, EVs may as well have their plugs yanked without an extensive network of charging stations.
Jet Shu, incumbent chief consultant to the Taiwan Automotive Research Consortium (TARC), the key automotive R&D body in Taiwan that teams four government-sponsored research institutes and the Hua-chuang Automobile Information Technical Center Co. Ltd. (HAITEC), offers some calming views to perhaps shift EVs into the correct, less controversial gear.
Vehicles in His Blood
To say Shu has transportation vehicles in his blood is an understatement, for the man has been in the past 22 years totally involved in various vehicle development projects in Taiwan, including all homegrown powertrain systems to automotive engines (including 1.2L, 1.6L, 2.0L and 2.2L models), powered two-wheeler (PTW) engines, electric scooters, hybrid-power (gasoline/electric) propulsion systems and automotive telematics systems. Formerly an engineer stateside, also at NASA (National Aeronautics and Space Administration) and Ford Motor Co., Shu later was invited to be the deputy general director of the Mechanical Industry Research Laboratories (MIRL) of Taiwan's Industrial Technology Research Institute (ITRI), and then became global managing director of Liteon Automotive Corp., a major, globalized auto-parts company in Taiwan.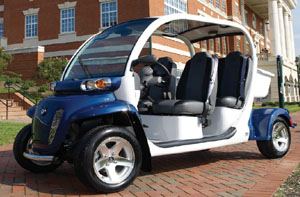 Shu believes the GEM NEV is more practical for EV makers.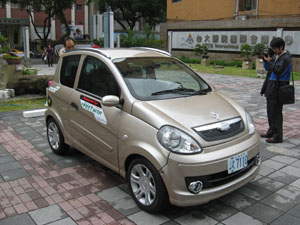 A BEV model by a Taiwanese company is designed for urban transport.
Core Concerns
"I always suggest interested companies or newcomers in the EV industry to first consider two major factors: replacement and creating new values," Shu says with impartiality expected of an industry veteran. "Replacement means EVs' feasibility to replace internal combustion engine (ICE) vehicles by offering similar price, user convenience, and operational costs etc., and creating new value means how EVs can create new business models attractive enough relative to ICE counterparts."
The core issue of "creating new values," in fact, is one that pits battery power against ICE/gasoline or diesel fuels, business models of which have been developing for over a century. To make EVs a global, popular reality, successful EV business models have to be built first, which calls for affordable batteries. "With these first two prerequisites ready, we then have to map out short-, middle- and long-term development plans," says Shu.
Shu says that the most feasible short-term goal is to build EVs for fixed-distance operation, as from A-to-A or A-to-B-to-A, for predictable travels would allow carrying minimal battery mass, a key variable to longer-distance travel.
Mid-term EV development plans, without overlooking existing business models and affordable battery cost, Shu continues, are to turn battery making, selling, distribution and installation a profitable business, just as gasoline stations have become over the last century. No long-term EV plans have been mapped out, says Shu.
Too Far Ahead of Its Time
Being too far ahead of its time is also bad for business, stresses Shu. For example, General Motors's EV1 BEV model was developed in 1991 but by 2000 had been unplugged even with official policy support, with GM losing over US$10 million in that energizing move.
Without so may words, Shu says that being officially recognized and given access to public roads is also instrumental to the success of a new transport mode. The Global Electric Motorcars (GEM), Shu says, a Chrysler company, has been in operation for 10 years. GEM made its first neighborhood electric vehicle (NEV) in 1998, a 48-volt EV for two passengers capable of reaching a top speed of 20 miles-per-hour (mph). The significant breakthrough came less than two months later: the National Highway Traffic Safety Administration (NHTSA) designated the NEV a new class of motor vehicle, or the low-speed vehicle, giving the GEM official status on public roads, only if safety criteria as safety belts, headlamps, windshield wipers, and tempered glass are included.
Further confirming Shu's view, about 110,000 NEVs were sold between 1995 and 2009.
Not to compare power required to pull riskshaws to that for EVs or ICEs, Shu says that the cost for each kilowatt-hour (kwh) generated in lithium-ion power cells used in EVs is about US$1,000, versus US$2 to make one cubic centimeter (cc) of piston power in ICEs or about US$50 for one KW. Emphasizing the virtually formidable cost advantage in China, it takes but only US$0.55 to build 1cc of piston-driven power there, says Shu, adding that the EV market will mature only after the cost for each kwh falls to US$300, for the mid-term development goal, and US$150 for long-term plans.
Create New Value
"Taiwan's future in the global EV business lies in the island's ability to create new value," Shu says, "and players have to know their specializations and target markets."
The Toyota Prius HEV is widely regarded as the best of a successful EV generally, Shu says, but such global appeal did not happen overnight, after all the Japanese car-making giant poured countless manpower, resources into building such technology before achieving commercial success, after some 20 years. "Current battery technology is still too crude to realize what we generally regard as 'affordable' mid-term EV development, which calls for US$300 per kwh of power generation," says Shu.
Inexplicably Shu shares generalities unbecoming of an automotive industry veteran, saying that both Taiwanese and global EV makers have to cope with variables internally and externally to become profitable, and they are only able to do so by meeting most of the prerequisites. This may be his way to warn companies aiming to explore the EV segment, one that may be the talk of global carmakers but is in fact risky.
Advanced Lingo
Attempting to salvage his reputation as a seasoned expert, Shu says that such "factors" are inter-related and in many cases cannot be identified as "internal or external," doing so by delving into his portfolio of "advanced lingo." He notes that generally a company stays well in the "quadrant of high-technology-driven," which is likely to be interpreted as "better to promote conventional techniques" to stand more chances to gain bigger market shares.
Shu continues to keep the discussion at laymen level to minimize confusion, saying that safety, intelligence, and energy-saving are the core, common goals of global makers of transport vehicles. With increasingly more safety rules and laws stipulated by various nations, EV makers have to, despite lacking sufficient experience in lithium-ion battery technology, stay on that ornery saddle, a task similar to a cowboy having to forsake his steed, as familiar as driving ICEs for nine-tenths of the world, to ride instead an electric Super Glide set up for both offroad and street riding.
Also becoming philosophical and diverting from mere technicalities, Shu says that, with most global carmakers' dream to build intelligent modes of personal mobility since the Pony Express days, such development is inevitably correlated to overall economic growth. The man implies that better economic health generates fatter bottom-lines to realize, perhaps more importantly, more room for creative minds, movers and shakers in car-making sectors to invest more resources into new-technology and R&D. With such supply and demand interactions activated and sustained, the cost and price of building intelligent vehicles will inevitably drop, hence becoming more affordable.
Marketing Acumen
Also sharing marketing acumen, Shu says that, despite building EVs as the eco-correct solution amid the many global warming challenges, builders of EVs have to also focus on optimizing product appeal to target niches.
In conclusion and trying to, with debatable success and minimal platitudes, address the particular needs of Taiwanese vehicle makers, Shu says that the operators on the island already have developed considerable techniques that are competitive, especially related to powertrain systems, and should continue to upgrade products and global competitiveness, as well as pay attention to EV-related development, recommending makers to study markets closely before finalizing decisions.