Bright Developments Move Investments in Taiwan's Solar Industry
2010/06/09 | By Ken Liu
Some promising developments are pushing Taiwan's solar-equipment manufacturers to invest in and market photovoltaic (PV) equipment: Encouraging official incentives offered to install PV equipment and bullish industrial outlook in 2010.
The Taiwan government is mandating to subsidize 10-to-500KW PV installations, to a maximum of US$1.5 million per project and US$3,125 per KW using double-sided glass panel and US$2,500 per KW using single-sided panel. Feed-in tariffs (FITs) on solar-power purchase for such range of installations is set at NT$12.97 per kilowatt-hour.
Subsidies for one KW-to-10KW installations is set at US$1,562 per KW, with the FIT being NT$11.18 per KWH.
On average, the FITs are 30% higher than previously projected and ROI on installation is estimated at 5.25%.
The Taiwan Cabinet is working on new formulas to help raise installations to 75,000KW island-wide by the end of this year, up from last year's 11,000 KW.
The global solar market seems bright: Market researcher iSuppli Corp. recently raised drastically its 2010 forecast for solar installations to 13.6 GW or up 93.6% from 2009's seven GW, with the February installation being 8.3 GW.
Branching Out
Such encouraging trends have moved AU Optronic Corp. (AUO), Taiwan's No.1 producer of thin-film transistor liquid-crystal display (TFT-LCD) panels, to branch out into solar-energy, raising exponentially solar-module production capacity to some 250-300 MW by the end of this year. This will likely generate US$312-468 million in revenues this year, making AUO Taiwan's No.1 solar-module producer.
In addition to a solar-module assembly factory each in Taichung of central Taiwan and Tianjin in China, AUO is tooling a factory in the Czech Republic, which will come online sometime this quarter, with annual output set at 100MW in 2011. Industry executives say the factory is the first fully automated solar-module factory in Europe run by a Taiwan company.
AUO has also acquired No.5 silicon-wafer maker M.Setek of Japan to become one of the handful PV-equipment makers capable of supplying polycrystalline silicon in addition to solar modules and systems. AUO has invested over US$343 million to raise output to 7,000 metric tons of polycrystalline silicon at M.Setek, as well as diversifying into thin-film solar field to provide complete range of products.
AUO recently secured a contract to install 6.5 MW of solar systems for an Italian customer, after having supplied 12,000 solar modules to the German city of Hungen. It plans to complete a network of global sales outlets by the end of this year to quickly raise market shares.
AUO was also reportedly to partner with Chery Automobile Co., Ltd. of China in the solar business, which has been denied by both firms. Otherwise Chery would be the first Chinese firm to invest in a Taiwanese solar venture, contrasting the usual vice versa.
Bold Investment
DelSolar Co., Ltd., a solar-energy venture of power-supply giant Delta Electronics Inc., will invest US$289 million throughout 2012 in expansion, aiming to put out one GW of solar cells a year.
Delta is another Taiwanese IT heavyweight, following Taiwan Semiconductor Manufacturing Co. (TSMC) and United Microelectronics Corp. (UMC), to tap significantly the solar-energy market, with its expansion being the boldest solar investment in Taiwan since 2009.
DelSolar run a factory each in the Hsinchu Science Park in northern Taiwan and Wujiang of China. Until the end of last year, the Taiwan factory's capacity was 180 MW of solar cells, where another trial production line for 10 MW of solar modules was added. The China factory will come online this year.
DelSolar will expand on land recently acquired near its Taiwan factory; while Taiwan's insiders regard such investment and a multibillion-NT-dollar solar investment plan in Miaoli County announced by the Hon Hai Group a sign of the photovoltaic industry shifting northward in Taiwan.
Poly-silicon Factory
Real Green Materials Technology Corp. recently broke ground to build a polycrystalline silicon factory, which it claims will become the world's No.1 in 2012. The new factory is reportedly Taiwan's first with integrated manufacturing to refine raw materials and grow ingots.
Designed to have six production lines each turning out 4,000 metric tons of silicon a year, the factory calls for investment of about US$140 million and will come on stream in June 2011.
Real Green aims to make the factory the world's No.3 in the third quarter of 2011and further into the lead in 2012. The investment is driven by a nearby massive market: company executives say China alone had a potential demand for 40,000 metric tons of silicon in 2009, far exceeding global supply of 12,000 metric tons.
Obama Inspired
Sino-American Silicon Products Inc. (SASP) plans to enter the U.S. market for solar modules amid reports that the Obama Administration will start to push for clean-energy bill after winning Congressional approval on the health care bill.
Specializing in crystalline silicon wafers for semiconductor chips and solar cells, Sino-America plans to start by competing for contracts from the Texas State Government for over 10 MW of modules through its Texas affiliate Globitech Inc.
Industry executives believe the United States will emerge as the next prime market for solar energy after Germany, whose solar-energy industry started recovering in the third quarter of last year partly due to surging restocking of solar products after the German government announced reduction of FIT on July 1 this year.
SASP has decided to issue global depository receipts (GDRs) to raise capital for production expansion. But industry watchers say upstream expansion in the PV sector is usually slower than that in the downstream sector, suggesting a sluggish pace for SASP's expansion.
Te company had March revenue of US$44.3 million, soaring 76% year-on-year due to strong demand.
Searing Orders
Orders from the U.S., Europe and China are filling Sun Well Solar Co., Ltd.'s solar-panel production lines throughout the end of 2011, according to Robert Wong, chairman of CMC Group that owns Sun Well.
At the April 29 groundbreaking ceremony of Sun Well's Nanjing factory, Wong said Sun Well, headquartered in Taoyuan of northern Taiwan, had just won contracts to supply Nanjing Municipal Government US$125 million of thin-film solar modules in two years or 21 MW of modules to be shipped-seven MW in the first year and 14 MW in the following year.
The Nanjing factory is to cost Sun Well some US$600 million, with total output to reach 300MW in 2015, and driven by huge demand in China where the solar power market has grown annually over 40% in the past 10 years.
Industry watchers say winning the Nanjing government's contracts sets up Sun Well to better tap China's PV market. Wong notes Sun Well has also secured sizeable contracts from the USA and Europe to keep production running at 80% capacity since this February. Sun Well executives say the Nanjing factory handles the China market whereas the Taoyuan factory will fill contracts from Europe and the USA.
Investing in Shandong
NextPower Technology Corp., a thin-film solar-cell maker mostly held by foundry supplier United Microelectronics Corp. (UMC), announced this April its US$90 million investment to open a production line in the Jining New & Hi-Tech Industrial Park of Shandong Province, the location of UMC's eight other investment proposals including new light-source and solar-energy projects.
The new line will put out 35 MW of thin-film cells a year and will start volume production in mid-2011, which industry watchers see as UMC's further deployment in the solar sector.
NextPower's Jining factory will work with a UMC-invested solar-system supplier in Jining City to tap China's PV market.
NextPower's executives say the company has secured orders to produce 70 MW of solar cells this year for solar power plants in the province, and that production lines are filled and will run at full capacity throughout the second quarter of the year.
The leading foundry Taiwan Semiconductor Manufacturing Co. (TSMC) has a 20% stake in Motech Industries Inc., Taiwan's leading solar-cell maker, to tap the China market. Motech chairman, Simon Tsuo, vowed at a shareholder conference late in May that his company will return as a top-10 PV maker this year after dropping out the list last year. His strategy: Boost output to one GW of cells sometime in the third quarter from the current 800 MW.
Optimistic about the PV market, Tsuo says even the emerging European debt crisis would have limited impact on the market, with Europe contributing around 30% to corporate sales. "Procurement sentiment in European, American and Japanese PV markets remain brisk, convincing me it is still a seller's market in the second and third quarters of the year. Market for the third quarter is even stronger than expectations from increasing orders," he says.
TSMC's 20% acquisition in March has motivated Motech's market deployment, which includes acquiring General Electric's solar-module subsidiary GE Energy to expand market share in the United States. TSMC's acquisition and Motech's good reputation in China, industry executives expect, offer the company advantages in both markets.
In Europe, Motech is partnering with BP Solar International Inc., a photovoltaic venture of oil giant BP Group, to tap the British solar-energy market in light of the British government's FIT offering beginning April this year.
The British subsidy, Taiwan's PV insiders say, specifically targets 5MW-or-smaller solar-power installations: granting 900 pounds each project the first year after installation that will save an estimated 140 pounds in power bills a year, with the incentive to raise popularity of PV installations.
Integrated Factory
Bright market future is prompting Walsin Lihwa Corp., Taiwan's No.1 manufacturer of electrical wires and cables, to invest US$187 million in solar-cell and polycrystalline plants in China, building an integrated factory for its PV business.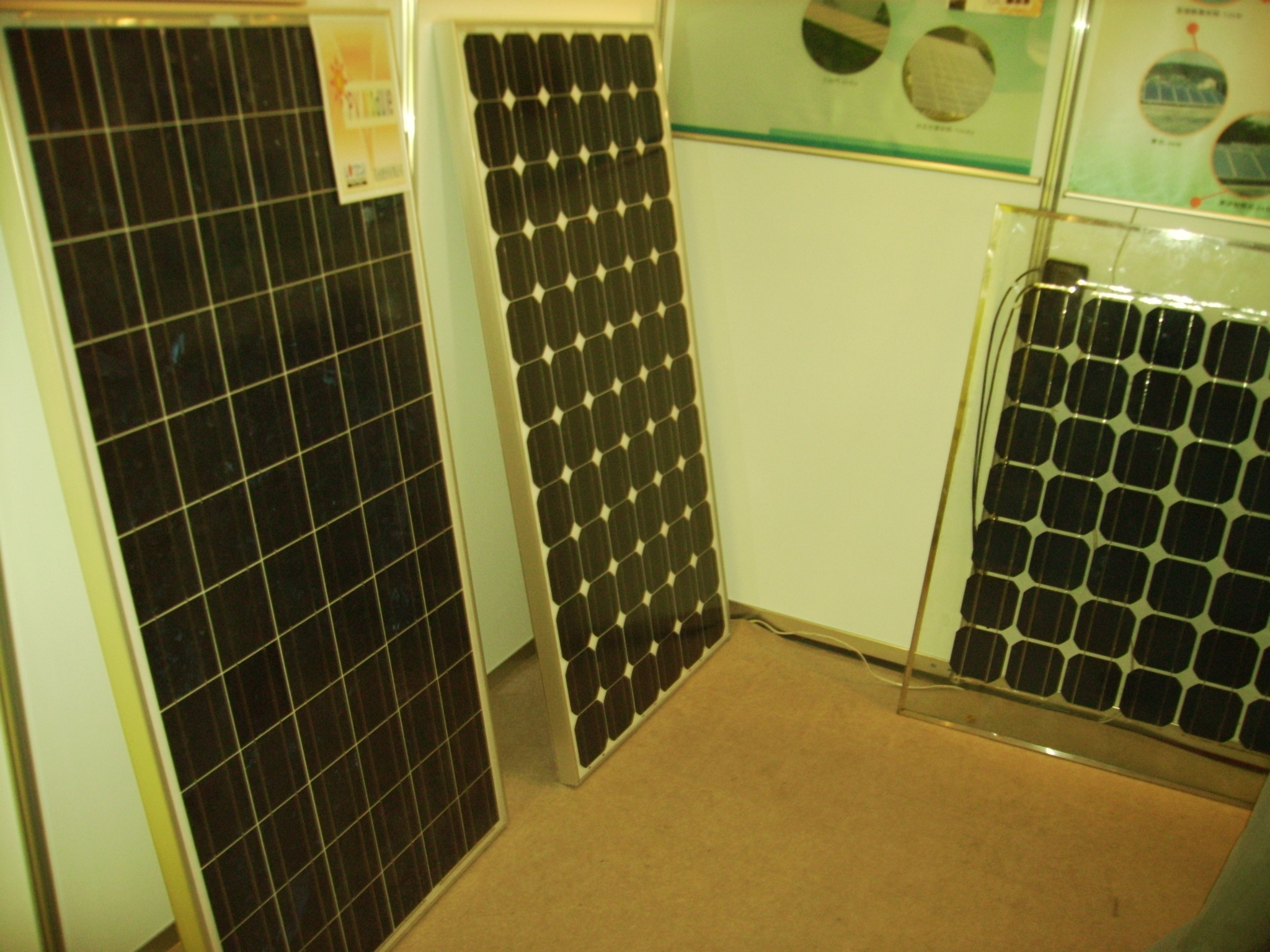 Encouraging developments motivate investments in Taiwan`s PV industry. Pictured are PV cell panels.
Through subsidiary Lead Hero Ltd., Walsin Lihwa fully acquired the solar-cell maker for around US$25 million and 15.05% of the polycrystalline manufacturer, a significant PV investment of around US$160 million planned by the Shannxi Provincial Government.
The solar-cell plant's annual capacity is 20MW while the polycrystalline plant's designed annual capacity is 4,250 metric tons, with the first line already producing 1,250 tons a year.
Industry executives say that Shannxi has become home to Walsin Lihwa's renewable-energy investments in addition to LED manufacturing, predicting such investments in solar production facilitate corporate growth in renewable-energy business in China.
Capacity Expansion
High demand is pushing Green Energy Technology Inc. (GET), a crystalline silicon venture owned by the Tatung Group, to expand capacity again after completing one expansion project in the first quarter, with its output to be raised to one GW of silicon by the end of this year from the first-quarter's 410 MW. Company president H.L. Lin says flooding orders are forcing its second expansion ahead of schedule.
The company on May 19 announced it would double capital expenditure for this year to approximately US$125 million.
Based on bold expansions launched by Taiwan's PV manufacturers, the Ministry of Economic Affairs recently forecast the island's PV industry revenue to soar to US$14 billion in 2015, up from 2009's US$3.16 billion.
However, the Photovoltaics Technology Center of the government-backed Industrial Technology Research Institute says, despite Taiwan's ranking as globally No.4 supplier of solar cells that generated over 70% of 2009 revenue, the island's PV industry needs to master PV material and production-equipment making technologies to achieve the 2015 goal.