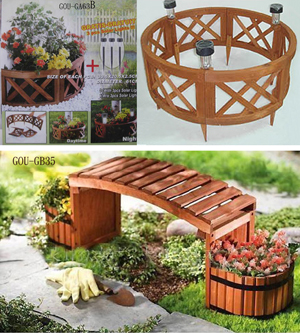 Established in 1989, G.O.U International Co., Ltd. has been dedicated to supplying various houseware items, indoor/outdoor furniture, garden/home ornaments, metallic wire products as well as lighting fixtures.
Backed by a strong R & D team and numerous reliable subcontractors, the company can provide buyers with almost all kinds of housing and garden items they need. Its products are made on the OEM and ODM basis, as well as sold under own brand "Good for You".
Recently the company has developed innovative garden fence that can be assembled into different sizes and patterns. The fence is made mainly of wood and installed with energy-saving LED lamps that use solar-powered batteries.
G.O.U. International Co., Ltd.
4th Fl.-2, No. 666-6, Chunghua Rd., Sec. 2, Taipei, Taiwan 108
Tel: 886-2-2301-9276
Fax: 886-2-2301-9276
E-mail: b1567007@ms18.hinet.net
Website: www.gouhousewares.com or www.gouhousewares.com.tw