In the fourth quarter of 2010, the flat panel display (FPD) industry in Taiwan turned out NT$383.66 billion (US$12.79 billion) of products, a 11.2% quarter-on-quarter (QoQ) decline and a 2.2% year-on-year (YoY) decrease, according to the government-sponsored research project IEK-ITIS (Industry & Technology Intelligence Services).

FPDs made up NT$261.12 billion (US$8.7) billion of the total production value, a 10.3% QoQ decline or a 5.9% YoY decrease, with FPD parts and components contributing NT$122.54 billion (US$4.05 billion), a QoQ decrease of 13.0% but YoY increase of 7.0%.

Large-sized, or over-10 inch, thin film transistor-liquid crystal displays (TFT-LCDs) contributed NT$214.3 billion (US$7.14 billion) to the overall production value, while small- and medium-sized TFT-LCDs contributed NT$39.85 billion (US$63.67 million).

Color filters accounted for NT$27.64 billion (US$921.3 million), polarizer for NT$20.5 billion (US$683.3 million), glass substrates NT$42.19 billion (US$1.41 billion), and backlight modules NT$32.2 billion (US$1.07 billion).

Panels
The IEK-ITIS says that the production value of large-sized TFT-LCD panels slid modestly from the previous quarter in the fourth quarter, a traditional high season, due mainly to the steadily falling TV-panel quotations and weak demand from the U.S. and Europe market in the season, leading to a QoQ value decline of 11.8%. From the end of the third quarter of 2010, prices for information technology (IT) panels, including notebook PC and monitor panels, began a stable recovery after panel manufacturers adjusted capacity utilization.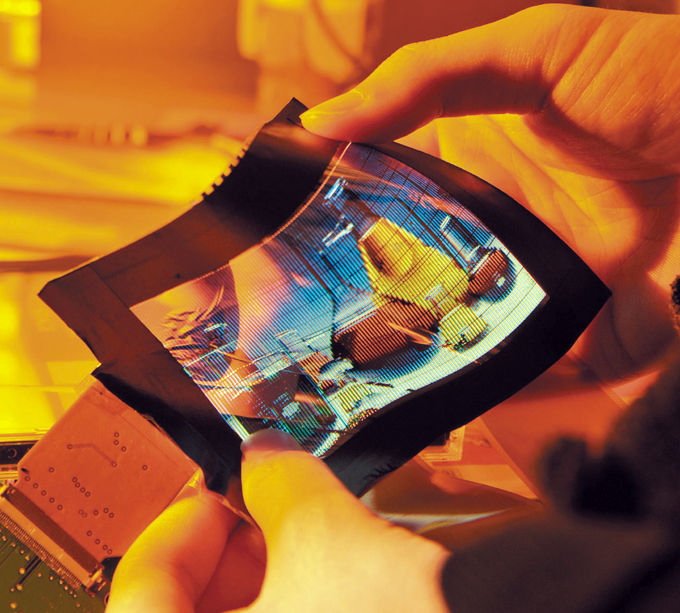 A flexible AMOLED developed by Taiwan`s Industrial Technology Research Institute.
In the fourth quarter, demand for IT panels weakened somewhat, but stable quotations more or less helped panel manufacturers maintain profitability. Prices for TV panels, however, bucked the downtrend but still saw a US$1 to US$5 monthly price drop in the fourth quarter. With the relatively weak purchase willingness in the Christmas shopping season, coupled with slowing inventory adjustment in Chin, sales revenues of TV panels clearly declined QoQ.
With the fourth quarter a traditional high season for small/medium-sized panels, and the penetration of more-affordable smartphones having been rising and sales of tablet PCs rising but still in its infancy, Taiwanese suppliers of such displays saw a minor QoQ decline of 2.6%.
Shipments of OLED panels in Taiwan declined 4.0% QoQ or decreased 1.0% YoY, coupled with seasonal effects on shipments of passive-matrix (PM) OLEDs, which resulted in the inability of Taiwanese suppliers' shipments of higher-end active-matrix (AM) OLEDs to significantly raise the production value of the FPD industry.
The overall turnover in the TN/STN panel sector in Taiwan continued to drop 5.5% QoQ and 29.1% YoY in the fourth quarter, to which the IEK-ITIS attributes makers' exodus or transformation into production of touch panels.
Key Parts
The production value of the FPD key-parts sector fell sizably QoQ by 13.0%, against improving YoY increase of 7.0%.
The color filter production value dipped 10.2% QoQ and 15.0% YoY in the fourth quarter due mainly to weaker demand in China, coupled with system makers' parts inventory adjustment, and the shrinking North American demand.
The production value of polarizers declined only 0.6% QoQ but increased 76% YoY in the fourth quarter, due mainly to strong demand from the tablet PC sector, though somewhat offset by still flat demand in the LCD TV and monitor sectors.
The glass-substrate production value in the fourth quarter declined 2.6% QoQ but rose 11.3% YoY, showing a leveling off in the high season.
Affected by the global inventory adjustment of terminal products, which led to a weak demand for panels in the fourth quarter, the production value of the backlight modules sector dropped 30.2% QoQ and 0.9% YoY. In addition to weaker-than-expected sales of terminal products in China, as well as increasingly more terminal products now rolled out in LCD module (LCM) plants, demand for backlight modules decreased.
Major Events in Q4
With local Chinese FPD manufacturers to kick off production at 8.5G facilities as well as increasingly more Taiwanese and Korean players having entered or plan to enter the huge China market by setting up new-generation panel factories, panel production is expected to peak in 2013.

According to Chinese media, several banks signed a syndicated loan agreement totaling US$1.28 billion with Shenzhen Huaxing Guang Electronic Technology Co., Ltd., a joint venture set up by the Chinese home-appliance maker TCL Corp. to manufacture 8.5G TFT-LCD panels. Industry sources say that the new Chinese TFT-LCD panel maker can now proceed in its operations without worrying about financing.

Huaxing Guang is scheduled to start trial production in the third quarter of 2011, and full mass production by late 2012, when about half of its output will be supplied to the TCL Group. About half of the construction of the company's 8.5G facility, which started in November 2009, has been completed.

The most active TFT-LCD companies in China wielding next-generation technologies are Beijing BOE Optoelectronics Technology (BOE OT) and Huaxing Guang, which are expected to start mass production at their 8.5G plants as early as 2011 or 2012, and full-capacity manufacturing in 2013. If Taiwanese and Korean panel suppliers successfully set up new-generation panel fabs in China, then 2013 looks set to be one filled with fierce competition.



Increasingly more TV set makers have tied up or plan to tie up with TFT-LCD panel suppliers to set up LCM plants, which will encroach on the survivability of backlight-module makers.

Overall, the number of independent LCM plants set up by panel makers has been decreasing, with the number of LCM joint ventures between panel makers and downstream system makers increasing. Such trend is seen now not only in Europe but also Latin America, showing especially TV makers' intention to assemble LCMs in-house.

Such trend is expected to drive backlight module suppliers to seek partnerships with system makers to assure order and profit potentials, as well as entry into notebook PC and TV manufacturing. Ultimately manufacturers of backlight modules may have little options than to find new, core competitiveness as well as new strategies to survive amid the changing, fierce challenges.



BenQ Materials Corp., founded in 1998, is the world's top-four polarizer manufacturer whose product range covers polarizers, optical discs, optical films, solar-cell modules, and medical materials.

The seasoned maker has been gradually refocusing, turning to the polarizer field and withdrawing from the optical-disc business (now accounting for only 7% of overall revenue). BenQ Material's share of the global polarizer market is expected to reach 12% by the end of 2011.

Backed by core technologies in materials as well as polymer coating and rolling techniques, BenQ Materials is aggressively diversifying into new business as 3D and touch panels, green energy and healthcare products. The firm's product diversification, also seen at Chi Mei Materials Technology Corp. and affiliate of Chimei Innolux Corp. ( the largest TFT-LCD panel manufacturer in Taiwan), suggests clearly local panel makers' strategy to vertically integrate.
Prospect
The IEK-ITIS says that in the fourth quarter of 2010 the global FPD market was not as buoyant as originally expected for the traditional high season. Two major factors lie behind such flat performance, with the first being the sluggish consumer purchase willingness in Europe and the U.S. due to persistently high unemployment and second the lower-than-expected terminal-product sales in China. However, IT panel price falls have come under control by the end of the fourth quarter of 2010, contrasted against the steadily declining TV panel prices.
With the first quarter being the traditional off season for the global FPD industry and the shortened number of work days in the Chinese New Year holidays in Taiwan, the research project predicts Taiwan's FPD production value will decline modestly to NT$210 billion (US$7 billion) in the first quarter of 2011.
Shipments of small/medium-sized TFT-LCD panels are expected to increase in the first quarter due to rising popularity of smartphones, with some Taiwanese companies to start supplying panels to non-iPad tablet PCs. The production value of small/medium-sized TFT-LCD panels is forecast to rise 2% QoQ to NT$40.53 billion (US$1.35 billion), with OLED's production value forecast to continue falling to NT$1.8 billion (US$60 million), and TN/STN production value to continue declining by 4% to about NT$4.77 billion (US$159 million).
In the first quarter of 2011, the production value of color filter is expected to increase 1% QoQ to NT$27.92 billion (US$930.6 million) due to demand from the tablet PC sector as well as makers' move to produce more touch panels to enhance revenues.
The production value of polarizers, due to the lesser number of workdays in February, is expected to decline 5.2% QoQ to NT$19.44 billion (US$648 million); while that of glass substrates might drop modestly to NT$40.93 billion (US$1.36 billion) if the terminal-product inventory in China is adjusted reasonably.
With demand for terminal products equipped with LED backlighting expected to rise rapidly, the product value of backlight modules is expected to increase to NT$33.62 billion (US$1.12 billion) in the first quarter.
Taiwan's FPD Production Value (Q3, 2009-2011).