CMC Aims to Sell 20,000 E-scooters in 2011
2011/04/08 | By Quincy Liang
Taiwan-based automaker China Motor Corp. (CMC), the local assembler of Mitsubishis, recently said its self-developed electric scooters are winning overwhelming response in Taiwan and overseas.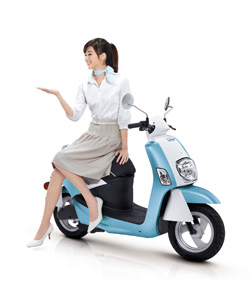 A e-scooter model pushed by CMC under GreenTrans brand.
CMC has been developing electric scooters in recent years, partly to build division-of-labor and engage in electric transportation vehicle, with its parent Yulon Motor Corp., which has developed at least two full-electric passenger cars.
H.T. Liu, executive vice president of CMC, said that his company sold some 3,400 electric scooters in Taiwan in 2010, with the annual volume expected to rise to about 20,000 units this year, also adding that the maker will soon export e-scooters to Europe.
Liu said that the stable supply of lithium-ion batteries is critical to successful mass production of e-scooters, while CMC has been trying to build a secure supply.
In 2010, Liu said, CMC had over 60% of Taiwan's e-scooter market or even a 90% share in consumer e-scooter purchases, reflecting the highest confirmation among Taiwan's buyers.
The continual relevance and sensitivity of environmental protection has helped to capture attention in Europe of CMC's e-scooters. According to Liu, a Dutch company recently ordered on-trial 300 CMC e-scooters and is negotiating to become CMC's general agent in Europe.
Liu explained that the Dutch buyer bought CMC e-scooters over six months ago and has been impressed by their quality and durability.