Topology Research Institute (TRi), the largest private market research firm in Taiwan, recently predicted that global shipments of liquid crystal display (LCD) TVs would reach 210.9 million units this year, up 16% from 2010. Shipments to emerging markets are expected to reach 115 million units, accounting for 55% of the total, outstripping shipments to developed markets (about 96 million units) for the first time.

TRi research manager C. W. Chang said that several favorable factors are expected to further stimulate global demand for LCD TVs this year, including increasing demand from emerging markets, continued subsidies for home-appliance purchases in China, stable replacement demand in the U.S. and Europe, and new demand stimulated by the advent of smart TVs.

Global LCD TV shipment forecast (2008-2013)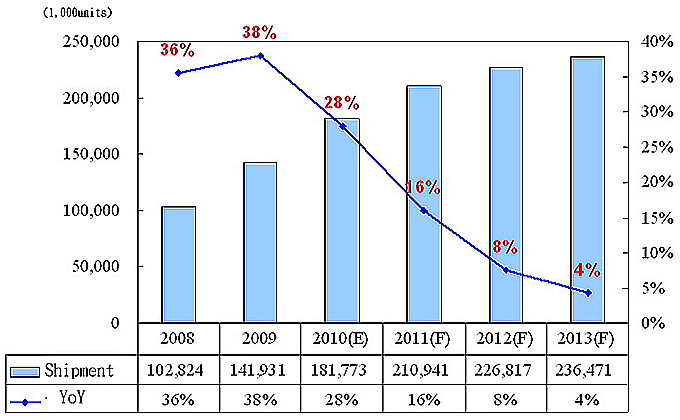 Source: TRi.
Thanks to increasing contract-assembly orders from Japanese and Korean manufacturers, Taiwan's LCD TV shipments in 2011 are expected to increase 34% and the island's share of the global market is expected to rise to about 30%.
Taiwan's LCD TV shipment forecast (2008-2013)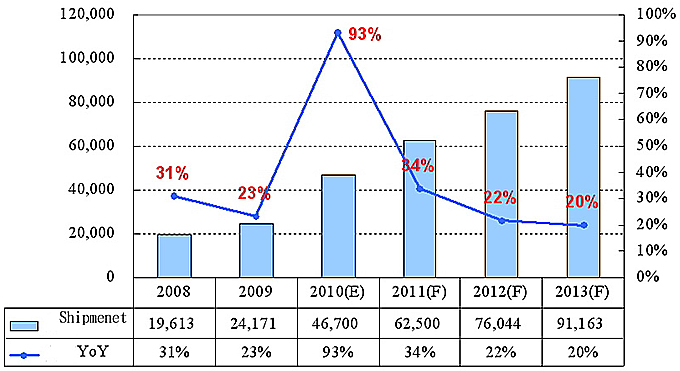 Source:TRi, December 2010.
The penetration of light-emitting diode (LED)-backlit LCD TVs will top 50% this year, while the glitter of three-dimensional (3D) TVs—a focus of major consumer-electronics shows worldwide in 2010—might be eclipsed by the smart TVs introduced by Google, Apple, and other companies. The environment of the LCD TV software sector is also expected to undergo major changes.
Era of Smart TVs
Samsung unveiled its Internet-connected TV at the Consumer Electronics Show (CES) in January 2010, and put the products on the market last March. The inauguration of its own applications store followed in July. At the IFA (Internationale Funkausstellung) show in Berlin, Germany in September 2010, smart TV and 3D TV were the most eye-catching thin-TV product categories. TRi believes that in the future, smart TVs will have not only basic Internet functions such as website and video/audio browsing, but also search and application-software utility as well as other functions.
Samsung, Sharp, and LG are expected to jump onto the smart TV bandwagon this year, TRi said. In conjunction with the increasing popularity and maturity of optical-fiber networking, as well as video-on-demand (VOD) and online movie rental, the company added, smart TVs will be the most brilliant stars among all LCD TV technologies in 2011. TRi predicted that shipments of smart TVs would reach 25.62 million units this year, accounting for 10.3% of the overall LCD-TV market. Shipments of 3D TVs are expected to experience more limited growth, to about 11.75 million units, due to their higher unit prices and lack of 3D content.
The research firm noted that in the past, most LCD TV interface software was jointly developed by vendors, assemblers, and chipset suppliers. In the future, after Google jumps into the development of Internet TVs, the company's Android and Chrome software is expected to directly cover various applications such as Kernetl, Application/Middleware, and Shell GUI, leading to major changes in the LCD TV software segment.
Growing Shipments from Taiwan
Thanks to increased outsourcing by some major Japanese and Korean TV manufacturers, first-class LCD TV contract assemblers in Taiwan, including Compal Electronics Inc., Wistron Corp., and Hon Hai Precision Ind. Co., enjoyed growth rates above 70% in 2010.
This year, TRi said, Taiwan is expected to ship about 62.5 million LCD TVs. Pegatron Corp., AUO BriView Technology Corp. (a subsidiary of the local TFT-LCD panel maker AU Optronics Corp.), Hon Hai, and Wistron are expected to be the top-four producers.
The rise of smart TVs is expected to bring lucrative business opportunities to Taiwan's TFT-LCD panel, intelligent remote controller, and WiFi industries, according to TRi.
Q4, 2010 Worldwide TV Shipments by Type
(unit: 1,000)

Type

Q4 2010
Units

Q4 2010
Share

Q/Q
Change

Y/Y
Change

LCD TV

63,506

81.8%

39%

26%

PDP TV

5,662

7.3%

17%

20%

OLED TV

0.4

0.0%

159%

-1%

CRT TV

8,358

10.8%

-10%

-32%

RPTV

65

0.1%

80.6%

28%

Total

77,592

100%

30%

15%

Source: DisplaySearch Quarterly Advanced Global TV Shipment
and Forecast Report