The Neo Solar Power Corp. (NSP) rebounded from a net loss of NT$5.99 per share in 2009 to earn NT$11.55 per share in after-tax net income last year, despite an excess of supply in the market. Quincy Lin, corporate chairman of the solar-cell maker (and former senior vice president of the Taiwan Semiconductor Manufacturing Co., the island's top silicon foundry), is confident of the company's prospects for 2011 although the supply glut will continue haunting the industry.

"NSP has three unmatched advantages to assure its prosperity," Lin comments. "First and foremost, we are the only manufacturer in Taiwan's solar-cell industry to integrate solar-technology specialists and semiconductor talent from the very beginning of our operation, putting us technologically ahead of our rivals. Secondly, our quality is superb, thanks to our diligent efforts. Finally, our manufacturing costs are not higher than those of our rivals in mainland China, thanks to our partnership with upstream manufacturers."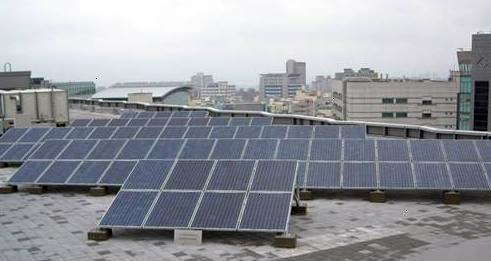 Arrays of solar panels installed on top of NSP headquarter building.
Among the company's major shareholders are DRAM chipmaker PowerChip Semiconductor Corp. (PSC) and electronic-materials maker Wafer Works Corp. The company depends on Wafer Works for most of the crystalline wafers it uses as raw materials for making its cells, but has contracted LDK in mainland China to supply 40% of the wafers it needs.
Lin's optimism about the company's 2011 operation has a solid foundation. The company announced on March 1 that its revenue for February reached an 11-month high of NT$2.44 billion (US$81.5 million at NT$30:US$1), a sharp 171% rise from the same month of last year. This was an outstanding result, Lin notes, since the company has added no capacity and had fewer workdays in February because of the Chinese New Year. "Our production lines had been running constantly at full capacity over the past two months, supporting our expectation that operations for this quarter will set a new record," Lin reports. Revenue for the first two months of the year totaled NT$4.88 billion (US$162 million), shooting up 160% year on year.
Since its founding in February 2005 to the end of last month, the company had shipped a total of more than one gigawatt of cells (Polycrystalline-based solar cells contribute over 90% of the company's revenue), making it the world's No. 5 solar-cell maker. Major export destinations are Europe, which has absorbed 55% of the exports; mainland China, and South Korea.
The company's ultimate goal is to be No. 1 in the world, a status that it hopes to achieve by its plan to boost production capacity to 4.2 gigawatts a year in four years. The first step in the plan is to ramp up capacity to 1.3 gigawatts by the end of this year, up from 830 megawatts now.
"After that," Lin notes, "our Tainan factory [located in the Southern Taiwan Science Park] will boost its capacity to 3.7 gigawatts in three years, making it the world's biggest single factory in the line." The company's operations center in the park will generate revenue estimated at around NT$140 billion (US$4.6 billion) a year as soon as its NT$30 billion (US$1 billion) expansion is completed.
The solar-cell maker has followed "10 major development strategies" ever since it was established, according to Lin: "In 2009, based on those strategies, we made a crucial decision to speed up our pace of growth and expansion, and we've continued growing up to now. Our quality is highly acclaimed by our customers, presenting us with huge opportunities. If we had not chosen our growth strategy, we would have lost those opportunities to our rivals." The company saw its annual revenue soar 27-fold from 2006 through 2009—and that was before its rapid-growth plan was initiated!
NSP's expansion plans call for the establishment of an integrated-manufacturing capability. "We've decided to set up in-house facilities to produce enough crystalline silicon wafers in Taiwan to fill 30% of our needs," the chairman reports, "and to open module assembly lines in mainland China. We are still evaluating locations for the assembly lines." Lin says that his company is open to plans to acquire additional manufacturing capacity by buying into existing manufacturers.
Lin thinks that the solar-energy market will start to explode when it reaches the point of grid parity, meaning that alternative means of generating electricity, including photovoltaic methodology, is at least as cheap as grid-network power. In 2007 he predicted that that time would come in 2012, a forecast that has recently been supported by several market-research organizations as the price of crude oil has surged above US$110 a barrel.
Lin says that his 2007 forecast was not just idle talk. He compared solar-power costs with the grid-power costs of major cities around the world and found that grid-power costs in those cities was rising at an annual rate of 4%, while the cost of solar power was slipping by 5% a year. The point of parity, he concluded, would come around 2012.
First to reach parity, Lin believes, will be California and southern Europe; they will get there in 2012, followed by New York, Tokyo, and northern Germany in 2015. "Just because the parity point will arrive does not mean that all suppliers will prosper," Lin cautions. "It is just like the mobile phone industry, in which many suppliers are still struggling for survival in spite of exploding demand that now stands at one billion phones or so a year" ( March 2011)