The 11th edition of WoodMac China and supporting events WoodBuild and FurniTek China 2011, organized by the China National Forestry Machinery Association, Deutsche Messe AG and China International Exhibitions (member of Allworld Exhibitions), closed on March 4 in Shanghai. Reports of record numbers of overseas buyers attending and the world's first showing of Raute's latest technology were both credible and justified considering the continually buoyant Chinese economy, which consists of many segments that call for various wood products and woodworking technologies.





The exhibition recorded a 20% growth in venue to 35,000 square meters, with the largest additional bookings made by European panel technology companies and Chinese exhibitors offering wide-ranging forestry, panel board, furniture, wood flooring, window and door and other wood product manufacturing technologies. Global representation consisted mainly of European exhibitors, particularly pavilions set up by national wood technology associations from Germany, the VDMA and Italy, ACIMALL.
WoodMac China 2011 was exclusively supported by the 13-member national associations making up EUMABOIS (the European Federation of Woodworking Associations), with Chinese participation under the auspices of the China National Forestry Machinery Association and private-sector woodworking trade associations of Shanghai, Harbin in Northern China, Qingdao in the East and Shunda, South China.
Three-in-One Event
The 3-in-one event posted 16,730 visitors for a 22% increase over that in 2009, reflecting encouraging market recovery from 24 months ago. Most of the visitors were from China, totaling 14,700, which did not attract nearly as much attention among suppliers as the 1,950 foreign visitors from 80 countries, from Brazil, Peru, Saudi Arabia, Pakistan and India, Iran, Russia, Mongolia, Malaysia and Indonesia. And a key, sought-after feature of the event was the now ubiquitous supplier-to-buyer meetings arranged by the organizers, enabling streamlined, focused sourcing that saves buyers from having to look aimlessly as in a maze.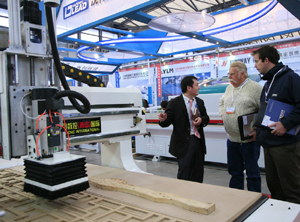 "We are very pleased to have received an order from Iran on the first show day," says Sergio Ippoliti, International Sales, Instalmec Italy
"We have sold 200 panel saw machines and 8 edge banding machines on the first two days of the show to overseas buyers," says Eric Liu, Vice Chairman and President, Unisunx Woodworking Machinery, Qingdao China.
"On arriving at the exhibition I was provided with a complete appointment schedule of meetings. I met 8 suppliers of rotary lathes and concluded a purchase contract with one of them," says Robert Kua, MD, Ruterna Holdings, the Philippines.
"We received more orders, more new contacts and an unexpected number of buyers attending from North China," says Liu Qun, General Manager, China FOMA (Group).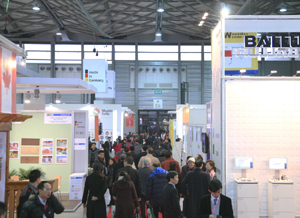 Buyers from China-wide
Chinese buyers came from all over the country, from southern Guangdong province, the former "capital of furniture production" and now experiencing resurging business to the new wood product markets of Sichuan province in southwestern China to the traditional markets of Beijing and the North.
"We organized a delegation visit by 40 of our members. Two concluded purchase contracts at the show while others may place orders in the coming months," says
Ni Guoliang, Secretary General, Suzhou Furniture Association.
Only Specialist Show
WoodMac China is the only specialist trade show in China for 2011 that can claim to be literally an integrated "woodworking technology solution," offering everything from forestry to logging machines; saws to wood-processing machines; wood panel and veneer technologies; machinery for furniture, wood flooring, window and door production; wood products and hardware. The machinery showcased ranged from the global debut of new technology from Raute, Finland, labor-saving and energy-efficient machines from Germany, Italy and Spain to intermediate, practical technologies from Chinese suppliers.
"We have had an amazing response to the first showing in the world of our newest technology the twin peel veneer cutting machine. Clients have come from as far as Saudi Arabia, South America and of course China," says Pekka Punonen, R&D Engineer, Raute Corporation.
"We represent a wide range of Taiwanese manufacturers of machines for furniture, windows, door and flooring, and have been delighted by sales achieved at WoodMac, much more than is possible from a specialist show for just flooring or furniture technology," says Zheng Guohui, GM, Guoming Machinery and Electronic Equipment.
"Sold all the machines on our stand by the end of the second day, including 4 special curve surface sanders and some precision processing centers…now wish we had brought more to the show," says Zhu Yaguang, President, Qingdao New Motivity Woodworking Machinery Co.
Educational Events
Alongside the exhibition the leading Chinese wood industry associations and institutes organized a series of specialist conferences and award ceremonies. Some of the subjects included labor-efficient woodworking machines and energy-saving cutting tools; flooring and cabinet makers AGM; wood in interior design; to controlling production quality for wood product manufacturing; while the encouraging news was that all seminars, events were filled to capacity, reflecting participants' eagerness to learn the latest industry trends and developments.
"Our conference and award ceremony for the best wood product manufacturers in Shanghai of furniture, flooring, windows and staircases was over subscribed. We had to add additional seats for the extra delegates," says Xu Shaohua, Chairman, Shanghai Timber Industry Association.
Promising Signs
The turnout at and response to WoodMac China 2011 suggest clearly that the Chinese market for woodworking technology is recovering and growing fast, with the mood and feedback among exhibitors, visitors reflecting strong demand for new, faster, labor-saving and energy-efficient technologies and machinery. Brendan Jennings, GM, China International Exhibitions, revealed a turning point with potentially profitable opportunities for international suppliers: "As global and domestic customers of wood products demand higher quality at competitive prices, Chinese suppliers now recognize the importance of upholding quality that must not be sacrificed so as to undersell rivals at any price."
WoodMac China and related shows WoodBuild and FurniTek will again be held in Shanghai March 6-8, 2013. For further information visit
"www.woodmacchina.net"
or contact the organizers below.
For more information, please contact:
Ms. Margaret Zhang
Marketing Director
China International Exhibitions Ltd.
Tel:  +86 21 6209 5209 x 15
Email:  margaret@chinaAllworld.com

Ms. Renee Lu
Communications Manager
China International Exhibitions Ltd.
Tel:  +86 21 6209 5209 x 26
Email:  renee@chinaAllworld.com