After the global downturn in 2009, Taiwan's plastics processing machinery sector, including blown tubular-film makers, saw strong recovery in 2010, with the sector expected to post high export growth due to the effect of the cross-Taiwan Strait ECFA (economic cooperation framework agreement), which allows Taiwan's machinery manufacturers to export their products to China at gradually lower duties.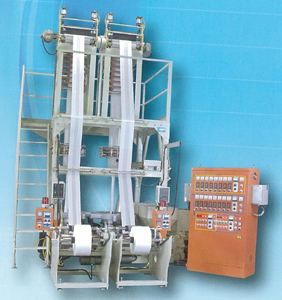 Twin-head HDPE/LDPE/LLDPE plastic inflation machine from Kang Chyau.
Despite the slowdown in 2009, Taiwan's suppliers of blown tubular-film makers still invested to develop more sophisticated products to enhance global competitiveness.
Taiwan's plastic blown-film making machinery sector, going back some four decades, consists of makers who have over three decades of experience. And in recent years, many larger makers have been developing various high-value-added items to meet customers' special requirements, especially machines featuring high operating speed and production efficiency. Such efforts have helped them to tap industrialized nations, as well as traditional segments in Southeast Asia.
The government-backed Plastics Industry Development Center (PIDC) says the Taiwan's plastic and rubber processing machinery makers exceed 250, of which plastic injection-molding machinery and blown tubular-film making machinery makers make up the biggest segment to account for three-fourths of output in Taiwan.
The Taiwan Association of Machinery Industry (TAMI) notes that Taiwan-made plastic blown-film makers are mainly exported to China and Hong Kong, the United States, Japan, Thailand, Vietnam, Malaysia, Indonesia, Turkey, Germany, South Korea, and Canada.
According to customs-cleared statistics compiled by the TAMI, Taiwan exported US$1.067 billion of plastic and rubber processing machines in the first 11 months of 2010, surging 59.1% from US$671.24 million in the previous year, with TAMI president C.C. Wang predicting the sector to continue enjoying high growth in 2011 due to the ECFA effect.
Plastic Inflation Machines
Kang Chyau Industry Co., founded in 1988, is a respected, specialized maker of industrial machines in Taiwan, known for expertise in developing innovative products to meet special requirements of the plastics industry worldwide.
Backed by a continuous R&D program, the company offers wide-ranging models, including plastic bag-making machines, plastic inflation machines, printing machines, cutting machines, waste plastic recycling machines and sealing machines.
Kang Chyau imports from industrialized nations key components to assure high quality, including the solenoid switches from Telemecanique, a renowned French maker, and the shaft bearings from Japan's SKF brand.
In addition, the maker's blown-film machines incorporate the best available meters and timers; while the gears of each main ejector unit are precision ground to assure smooth operation.
Buyers can order from a variety of machines optioned with as many accessories. And the maker welcomes original equipment manufacturer (OEM) orders.
Kang Chyau continues to hone its global competitiveness by focusing on market diversification, prompt delivery and efficient after-sales service, and claims to have exported to over 62 nations.
Turnkey Blown-film Machines
While most of Taiwan's plastics processing machinery manufacturers feel the pinch of surging raw material prices, Matila Industrial Co., Ltd., a leading maker of turnkey plastic blown-film making equipment on the island, has exported to over 50 nations. This maker is known for developing innovative products, without much fanfare, and is headquartered in Pali, New Taipei City in northern Taiwan.
Matila's product line is roughly divided into four categories: blown-film making machines, plastic recycle machines (including washing lines), twin screw co-extrusion lines, turnkey plastic-bag making equipment.
Differing from rivals with over four decades' experience, Matila has a management team composed of mechanical design and marketing specialists, a unique feature enabling the maker to stand out in the plastics processing machinery sector.
Founded as a small trading firm in 1988, Matilda evolved out of its founder and now president Jimmy C.T. Shen's business acumen. The man saw a demand in the early years as a trader, that few local makers of bag-making and blown-film-making machinery can provide advanced products for industrialized nations.
Eventually and after careful consideration, Shen decided to set up a wholly-owned factory, eager to carve out a new niche by developing in Taiwan blown film-making machinery as well as tap his marketing experience.
Before turning Matilda into a firm with manufacturing capacity, Shen had set up solid distribution channels in Europe and Latin America, hence the existing clientele from the two regions rather than from neighboring Southeast Asia, from where many of his rivals in Taiwan find buyers.
Multi-linguistic Staff
Despite being far from Taipei City, the island's economic and financial hub, the maker has a team of multi-linguistic personnel who can ably communicate with customers in English, Spanish and French, enabling smooth dealing globally and helping Matilda to distribute products worldwide without relying on traders.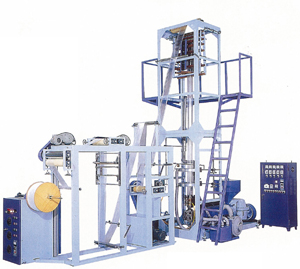 High-performance blown-film machine from Matilda.
Although adopting gear boxes imported from Germany and the U.S. has raised production cost, the maker finds that customers now are more confident in its products, and more importantly able to sell products at higher prices.
Very optimistic about the firm's prospective development, Shen says: "I believe my company can develop any complicated machine to rival that from first-tier manufacturers in Western Europe."
Matila has developed a series of blown-film machines, including 25-120mm HDPE/LDPE/LLDPE (high-density polyester/low-density PE/linear LDPE) mono-layer blown film making machines, two-color double-layer co-extrusion lines for double-layer industrial stretch wrapping films, three-layer co-extruder blown film making lines, five-layer co-extruder with stack-type die heads.
The company also offers machines to recycle plastic waste as PE/PP film sheet and bottles, with capacities ranging from 40-70kgs per hour to 400-500kgs. It also supplies crushing and washing lines to pre-clean waste film and bottles, decreasing surface contamination to increase quality of plastic pellets. The capacity of the washing line ranges from 300-1,000kg/hr, depending on the type of waste.
Blown-film Extruding
Founded in the early 1980s, Jenn Chong Plastics Machinery Works Co., Ltd. is a globally recognized manufacturer of high-quality extrusion system for the plastics industry, operating a modern plant in Taipao City, Chiayi County, southern Taiwan.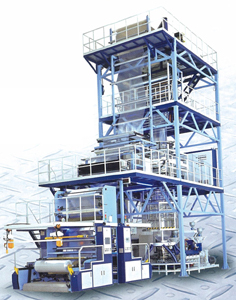 Multilayer co-extrusion blown-film extruder from Jenn Chong.
Jenn Chong has developed wide-ranging plastic extrusion machines to meet special requirements of global customers. Its product line includes complete blown-film extrusion systems for single- or multi-layer film, monofilament extrusion system, flat-yarn making machines, fibrillated yarn making machine, extruded net making machine, strapping brand making machine, and whole-plant, turn-key equipment for plastic and woven bags, PET monofilament bristle extrusion line, multilayer co-extrusion blown film extruder, etc.
Each extrusion system is designed and manufactured to the strictest international standards, and the maker became UKAS ISO9001 certified in 2000 and CE machinery-safety approved in 2004.
Jenn Chong knows that using advanced technologies is the only way to upgrade its product standards, and therefore has been over the past several years doing its utmost to develop advanced manufacturing techniques.
Clearly a maker who is serious about innovation, Jenn Chong has a dedicated R&D team to develop new products. James Huang, its export manager, says that the firm is very proud of its ability to supply high-quality extruding system that enhances confidence in customers. The company has over 500 customers in over 70 nations, and is known for being adaptable to meet ever-changing demand.
In recent years, Jenn Chong has been developing and improving monofilament and heavy-duty PET strapping band-making machines. The monofilament extruders are suitable for making PP/PE (polypropylene/polyethylene), PVC (polyvinyl chloride), nylon (PA6, 66, 6/66 copolymer) and PET (polyethylene terephthalate) for various industrial applications. The company has also developed a PET extruder line to make heavy-duty PET strapping band from recycled PET bottles.