Some adopt imported parts to assure world-class quality

Taiwan's bag-making equipment manufacturers can usually create business opportunities by building machines that help customers achieve maximum output with minimum input.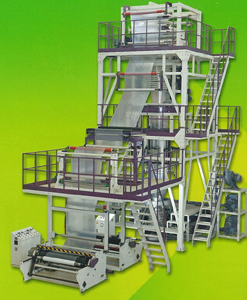 Matila's turnkey bag-making system is laden with efficient features.
After some four decades of development, most local manufacturers can turn out a variety of machines, even claiming to build custom turnkey equipment, ones that produce eco-friendly plastic bags, as well as offer factory planning, design to equipment installation, inspection and testing.
Taiwan's manufacturers have in recent years been aggressively tapping emerging markets in Central Asia and Eastern Europe, where demand for easy-to-operate machines are rising.
Many makers in Taiwan boast advanced R&D capability, experienced technicians in-house, hence can fill almost any order, including designing innovative machines, which may be integrated with printers to enhance added-value.?
Besides generating revenue from built-to-order contracts, Taiwan's equipment makers are venturing into emerging economies that are more willing to try new brands and technologies from non-Western nations.
Matilda Industrial
Established in 1988, Matilda Industrial Co., Ltd. is known for supplying turnkey plastic-bag making equipment, mostly extrusion system, blown-film machine, bag-forming machine, flexographic printing machine, and plastic-waste recycling system.
Over the past few years, the company has introduced several efficient systems, one of which is a series of co-rotating twin-screw extruders launched in 2008. Dubbed EKA, this extruder has a high-torque gearbox able to automatically adjust lubrication pressure to ensure smooth work.
The extrusion unit is of hot-rolled steel alloy and compound metal, as is the kneading block working with the extruder, with both parts being replaceable when worn out.
Offering the equipment according to customer demand, the company can supply barrels, including input, closed, side-feeder, degassing and combination types. Spindle shafts are easy to maintain and reconfigured to assure efficiency. The vacuum degassing unit expels gas from the in-feed material to ensure product quality. The automatic thermal controller ensures the melting temperature of in-feed material stays within range.
The in-feed unit can be optioned with various screws to suit various materials as powders, pellets, fibers and crushed plastics.
The extruder can also be ordered with various cutters. For example, the strand-type cutter, composed of a die, water bath, suction blower, pelletizer, vibrator and storage tank, is easy to maintain and operate. The vertical-type water-cooling die-facing cutter, comprising of an extrusion die, a water-cooler, a centrifuge, a vibrator and storage tank, is designed to pelletize PE, PP, PS and EVA.
The EKA series have output ranging from 30 kilograms to 1,600 kilograms per hour, with 15-600 horsepower motors, and screws running 300-600 RPMs.
A versatile supplier, this maker has made significant progress in developing plastic-waste recycling lines. One item is the CR series that consist of conveyor, crusher, storage & feeding unit, extruder, filter, degasser, sub-extruder, pelletizer, cutter etc., which recycle plastic waste as bottles and films into pellets for making bags.
The MK-series crushers can process 200 to 500 kilograms of plastic film per hour or 250 to 700 kilograms of bottles per hour depending on the motor installed, which are available in 30HP, 50HP, 75HP, 100HP and 125HP choices.
The MST-series storage unit has capacity ranging from 2 to 3.5 square meters. Its extrusion units use different types of German-made Flender gearbox, enabling 160 to 500 kilograms of film output per hour and 200 to 600 kilograms of output from recycled bottle per hour.
The SWC-series water-cooled pelletizing units come with water tanks measuring 3,000mm x 300mm and 6,000mm x 350mm. And the DFD-series come with die-facing cutters of SKD HRC 40 tool steel.
Matila has exported to over 40 nations, including Poland, Mexico, Russia, Ecuador, Lithuania, Latvia, Romania, Greece, Turkey, Lebanon, Saudi Arabia etc.
Summit Plastic Machinery
Summit Plastic Machinery Co., Ltd., established in Taipei 25 years ago, is a veteran specializing in manufacturing plastic bag-making machines that are promoted under its own "Summit" brand.?
The maker has recently introduced several efficient machines, including the side-weld bag-making machines equipped with servo-drive units; high-efficiency bottom-sealing bag-making machines; T-shirt bag-making machines equipped with servo-drive units; synchronized perforating & sealing roll bag-making machines, high-speed flexographic printing machines, and super high-speed HDPE inflation machines.
The side-weld, high-efficiency bottom-sealing and T-shirt bag-making machines are fully automatic for making universal and multipurpose PP, OPP, HDPE, LDPE, LLDPE plastic bags, with output being 45 to 220 bags per minute and in various sizes.
This series is ideal for making multi-sized bags in small volume for the quick-change modular weld heads.
The high-efficient bottom-sealing machines are designed to make heavy-duty bags, with the output ranging, depending on the model, from 80 to 120 bags per minute and in 700mm-1,400mm (width) x 200mm-3,000mm (length), as well as being equipped with the flying-knife cutter that is replaceable and an auto-cutoff when the in-feed plastic runs out.
Other models, including the SPO-700A, SPO-800A, SPO-1000A, SPO-1200A and SPO-1500A, are equipped with a conveyor-stop when bags jam.
This maker also supplies T-shirt bag-making machines, which are fully automatic, servo driven and come with automatic punching press.
The SPV-850 and SPV-1000 models put out 250 non-tension sealed and printed bags per minute. They are equipped with micro controllers for production accuracy and a user-friendly control panel for easy operation, as well as auto-stop when bags jam or printing misaligns.
Other notable features include twin photocell device on servo-driven delivery system, independent four-line thermal controller, and pneumatic or hydraulic puncher for neat and quiet bag cutting.
The models with optional servos turn out 30 to 130 bags per minute in 300mm-400mm (width) x 700mm (width), and are ideal for making calendar-type bags in addition to T-shirt bags.
With an in-house R&D department, the company can design and produce high-end products according to order.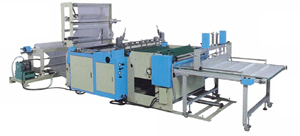 Summit builds fully automatic equipment for making PP, OPP, HDPE, LDPE, and LLDPE plastic bags.
The maker's efforts to boost sales of innovative products have helped to retain double-digit annual sales growth over the past several years, with some 70% of total output exported mainly to the U.S., Southeast Asia, China, the Middle East, and Western Europe.
For Dah Industry
Founded three decades ago, For Dah Industry Co., Ltd. is a leading maker of turnkey plant in Taiwan to produce PP/HDPE woven bags, onion bags and cement bags, as well as blown HD/LDPE bags.?
One of the maker's notable machines is a high-speed, high-capacity flat-yarn making machine built to European standards, with maximum output of 280 meter per minute.
With a computerized touch-screen control system, this flat-yarn maker enables presetting, modifying and recalling specifications, with the computer recording all Denier settings, hence being easy to use for even novices.
The maker has computerized, precisely controlled heater temperature and drive-motor speed, with the computer also able to check, manage errors, troubleshoot, indicate temperature change, drive speed, and other mechanical parameters.
The flat-yarn maker is also equipped with a smart extrusion system, whose computer-controlled screw ensures optimal melt homogenization and drives the T-shape die. Designed on the basis of computer-simulated flow geometry, the die ensures optimum mass flow distribution of plastic material and minimum gauge variation across the workpiece width. The die and the screw are of metal with the lowest expansion coefficient, ensuring maximum production accuracy and reliability when producing low-Denier yarn.
The water film cooling system working with the yarn-maker has a special tank designed to stabilize coolant temperature by minimizing turbulence, with the tank able to be mounted in various orientations.
This machine has integrated gusseting and rotating functions suitable for the production of PP/HDPE woven bags and laminated bags, and can print lettering in the middle of gussets, a feature beyond the capability of others in Taiwan.
After years of developing woven-bag making machines, For Dah has the know-how to make a variety of turnkey equipment for the plastic processing industry.
The maker uses in its machines German and Japanese crucial parts and components, including electronic control systems and motors, to assure world-class quality.
This ISO9001-certified maker says that all the components and parts used are CNC (computerized numerically controlled) lathed, as well as using CAD/CAM software to produce shop drawings.
Over the past decade, For Dah's well-trained engineers have been upgrading production capability and quality of turnkey equipment. Its long-term R&D program, advanced manufacturing capability, and strong commitment to customer service have helped build good reputation globally.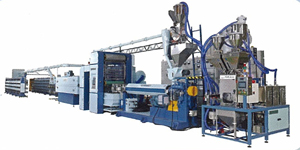 For Dah adopts imported computerized controllers to assure high-speed, high-capacity in its flat-yarn maker.
Besides being a supplier, For Dah also offers total solutions, including full technical support, production flow planning, production analysis and operational training to help buyers achieve cost-efficient production.
Unlike most of its peers who are tapping the Southeast Asian market, For Dah has successfully pushed into emerging markets in West Asia and East Europe, as well as having set up a sales outlet in Moscow some five years ago.