Benison & Co., Ltd., founded in 1962, is one of Taiwan's leading manufactures of shrink materials and related machines, having been developing innovative products to broaden market shares globally.

The company claims to be Taiwan's largest supplier of PVC/PP/PE (polyvinyl chloride/polypropylene/polyethylene) heat-shrinkable films and machines for the past five years, accounting for at least half of Taiwan's output, according to company general manager Benker Liao.

Benison is trying to develop green, recyclable packaging, biodegradable packaging materials, as well as focusing on developing machinery to turn out light, thin packaging materials.

Benison has targeted several potential markets outside Taiwan and China, but Liao declines to identify specifics to fend off encroachment by local rivals; while underselling by newcomers in existing markets also motivates the company to diversify into new territory.

As part of international marketing strategy, the company will not promote its "Benison" brand in markets where it supplies machines on an OEM/ODM (original equipment/design manufacturer) basis, and will instead focus branded sales in Taiwan and emerging economies like China and Southeast Asia. Benison is a contract supplier to several Japanese companies and is now in talks with big players over OEM deals.

Benison's machines mainly turn out films ranging from 6mm to 1,000mm in width for wrapping/packaging food, medication, electronics, hardware and toys, as well as other applications. (BS)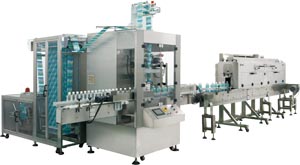 Auto wrapping & sleeving machine produced by Benison.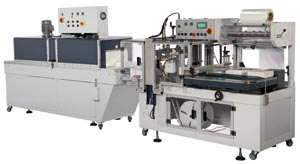 Super High-speed label/tamper-evident sleeving machine.
Benison & Co., Ltd.
Tel: 886-2-2772-5566
Fax: 886-2-2772-8793
E-mail: benison@benison.com.tw
Website: www.benison.com.tw