Career Industry Corp. is one of Taiwan's leading suppliers of paper-tube making equipment, supplying products and technical services globally for over 20 years.

The company has helped customers install a couple of hundred paper-core making machines in China, Indonesia, Australia, Malaysia, the Philippines, Vietnam, Pakistan, Egypt, Jordan, Syria, Bahrain, Lebanon, United Arab Emirate, Saudi Arabia, Russia, Poland, Belarus, Mexico, India, Ecuador, and so on.

This maker claims to have built trust among major conglomerates, including Formosa Plastics Group, Asia Chemical Corporation, Chin Tung Chemical Industrial, Four Pillars Enterprise, Asia Pulp & Paper, New Toyo International Holdings, Yunnan Hongta Group, and Rong Sheng Chemical Fibre Group, all of which has adopted its paper-core making machines.

With ample development and manufacturing capability, Career supplies wide-ranging machinery to meet requirements of global customers, including paper tube-making, paper tube winder, slitter/rewinder, and paper tube-cutting machines, as well as partially-oriented yarn (POY) and drawn twisted yarn (DTY) finishing machines. The automatic production line is multifunctional, able to load, cut, unload, convey, polish/bend, calendar, groove, and notch tubes for textiles.

Career claims to have sold over 200 sets of machinery to customers worldwide, who rate the maker highly for supplying machines with superb quality, durability, multi-functionality and services.

Recently the company has successfully developed hot-melt glue coating and laminating machines to meet green and non-hazardous standards. Unlike traditional solvent adhesive, which is highly hazardous to environment and human health, the company's products are nontoxic.

Career's hot-melt glue coating and laminating machine work on kraft paper, plastic film, metal foil, non-woven textile that are made into tags, labels, tape and medical supplies.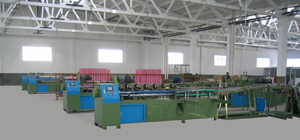 DTY & POY finishing machine.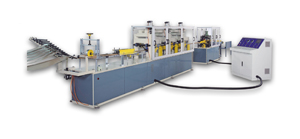 Edge protector making machine produced by Career.
Career Industry Corp.
Tel: 886-2-2536-1550
Fax: 886-2-2531-8223
E-mail: career@careerind.com.tw
Website: www.careeind.com.tw