Chan Li Machinery Co., Ltd., founded in 1987, is one of Taiwan's leading manufacturers of converting equipment and packaging systems, offering whole-plant solutions and technical know-how.

Its comprehensive product range includes fully automatic kitchen-towel and toilet-roll converting lines, tail sealers, accumulators, log saws, slitters and re-winders, wrapping machines for roll and facial tissues, handkerchief-converting machinery, and tissue interfolders.

The recently-introduced tissue interfolder has a patented auto-unloading design, enabling the unit to handle up to 170 meters per minute and the in-feed roll can be up to 2,800mm. More recently, the company has also introduced a high-speed slitter and re-winder that can achieve up to 1,500 meters per minute and accept a parent roll up to 3,650mm.

Chan Li says it is applying for numerous domestic and international patents. Company marketing manager Danny Lien attributes the many innovations to his company's top-flight R&D department. "Over the past few years, we have made great strides in the integration of mechanical and electrical systems in our machines," he says. "We also adopt modular designs to allow us more flexibility in expanding the functions of our machines, and provide a wider range of cost-effective options for our customers."
Lien says the entire Asian market, especially China, is recovering from the global financial tsunami and his company has seen influx of orders for months long. To meet the increased demand from Asia and other markets, the company has expanded production capacity.

The company supplies machines to Taiwan's five top tissue-paper manufacturers and exports 90% of its output. Its major export outlets include North America, Latin America, Europe, the Middle East, Africa, Asia, New Zealand, and Australia. (BS)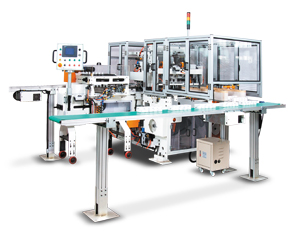 Fully automatic paper handkerchief converting line developed by Chan Li.
Fully automatic paper handkerchief converting line.
Chan Li Machinery Co., Ltd.
Tel: 886-3-328-8198
Fax: 886-3-328-6198
E-mail: smart@ms11.hinet.net;
Clm9908@ms39.hinet.net
Website: www.chanli.com