Doplas Enterprise Co., founded in 1990, is a leading maker in Taiwan of plastic extruders. Located in the Chigu Dist., Tainan City, southern Taiwan, its factory is spread across 19,800 square feet and has a workforce of 12.

With an annual capacity of 50 to 60 machines, the maker has been focusing on the development and production of innovative products, always trying to improve equipment to meet special requirements, as well as paying close attention to new market trends.

The company's major product line includes plastic-waste recycling machines, high-speed blown film making machines, inflated tubular film making machines, LDPE/HDPE/PP film-recycling machines, PP/PE/ABS sheet-making machines, two-stage venting recycling machines, strapping-band making machines.

Having in-house developed technologies enables the company to build machines, sold under its own "Doplas" brand, with high productivity, stability, durability, easy operation and that save labor.

The company president G.A. Chen says his company can also easily help customers to troubleshoot, for all of the products are in-house developed.

The company in recent years has achieved steadily rising overseas sales, with over 90% of output exported to Latin America, the Middle East, China and Southeast Asia. This maker's competitive advantages include good quality and reasonable prices, which have helped to build wide acclaim among buyers worldwide. (BS)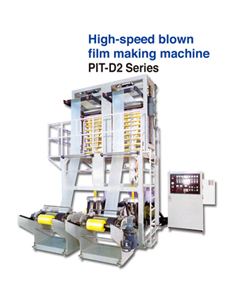 Doplas Enterprise Co., Ltd.
Tel: 886-6-789-5346
Fax: 886-6-789-5227
E-mail: doplas@dp-extruder.com.tw
Website: www.dp-extruder.com.tw