King Shuen Machinery Co., Ltd., established in 1986, has been engaged in developing and producing various environmentally friendly plastic extruders through its well-established research and development team.

King Shuen's products are CE Mark-certified and well recognized by customers at home and abroad. Its products are mainly exported to overseas marketplace. More than 80% of its output is shipped abroad, mainly to Brazil, mainland China, Southeast Asia, the Middle East, Romania, Russia, and South Africa.

With the increasing global awareness of environmental protection, such materials as plastic and synthetic chemicals are banned from being used in food, industrial and medical packagings. To solve this problem, in 2002 King Shuen successfully developed PLA sheet extruding machine, the first of its kind in Asia. In 2008, the company further developed foam sheet extruders by adopting CO2 as foam agent in line with the environmental-protection requirements.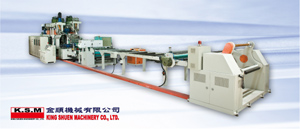 PET Sheet Extrusion Molding Machine(GAG).
King Shuen Machinery Co., Ltd.
Tel: 886-5-220-3775
Fax: 886-5-220-6485
E-mail: k.s.mc@kingshuenmc.com.tw
Website: www.kingshuenmc.com.tw