Starter motor, magnetic AC generator, auto/motorcycle and aerospace parts etc.
Established in 1990, Fullamp International Co., Ltd. is a major player in Taiwan specializing in developing, manufacturing high-quality motorcycle starter motors, magnetic AC generators, and other items as aerospace parts for light aircrafts.
Thanks to long-term devotion and constant effort to upgrade product quality, manufacturing techniques and service quality, Fullamp claims to offer products that are popular among global customers. Such positive, strong market responses are driving Fullamp to steadily expand capacity and diversify into automobile and motorcycle electric parts.
This maker employs over 250 employees at its headquarters in Taipei, capital of Taiwan, production plant in Shanghai, China, and a branch office in Shenzhen, Guangdong Province, China. The modern, integrated plant in Shanghai spreads across 2,150 square meters and adopts fully automated equipment.
The firm's motto is based on "Service, Quick Response, Skillful Designers, Reasonable Price, Quality Assurance, and On-time Delivery." (QL)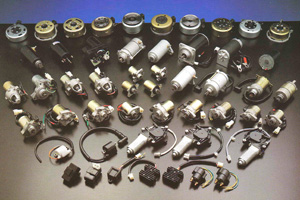 Fullamp International Co., Ltd.
No. 23, Lane 66, Sec. 9, Yanpyng N. Rd., Taipei, Taiwan
Tel: +886-2-2810-1230
Fax: +886-2-2810-0396
Website: www.fullamp.com.tw
E-mail: fa_intl@fullamp.com.tw