The Taiwan External Trade Development Council (TAITRA) in mid-April announced the 10 winners of the prestigious Taiwan Excellence Gold Award at a gala ceremony in Taipei, hosted by the Ministry of Economic Affairs (MOEA) and attended by leaders from different industries.

Taiwan Excellence is the highest accolade awarded to products that embody innovalue. Formerly known as the Symbol of Excellence (SOE), Taiwan Excellence was set up in 1992 to encourage Taiwan industries to upgrade and incorporate innovalue into their products. Taiwan Excellence winners represent the most revolutionary, high quality, high value added products made by Taiwan. They also epitomize Taiwan's unique genius in using innovation to create added value in the design and manufacturing of leading-edge products.

The symbol of Taiwan Excellence is a distinctive, proprietary logo and a unique trademark for Taiwan's innovalue. It heralds Taiwan's ascent to world-class quality in product innovation, design and manufacturing, representing the highest standards which Taiwan products must meet to maintain their competitive edge in the global markets. The Bureau of Foreign Trade under the MOEA retains exclusive rights to this mark, which has been registered in over 77 countries by TAITRA. The Taiwan Excellence Graphic Identity System, which consists of six interwoven arcs, has its origins in the traditional Taiwanese cultural affinity for "completeness" or "wholeness."

19th Taiwan Excellence
The 19th annual award served presented 10 gold awards. A panel of international judges with expertise in the four key categories of evaluation for the awards – R&D, design, quality and marketing – decided they all deserved gold.

From a total of 974 submissions from 381 companies in Taiwan, 459 items from 158 companies were chosen by the international judges as Taiwan Excellence products. Thirty items from 25 companies entered the final competition for the Gold Awards, while 10 were granted the highest accolade with the remaining 20 came home with Silver Awards.

At the ceremony, Taiwan's Vice President Vincent Siew presented the gold awards to the 10 winning companies.

Wider-range Winners
A range of products won gold this year, a break from the past when the awards were dominated by 3C (computer, communication, and consumer electronics) products. The Luxgen7 SUV (sports utility vehicle), for example, won over the judges as well as the people of Taiwan. The SUV, which is packed with intelligent features, won a gold award and was also voted into the top spot among all products in 2011 on the Taiwan Excellence website where nearly 2.5 million people cast ballots.

"If you look at the ten gold award winners, you have a very broad range of technologies and lifestyles that are covered there; you have automotive, healthcare, education, industrial, sports, and electronics," said Tim Studt, editor-in-chief of U.S.-based R&D Magazine. A key point he noted about the winners is that they can be purchased just about anywhere. "They're not just local, they're not just regional, they're all global," he said.

Seijiro Oshimura, managing director of the Management Research Institute in Tokyo, commented that Taiwan companies have improved their quality management tremendously and have started to bring their talent in electronics to other industries.

Other prize winners included, Luggie, an ultralight, foldable motor scooter designed for people who need help getting around the mall or other places. It was also designed by Freerider Corp. with recyclable materials.

An energy-saving, thermal-controlling ball-screw from Hiwin Technologies was also among the non-electronics to win gold. The component, which has been awarded 21 patents, is used in high speed machinery.

Bicycle maker Giant won gold with its TCX Advanced SL racing-grade composite bike.

Of course, Taiwan's expertise in ICT and consumer electronics still shined through in many of the other Gold award winners.

"Design and utility were key concepts for companies that won awards this year," said Manlai You, an industrial design professor from National Yunlin University of Science & Technology. "In particular, D-Link's Boxee Box is a very good product that shows strong use of these concepts."


2011 Taiwan Excellence Gold Award Winners

Product
Model Number
Company
LUXGEN7 SUV
 
Luxgen Motor Co.
Luggie (motorized scooter)
FR168-4 (IT)
Freerider Corp.
Energy-Saving & Thermal-Controlling Ballscrew
C1
Hiwin Technologies Corp.
Boxee Box
DSM-380
D-Link Corp.
13.3-inch HD laptop module
N133BGE-M41
Chimei Innolux Corporation
TCX Advanced SL (bicycle)
 
Giant Manufacturing Co. Ltd.
Lifelike 3D All-in-One Touch PC
AE2420 3D
Micro-Star International Co. Ltd.
EPIA-P830 (mainboard)
EPIA-P830
VIA Technologies, Inc.
Elixir DDR3 SODIMM (42nm) 1.35V
M2S4G64CC8HD5N-BE
Nanya Technology
Robii – Edutainment Robot
Robii
Compal Communications, Inc.
Source: TAITRA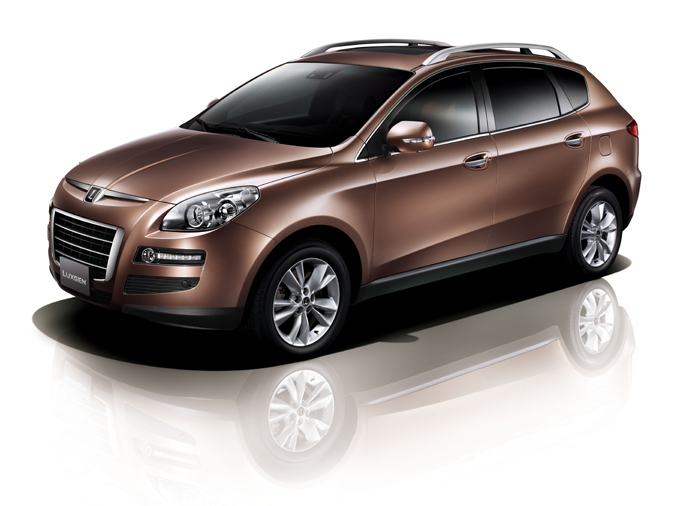 Product Name: LUXGEN7 SUV
Company Name: Luxgen Motor Co.
The LUXGEN7 SUV is a modern crossover SUV. With its larger size, the LUXGEN7 SUV can accommodate up to seven people, two more than the five-seater models of key competitors.
LUXGEN7 SUV is powered by a 2.2L engine with turbocharger. It provides 175hp power of output and 28kg-m of torque, which is close to a 3.0L engine, while maintaining low emissions and fuel consumption. The intelligent three-mode all-wheel drive (AWD) system further improves on-road handling performance and provides off-road capability.
The LUXGEN has a number of high-tech features, such as an integrated Car-PC system, THINK+, and other advanced technologies such as:
THINK+: This is an integrated Car-PC system co-developed with HTC. It is based on Windows CE Automotive platform and serves entertainment, phone, navigation, and safety functions. Information is displayed on a 10.2" LCD screen located in the center of instrument panel.
Side View+: When activate the turning signal, cameras mounted on each side of outer mirrors display video of the blind spot on that side to help drive to avoid dangerous situation when changing lanes.
Eagle View+: This can provide a 360-degree view of the surroundings to help drivers when parking or driving through narrow spaces.
LDWS+: Lane Departure Warning System (LDWS) can alert driver when the vehicle is moving toward the lane divider without using the turning signal.
Night Vision+: This system can improve visibility in dark environments and display images as far as 100m ahead with as low as 0.1lux illumination.



Product Name: Luggie (motorized scooter)
Company Name: Freerider Corp.
Model No.: FR168-4 (IT)


The Luggie is billed as the century's biggest innovation in mobility scooters. The scooter is ultra-lightweight, foldable without dismantling, easy to carry, and is powered by a specially-designed lithium battery.

The scooter perfectly coordinates design and material. It weighs just 23 kg (including battery) and can easily be transported by bus, train, car, and plane. It is designed for use both indoors and outdoors, and is great for a trip to the mall or travel further from home.

The user-oriented design is based on in-depth user analysis resulting in a scooter that is both stylish and user friendly. The scooter also is made entirely from recyclable materials, making it a good choice for green mobility.

Rugged, dexterous, and ergonomically designed, the Luggi gives users the freedom and independence when traveling.



Product Name: Energy-Saving & Thermal-Controlling Ballscrew
Company Name: Hiwin Technologies Corp.
Model No.: C1


The C1 series is designed for application of high-speed machines, computer numeric control (CNC) machines, precision machine tools and electric-mechanical machines. The C1 Series is designed to meet high-speed, high-precision, high-rigidity, heavy-load, and long-life operation with linear motion element. The series can help users create value and reduce cost. It also is a green, user-friendly, and energy-saving solution.

The C1 is made with a thermal constant nut. With this feature, the machine warm-up time can be reduced and the productivity can be increased by over 10%. Hiwin optimized the "cassette" design, which is the key element in the ballscrew's circulation system.



Product Name: Boxee Box
Company Name: D-Link Corp.
Model No.: DSM-380


The Boxee Box delivers movies, TV shows, music, and photos from a computer, home network, or the Internet to HDTV with no PC needed. Additionally, Boxee's core social features make it easy for friends to discover new content from each other through social networks like Facebook, Twitter, and more.

The versatile device features many advantages such as built-in 802.11b/g/n WiFi, high performance CPU (1GHz; Intel ATOM CPU inside), digital sound output, HDMI Video Output, two-side RF remote control, everything you want (the Boxee Box brings all your favorite TV shows & movies from the Internet or your hard drive onto your TV). It plays almost everything, including any non-DRM media; and gives you access to university courses, panel discussions, academic lectures, presentations and more from TED, Stanford, Harvard, FORA.tv, and more.



Product Name: 13.3-inch HD laptop module
Company Name: Chimei Innolux Corp.
Model No.: N133BGE-M41


This 13.3-inch laptop module from Chimei Innolux has a notebook cover just 3.2mm thick, considerably slimmer than the 5.4mm to 5.6 mm on most competing models. The flat type LCD module delivers HD quality at a weight of just 194g.

The N133BGE-M41 series has several cutting edge innovations, including a perfect combination of cover set and LCD module. The company has integrated the LED source into the back cover and uses stack reflectors, LGP, and lenses to allow the opening of cells one by one

The N133BGE-M31 series consists of a 0.3mm glass plate, 0.6mm LED and LGP, and two lenses to push specifications to the extreme.



Product Name: TCX Advanced SL (bicycle)
Company Name: Giant Manufacturing Co. Ltd.



The TCX Advanced SL is a racing-grade full composite bike for cyclocross with specific design that builds on Giant's experience in road bike and mountain bike manufacturing, as well as input from the Rabobank professional cycling team.

The bike is designed with a "form follows function" emphasis. Everything on the bike serves a specific function, such as full composite construction, small tubes, integrated cable routing, integrated seat-post, oversize head-tube, and bottom bracket.

Innovations of the high-end bike include:

Super lightweight: The full composite frame is made by aero-grade T800 carbon fiber and weighs just 7.5kgs with wheels/parts (though without pedals).
Mobility: The tubing has been reduced to a minimum with the help of Finite Elements Analysis; and the integrated cable routing design allows easy shouldering through tough terrain.
Agility: The bike has a high rear wheel clearance to prevent mud from adhering to the rear tire and better transfer power to the ground.
Stability: The integrated seatpost not only cuts weight and improves stiffness, but also absorbs shock from the trail. Rider can save energy for shock resistance and handle the bike more easily.
Rigidity: The oversize headtube and integrated bottom bracket with chainstay enhance the stiffness on the joints, which can bear strong stresses.




Product Name: Lifelike 3D All-in-One Touch PC
Company Name: Micro-Star International Co. Ltd.
Model No.: AE2420 3D


The Wind Top AE2420 3D all-in-one (AIO) touch-control PC features Micro-Star International Co. (MSI)'s exclusively developed 3D Station technology combined with a 120Hz high resolution panel that transmits high density, 3D digital content to Shutter Glasses.

In addition, the Wind Top AE2420 3D comes with MSI's exclusive 3D Infinity (Shutter Glasses) that solves the problem of blurred 3D images caused by visual angle deviation. With a large 24-inch display, several people can view 3D images at the same time, making it even more suitable for use in family entertainment. MSI's 3D Station also integrates 2D to 3D transfer technology, addressing the current shortage of 3D movies. The Wind Top AE2420 3D is the world's first multi-touch 3D All-in-One capable of running 3D games, so you can experience the exquisite feeling of touching 3D images that actually seem real. Users need only wear 3D glasses and use fingertip controls to immerse themselves in a realistic 3D experience.



Product Name: EPIA-P830 (mainboard)
Company Name: VIA Technologies, Inc.
Model No.: EPIA-P830


The VIA EPIA-P830 is the smallest x86 full-HD mainboard that supports the most advanced connectivity and features in the world. The ultra-compact EPIA-P830 is based on the VIA's Pico-ITX form factor and the size is merely 10 x 7.2 cm, almost the same size as a business card. This mainboard offers advanced video capabilities on an extremely compact and standardized footprint for any space-critical environments or mobile media terminal applications.

The EPIA-P830 is ideal for mobile and intelligent devices with solid performance in full HD 1080P video hardware decoding acceleration in MPEG-2, VC1, WMV9, and H.264, which can be utilized in infotainment device, POI, mobile gaming, healthcare, media streamer, set top box, home theater, home entertainment - the possibilities are endless.

The high definition playback of the VIA EPIA-P830 is delivered via the VIA VX900 media system processor while it also supports for a wide range of high-speed I/Os and DDR3 system memory. Within the high performance chipset, the ChromotionHD 2.0 engine allows for flawless playback of full HD 1080p at amazingly low processor utilization levels. And this just uses a small amount of electricity.



Product Name: Elixir DDR3 SODIMM (42nm) 1.35V
Company Name: Nanya Technology
Model No.: M2S4G64CC8HD5N-BE


Elixir DDR3 SODIMM (Small Outline Dual In-line Memory Module) is developed to meet notebook (NB) enthusiasts' needs for high performance and low power consumption.

The Elixir DDR3 SODIMM series complies with JEDEC standard and utilizes BGA packaging technology to greatly reduce distortion of signals in high-speed electronic circuits. It also features Nanya's newest 50nm DDR3 2Gbit components. Compared with 70nm DDR3 1Gbit, the density is twice as 70nm DDR3 1Gbit while the cost is same. The cost advantage puts the Elixir SODIMM in a strong competitive position. The unit is also powered at 1.5V, providing 20% lower power consumption compared with current 1.8V DDR2 module. With its heat spreader design, it can further reduce operating temperature and result in 40% lower consumption. The Elixir DDR3 products also are halogen free.



Product Name: Robii – Edutainment Robot
Company Name: Compal Communications, Inc.
Model No.: Robii


Robii is the world's first-ever autonomous robot designed for kids over eight years old and older, and the robot features advanced learning, interactivity and entertainment technologies. Robii's emotive facial expressions, actions and projective virtual screen will bring you an unprecedented experience.

With just a click, the built-in pico projector sticks out to project a 12-inch virtual screen on table or any flat surface. The screen has multi-touch and gesture response functionality! The Robii faces kids all the time. He also has his own personality and emotions, with amusing and unpredictable reactions.

The robot's lifelike facial expression, voice, motion and action vary depending on how kids interact with it. The embedded educational applications and games support both right brain and left brain development. Kids can also download free applications from the UrRobot website.



2011 Taiwan Excellence Silver Award Winners
Product
Model Number
Company
LCD TV
ST28FMMR/ ST28FMUR
ST55FMUR/ST55FMNR
HannStar Display Corporation
PowerDVD 10
PowerDVD Ultra
Cyberlink Corporation
Unlocked Power Motherboard
GA-X58A-UD9
Gigabyte Technology Co. Ltd.
Laptop Computer
NX90
ASUSTeK Computer Inc.
Laptop Computer
G53JW
ASUSTeK Computer Inc.
Peace & Harmony Bamboo Design
FZ02120 – FZ02125 – FZ02312 – FZ02518 – FZ02519
Franz Collection Inc.
Sakura Anti-Scorching Hob
G-2830
Taiwan Sakura Corporation
Black Diamond Dual-band Wireless-N Gigabit Router
RT-N56U
ASUSTeK Computer Inc.
O-Ring – 2.5-inch External HDD Enclosure Bracket
IR-HD25S003U
In Win Development Inc.
Laptop Computer
U36JC
ASUSTek Computer Inc.
Visualizer
AVerVision SPB350
AVerMedia Information Inc.
Matrix G7-S23 Converging Shoulder Press
Matrix G7-S23
Johnson Health Tech. Co. Ltd.
Sidelight Handlebar Grips
JGRP000
Chia Cherne Industry Co., Ltd.
Straight Side Double Crank Presses
SAG
300/400/500/600/800
Shieh Yih Machinery Industry Co., Ltd.
CNC 4 CNC Eco Booster Tube Bender
SB-63x4A-3S-SR+2C
SOCO Machinery Co., Ltd.
Lucky Calabash
FZ02347
Franz Collection Inc.
Intelligent Super Toilet
AFC230/AFC240
Hocheng Corporation
Reacto Road Race Reacto
Reacto 909 / Reacto Team / Reacto 907
Merida Industry Co., Ltd.
E-Spresso
E-Spresso
Merida Industry Co., Ltd.
Under-Counter U.V. Water Purifier
US-5001JW-1
Union Manufacturing Co., Ltd.