The biotechnology industry in Taiwan underwent significant development and advancement in the first half of the year, driven by governmental policy support, according to the IEK-ITIS (Industry & Technology Intelligence Services) in Taiwan.

The number of academic-to-manufacture technology-transfers increased, also true of international licensing, clinical development projects, partnerships and investment projects in Taiwan and especially China, with local biotech firms also going public to raise capital.

The IEK-IT IS defines the biotech sector to include sub-industries as biopharmaceutical, regenerative medicine (stem-cell treatment etc.), medical testing and inspection, fine chemicals, good biotechnology, agricultural biotechnology, environment-protection biotechnology, and biotechnology/pharmaceutical services.

Official Policy Support
The Economic Committee of the Taiwan legislature amended the local patent law in April to allow patenting of flora and fauna, also adding clauses to regulate participants in local agriculture and husbandry, with such official support expected to strengthen the legal integrity of the biotech sector to encourage further development without participants' fear of being exploited and treated unfairly.

Backed officially, the Biomedical Technology and Product Research Center (BTPRC) was inaugurated on May 18 at the Hsinchu Biomedical Science Park (HBSP) in northern Taiwan, a major facility to accelerate biomedical industry growth in Taiwan, with the BTPRC under the National Applied Research Laboratories (NARL) being the first of the Park's three major sites to kick off operation. The other two planned centers include a national medical center set up by the Department of Health that will be handle clinical experiments and acute disease care; and an incubation center set up by the Ministry of Economic Affairs to integrate the links in the biomedical industry development chain.

Working in conjunction with Taiwan's information and communication technology (ICT) sector, the three centers in the HBSP aim coordinate public and private resources to create a biomedical technology cluster for Taiwan, shepherd R&D with high market potential through clinical trials, and fast track commercialization of biomedical products.

The BTPRC will cooperate with the NARL's other centers as the National Laboratory Animal Center, Instrument Technology Research Center, National Chip Implementation Center, National Nano Device Laboratories, National Center for High-performance Computing, as well as Science and Technology Policy Research and Information Center to establish service platforms to develop biomedical electronic instrument, photoelectric image sensors, medical equipment validation and registration, photoelectric medical supplementary instrument, etc., which serve biomedical R&D teams and business sectors to create a new generation of GMP-certified, high-end biomedical devices for diagnostics, medical treatment, and health maintenance.

The Taiwan Food and Drug Administration (TFDA) under the Department of Health announced the establishment of the Integrated Medicinal Product Review Office (iMPRO) on June 1 this year to integrate drug-review in Taiwan as well as the testing/inspection capacity of the TFDA and government-sponsored Center of Drug Evaluation.

As of the end of June this year, some 38 private companies in Taiwan have been certified as biopharmaceutical firms as stipulated in the newly enacted "Biopharmaceutical Industry Development Statutes," and will likely win more support, opportunities from government to be instrumental to industrial development.


Companiesin HBSP
(As of September 2011)
Category
Name
(Product / Service)
Medical Device Development
BiodentaSwiss AG
(dental implant system and solution),
Actherm Inc. (diagnostic devices),
United Orthopedic Corp.
(orthopedic implants,instruments
and precision medical devices),
Taiwan Surgical Corp.
(surgical instrumentsand devices),
Applied Nano Technology Science Inc.
(materials),
ChinanBiomedical Technology Inc.
(cancer treatment equipment).
Drug Development
Visgeneer Inc.
(molecular diagnosingproducts),
Gwo Xi Stem CellApplied
Technology Co., Ltd. (stem cell),
Andros Pharmaceutical Co., Ltd.
(innovativedrug delivery systems)
Source: IEK-ITIS.
Imports & Exports
Taiwan's biotech sector still relies on imports to create a trade imbalance, with the top-two biotech exports being testing agents and plant seeds.
In the second quarter, Taiwan's export of testing agents grew 9.4% from a year earlier, plant seeds rose 31.8% year-on-year (YoY), pharmaceutical cosmetics climbed 174.1% YoY, biomedical materials rose 88.6% YoY, with exports of animal vaccines declining 0.8% YoY, and antibody manufacturing equipment decreasing 45.8% from a year earlier.
Except pharmaceutical cosmetics, plant seeds and animal vaccines, all biotech imports in the second quarter declined from a year earlier.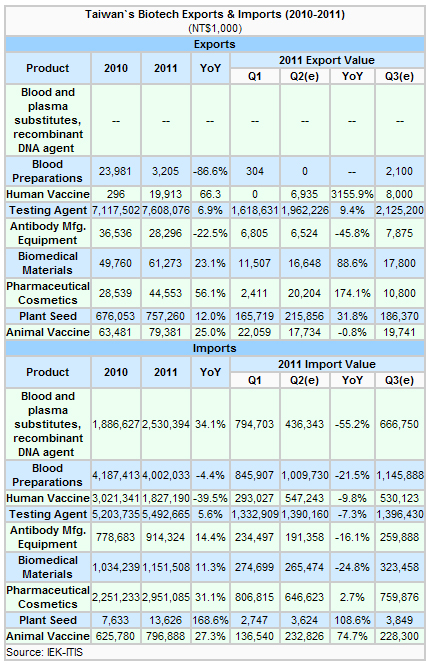 Taiwan`s Biotech Exports & Imports (2010-2011)
Status Quo
There are 72 biotech firms listed in the domestic capital market, including 15 on the Taiwan Stock Exchange (TSE), 24 on the Taisdaq, 24 on the Emerging Stock, and nine launching initial public offering (IPO).
Of the above public biotech firms, PhytoHealth Corp. registered the highest revenue growth in the first half due to a new drug launch in 2010, with SciVision Biotech Inc., Golden Biotechnology Corp. (GBC) and NBM Taiwan Inc. on the Taisdaq also reporting eye-catching results.
MicroBio Co., Ltd. is working on two new drugs, including the MS-20 in phase III and Phase II trials for enhancing natural killer cells in cancer patients and improving quality of life in liver cancer patients, and the Herbiron in Phase III trials to treat iron deficiency anemia.
Medigen Biotechnology Corp. (MBC) recently won DOH permission to conduct the Phase III trials for its PI-88 drug, to be done in target markets as Taiwan, China, Korea, Hong Kong and some European nations.
In June 2010, MBC, after partnering with Progen Pharmaceuticals of Australia for 10 years, was licensed by its western counterpart to globally commercialize PI-88, which has anti-metastasis and anti-angiogenesis effects on cancer sufferers, with its phase II study showing PI-88's good safety profiles and promising effect to reduce tumor recurrence after surgical resection of early hepatocellular carcinoma (HCC).
TaiGen Biotechnology Co., Ltd. recently announced that its TG-0054, a chemokine receptor CXCR4 antagonist, has begun the Phase II trials in the U.S. and whole process is expected to be completed by the end of 2011, adding that the new drug can rapidly mobilize stem cells and endothelial progenitor cells in bone marrow to help cancer patients.
In April, Fountain Biopharma Inc. signed an agreement with Taiwan's Academia Sinica for the right to globally develop the Anti-CemX anti-allergy drug, which is in the animal trial stage and expected to be more effective to deter immunoglobulin (IgE).
BioLite Inc. signed a technical-transfer agreement with Taiwan's Industrial Technology Research Institute (ITRI) for the DLS-03 to treat rheumatoid arthritis and DLS-01 for enteritis, including teamwork to apply for FDA-certification.
Prospects
Taiwan's biotech sector is expected to continue along the same lines in the third and fourth quarters, with more interactions and partnerships among industry, academia and research institutes, as well as more private biotech companies to go public to raise capital.
With more official support as in the past, the planned Supera Incubation Center (SIC) in the HPSP is expected to uncover resources to develop more value-added biotech products.
To help finance the local biotech industry, the Taiwan Cabinet in August set up the Taiwan Medtech Fund (TMF) to invest in high-end medical devices.
Y.T. Jang, partner of Vertical Group and executive of TMF, says the fund aims to raise US$200 million, with over 10 investors showing interest so far and fund raising to be completed in a few months. The National Development Fund has invested 20% in the TMF, lower than originally promised 40%.
Better Positioned
Jang says that Taiwan is better positioned than other emerging nations to develop high-end medical devices, including strong global competitiveness, governmental support, industrial infrastructure, seasoned professionals, and geographical location.
Industry experts say that the fiscal turmoil in the U.S. and Europe has discouraged industrial spending and driven many biotech and venture capital companies to emerging nations. Compared to other emerging counterparts, they say, Taiwan has better established capacity to develop medical-devices, backed by relatively better intellectual-property protection, as well as closer proximity to big markets as China and India.
An increasing number of local and foreign biotech companies are planning to go public in Taiwan to raise capital, IEK-ITIS says. The KY Group, a traditional Chinese medical chain clinic in Malaysia, is listed on the Taisdaq. In addition, Coland Pharmaceutical Co., Ltd., a top-three liver-drug distributor in China, and Epitomics, an American biotech company specializing in rabbit monoclonal antibodies, are scheduled to go public in Taiwan. ScinoPharm Taiwan, Ltd., the leading active pharmaceutical ingredients (API) manufacturer in Taiwan, has been certified and will be listed by year-end.
Industry experts say the rising number of listed biotech companies in Taiwan is drawing attention among local investors.
As interactions intensify among biotech and pharmaceutical operators in Taiwan and China to accelerate regulatory strengthening, exchanges, product/technology licensing, distribution etc., so are new opportunities created for Taiwanese companies in the massive Chinese market, with such trends helping to enhance resource integration between the two sides of the Taiwan Strait to facilitate Taiwan-China tie-ups in the global market, the IEK-ITIS concludes.