Asia Machine Group (AMG) is a Taiwanese manufacturer specializing in manufacturing high-quality, durable and affordable steel fabrication CNC cutting and drilling machines. Over the past two decades, AMG has installed over 5,000 machine units to more than 35 nations worldwide.

AMG has a well-established R&D team specializing in making machinery configurations and custom machines. In addition to self-developed machines, AMG also provides OEM (original equipment manufacturer) services to customers upon request.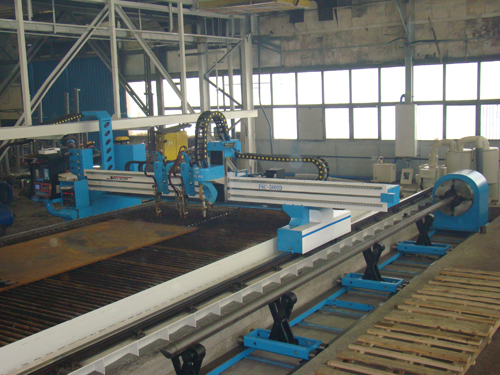 CNC water-jet cutting machine developed by Asia Machine.
At present, the group's major products include CNC plasma/gas cutting machine, CNC plate cutting machine, CNC pipe drilling machine, CNC drilling machine (hydraulic, high speed), CNC water-jet cutting machine, and CNC drum drilling machine. The group says it has won good reputations in the fields of steel construction, heavy-duty machinery, heat exchanger fabrication and shipbuilding industries.
The CNC plasma/gas cutting machine features servo control system and heat-treated heavy-duty drive rack. Main accessories of the machine come from foreign industrialized nations. The machine is suitable for the shipbuilding and steel-structure industries.
The CNC plate-drilling machine has a rigid structure to ensure stable drilling operation. With no need of frequent change in drill head, the machine provides rapid drilling and high-efficient operation.
The CNC pipe-cutting machine is suitable for the use in steel-pipe, steel-structure, oil, and chemical industries. The machine features a software system in normal and three-dimensional models for choice. The machine can combine with flame/plasma plate cutting machine to perform multi-functional operations. (BS)
Asia Machine Group
Tel: 886-8-780-5210
Fax: 886-8-780-5209
E-mail: amg@asisacnc.com.tw
Website: www.asiacnc.com.tw