Jandi's Industrial Co., Ltd., established in 1991, is a veteran manufacturer of plastics processing machines.

The company's expertise rests with the development of such plastics processing equipment as inflation machines, bag-making machines and recycling machines. At present, the company focuses its product development on mono- and multi-layer inflation machines, various kinds of fully automated and semi-automated sealing and cutting machines, and plastics recycling machines.

The company has cooperated with Future Design of Canada in the field of cooling technology for inflation machines since 2006. With the acquisition of key technologies, the company is capable of rolling out high-end inflation machines for volume production.

Recently the CE-certified company launched a new product line—the SCGC-series 4-in-1 multi-function winder, which alone can meet customers' various requirements.
Committed to innovation and high quality, the company has exported products to more than 80 nations, especially to East Europe and Latin America. (BS)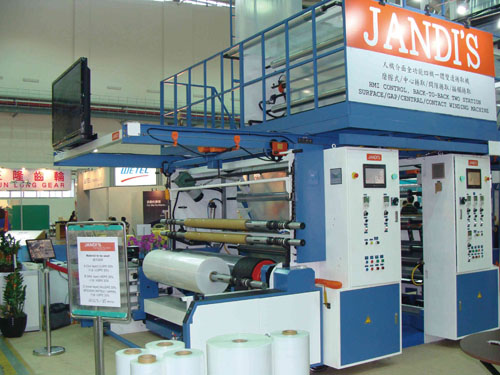 The SCGC 4-in-1 multi-function winder produced by Jandi's.
Jandi's Industrial Co., Ltd.
Tel: 886-5-220-0506
Fax: 886-5-220-1955
E-mail: jandis@ms7.hinet.net; jandi@ms19.hinet.net
Website: www.jandis.com.tw;www.inflationmachine.com