For the first time, machine tool makers specializing in CNC PCB-drilling machines were invited to display their technologies at the Taiwan Printed Circuit Association Show 2012 (TPCA Show 2012), indicative of the capacity of Taiwan's machine-tool industry.

As machine tools typically call for precision and automation, it is natural for Taiwanese suppliers to branch out into manufacturing machine tools for the PCB industry, which requires increased precision and automation to keep up with growing sophistication of electronic applications for PC and laptops to tablet PCs and smartphones.

The driving incentive for Taiwan's machine-tool makers to develop PCB-processing machines is the globally-leading production scale of Taiwan's PCB industry, which generated estimated revenue of US$61.3 billion in 2012.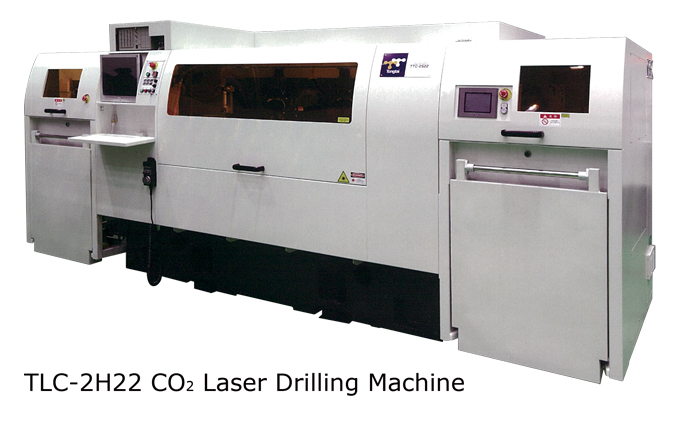 Tongtai's CO2 laser drilling machine boasts ultra high processing precision.
Tongtai Machine & Tool
Tongtai Machine & Tool Co., Ltd., a major machine-tool maker in Taiwan, is promoting its TLC-2H22 CO2 laser drilling machine and TRM-622 router for PCB processing.
Outfitted with a 9.4-micronmeter carbon-dioxide laser, the laser drilling machine is specifically developed for processing PCBs for smartphones, which calls for extraordinary precision. High-peak power laser and the company's unique optical design allow this machine to directly drill either black-oxide cooper or brown-oxide cooper layer of PCBs precisely. "If your machine can not directly drill, a customer has to do more processing in production, which is less economical," says a Tongtai sales rep.
Galvanometer scanner positioning accuracy is highly attributed to the company's specially developed control technique and the high quality of the scanner used in this laser machine, with feeding error being minuscule due to the rigid table and the unique control system.
The bed system and the scanning system assure minimal drilling error. Copper-sandwiched mid-layer circuits prevent damage in drilling to ensure high yield rate. "As more functions are added to mobile devices, PCB manufacturers need to put more circuits and so demand sophisticated drilling machines to achieve high defect-free rate, which leads to lower production costs," the sales rep stresses.
This machine's recognition of inner registration pattern is sharper than before thanks to a new image processing function that includes noise filter and image enhancement, which establish stable process for laser ablation registration hole.
Easy operation of this machine is guaranteed by a simple human-machine interface and control panel. Just press start to initiate automatic operation.
The TRM-622 boasts maximum processing capacity of six boards thanks to the six synchronously running stations and maximum routing error of below minus and plus 0.05 millimeter.
Notable components in this routing machine include CNC82AS control system developed by SIEB & MEYER AG of Germany. The system's software is compatible with 64-bit version of MS-Windows OS.
The 1969-founded Tongtai released mechanical drilling machine in 2000 and laser drilling machine in 2009, reportedly becoming Taiwan's first and exclusive machine-tool maker to develop laser drilling machines for PCBs.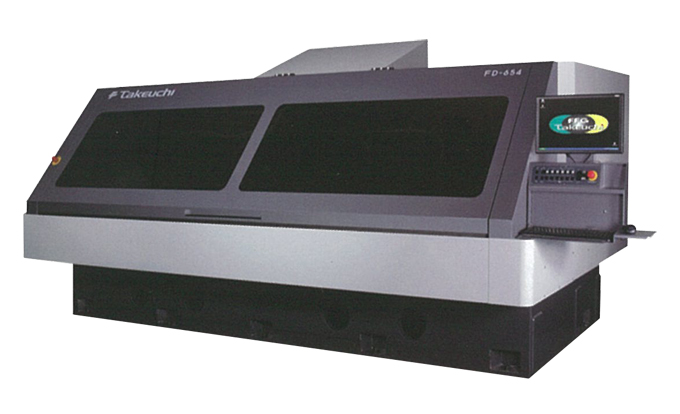 Fair Friend's drilling machines achieve accuracy of minus and plus 20 micronmeters.
Fair Friend Enterprise
Fair Friend Enterprises Co., Ltd, the machine-tool subsidiary of Fair Friend Group, is promoting its PCB routing machines and PCB drilling machines. The group is reportedly the world's No.1 machining-center maker.
Its FD family of drilling machines is composed of FD-157, FD-257, FD-654, FD-566, and FDR-157. FD-157's, FD-654's, and FD-566's spindles traverse 50 meters per minute in X and Y axes whereas FD-275's and FDR-157's traverse 40 meters per minute in the same axes.
Drilling cutters range from 0.1 to 6.35mm in diameter and are computer controlled, deciding the diameter by comparing data from diameter sensor (laser or infrared beam) with pre-installed PCB hole layouts. The computer also stops drilling when the running cutters break.
A unique spring device helps to reduce burden on the FD family's Z-axis motor so that it can work more efficiently by decreasing working temperature.
Whereas the FD family of machines is designed for PCBs used in slim consumer electronics such as mobile phones, the company's routing machines, notably FR-257, FR-457, FR-557, FR-657 and FR-566 models, are ideal for aluminum thermal substrates for LED backlights.
The FR series do not need cooling system by air or water, suggesting the company's strong technological capability in moderating working temperature.
This family has many friendly designs. Its rotatable control box allows machine operators to turn the box to suit a comfortable standing position or to make more passage space. An optical sensor fixed on front door notifies the machines' computer to stop the running machines when detecting door opening. Amperage and pressure foot's pressure of each spindle are displayed above the spindle for operators' convenience. Pneumatic pressure systems of these machines are bundled to the right side of the machines for easy repair and maintenance. All ball screws in these machines are installed at the geometric center of screw-driven parts to ensure balanced movement of the parts.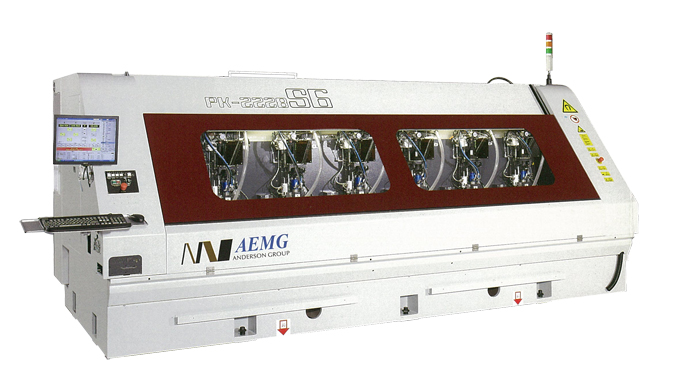 Anderson's drilling machines achieve drilling accuracy of plus and minus 0.018mm and positioning accuracy of plus and minus 0.005mm.
Anderson Group
Anderson Group, reportedly Taiwan's No.1 manufacturer of CNC machines for non-metal processing, is also promoting PCB routing and drilling machines.
Its PK family of CNC drilling machines, composed of PK-2630/S6 and PK-2228/S6 models, is developed for mass production of PCBs requiring high precision, with drilling accuracy of plus and minus 0.018mm, positioning accuracy of plus and minus 0.005mm and repeatability accuracy of plus and minus 0.005mm on holes of minimum diameter of 0.1mm.
These machines are equipped with air-bearing spindles built by Westwind of Germany or MCT of Switzerland that can turn up to 160,000 RPMs, with some special models capable of 200,000 RPMs. Water-cooling system boosts production stability and efficiency of the spindles.
PK series is equipped with high-speed linear motor to drive X, Y and Z axes, ensuring positioning accuracy, low wear and tear, high axis sliding efficiency, high reliability and low breakdown. According to the company, the linear motor drives the axis at 80 meter-minute.
This series' tool magazine contains nine cartridges, with each holding a maximum 50 cutters. Cutter changing is synchronous to cut down waiting time.
The control system is PC-based, with man-machine interface running Windows OS, laser for detecting cutter length and diameter, online program transmission, optical system for beaming signals from servo motor, and support of high-speed drilling program.
A new type of pressure foot insert changer enables cutter change of various diameters, with advanced cleaning function for pressure foot insert to prevent diameter sensors from dust and rust, ensuring sensing reliability.
Anderson began developing drilling machines after acquiring a German company in 2000 and expanded into routing machines after consolidating with CNC machine-tool maker Sogotech of Taiwan in 2007.
The company says it is Taiwan's No.1 PCB routing machine supplier in market share, to which a sales rep attributes reliable quality and high performance of the company's machines.
Like its drilling machines, the company's routing machines have many merits. German-made linear guide ways ensure processing accuracy, low noise, and easy maintenance.
The tool magazine is installed at the front of working table to enable easy tool change for operators. Detection of tool diameter and broken tool is an optional function. The magazine has maximum load of 200 tools, which are changed by robotic arms.
These machines are outfitted with a patented mechanism called "push pin device" on work table to push up PCBs for convenient and efficient removal upon completion. The device is patented for the even spread of the pins, an idea inspired by the honeycomb structure.
They are all equipped with rigid spindles made of high-speed steel and water-cooling
to ensure excellent dynamic performance of the machines. A device ensures operator safety by automatically stopping doors from closing upon sensing an operator between the doors.
Anderson equips its routing machines with SIEB & Meyer's control system and can add functions to control program according to customer needs.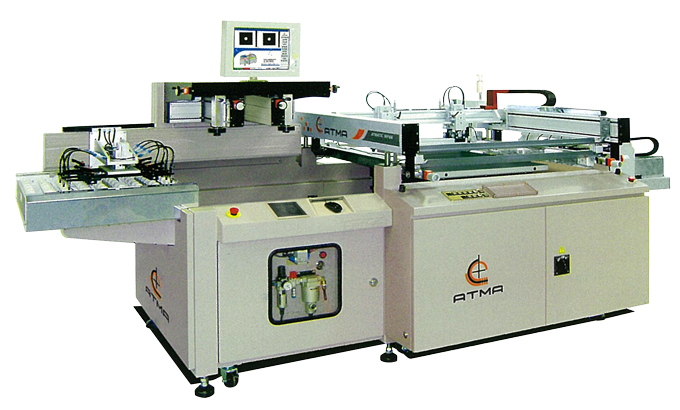 ATMA's screen-printing machines can print circuits and marks as slim as 3 micronmeters on PCBs.
ATMA Champ Ent.
ATMA Champ Ent. Corp., a world-leading manufacturer of screen-printing machines manufacturer contracted to supply PCB screen-printing machines for iPhones, has introduced an array of automatic and semi-automatic machines for the PCB industry.
It offers automatic machines as ATMAPC PC66/PC68 CCD vision-positioning screen-printing machines and ATMAOE MF65/MF66 CCD image registration screen printing machines.
The ATMAPC PC66/PC68 machines are for flexible PCBs, high density interconnection (HDI) boards, ball grid array (BGA) boards, flip-chip boards, and carbon ink boards, among others; while the ATMAOE MF65/MF66 machines process all of the boards except for flexible boards.
All these machines print circuits and marks as slim as 3 micronmeters on PCBs. Printed film thickness ranges from 15 to 20 micronmeters. Maximum output rate is 800 boards per hour. Maximum print area is 610mm x 610mm in ATMAPC PC66 and 760mm x 640mm in ATMAPC PC68. The area size is 600mm x 500mm in ATMAOE MF65 and 600mm x 600mm in ATMAOE MF66.
These machines are controlled by programmable logic controller-based computer and driven by high-end servo motors, ensuring printing accuracy. The computer can store up to 100 sets of print layouts. Automatic error detection, safe resetting, and operator protection functions are built into the control system.