Companies that want to survive in an increasingly competitive market must automate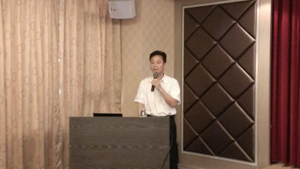 H.Y. Lin, deputy director of MIRDC's industry upgrading service department, talks about the current development of ICT applications in the mold and die industry of Taiwan and other countries.
Automated production is increasingly a buzzword among manufacturers from just about all sectors, implying a growing demand for high-precision, efficient-to-make dies and molds; and, according to the Metal Industries Research & Development Centre (MIRDC), information and communication technology (ITC) applications are the key to assuring that mold and die manufacturing services fully satisfy customers. ITC applications, therefore, are the key to the upgrading that is essential to the industry's sustainable growth.
At a seminar on mold and die technology held in association with the MIRDC by Leadhope International Inc., a Taiwanese developer of software solutions for computer-aided manufacturing (CAM) and computer-aided engineering (CAE), H.Y. Lin, deputy director of MIRDC's industry upgrading service department, talked about the status of the industry in Taiwan and advised insiders to introduce ICT to sharpen their competitive edge.
Industry Overview
Lin said that Taiwan's mold and die manufacturing has developed over the decades into a technology-intensive industry that competes in the world market, on the basis of craftsmanship and production flexibility, mainly against Chinese and Korean rivals.
A survey carried out by the MIRDC in 2010, Lin reported, showed that the industry was made up of around 3,360 companies, with 52% in the northern region, 29% in central Taiwan, and the remainder in the south. Companies focused on plastic injection molding made up 41% of the total, with 34% engaged in die stamping and 4% each in casting and die casting.
"Insiders are clustered in different regions to serve different customer segment," Lin said. "For instance, those in northern Taiwan supply plastic housings and stampings, mostly to 3C and electronic device makers; and those in the southern part of the island are engaged in making molds and dies for the optoelectronic display, IC packaging, and auto parts industries."
This division of labor underlines the industry's manufacturing diversity and the different kinds of craftsmanship that companies have refined over decades of concentration on their various customer segments. Lin added that insiders' commitment to "QCDS"--quality, cost, delivery, and service--is another source of the industry's global competitiveness.
However, the industry's growth has stagnated in recent years. Lin cited MIRDC statistics showing that the industry's total output remained in the range of NT$75 billion to NT$85 billion during 2005-2010, with exports fluctuating between NT$15 billion and NT$20 billion. "The process of upgrading to higher-end molds and dies is the main reason why the industry's growth has stalled," commented Lin. "In the transition, most companies are encountering problems and obstacles that will take more time and resources to overcome."
Lin pointed out that the problems faced by the industry can be generally summarized as inefficient, insufficiently standardized R&D processes; the high cost of developing new molds and dies; the failure to pass knowledge and experience effectively from senior workers to younger ones; ineffective integration of production capacity and resources throughout the industry because of inadequate interaction between mold-makers and subcontractors; price-slashing competition by rivals from China and Korea in the global market; the inability to enhance added value by offering integrated services from R&D to manufacturing and after-sale services; and the limited resources that hamper the integration of ICT by Taiwanese makers, which are mostly small and medium in size.
According to Lin, the MIRDC believes that the application of ICT is one of the best ways to help Taiwanese makers with trouble-shooting. Emphasizing the benefits of ICT applications, he added that despite decades of experience in the global competition, most Taiwanese companies still use the trial-and-error approach in solving problems that they face in manufacturing, without the aid of applicable computerized technologies. This means their production activities are generally inefficient, and that it is almost impossible for them to turn out two molds or dies with the same specifications and sizes as required by customers. However, he went on, the proper application of ICT can easily solve this common problem and greatly enhance the production efficiency and value of Taiwanese manufacturers.
ICT Developments in Globe
In contrast to the slow development of ICT applications in the mold and die industry in Taiwan, Lin said, ICT is already heavily applied in Europe and Japan with the aim of enhancing the competitiveness of local producers.
In Europe, explained Lin, the industry is driven mainly by Germany and Italy to use ICT to integrate resources and strengthen the sharing of the basic technologies that are common to all processes in mold and die production; to develop integrated commercial networks and systems to support various business models; and to improve speedy tooling techniques to enhance product added value.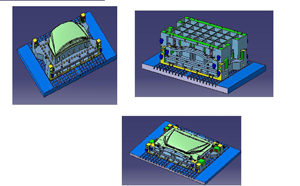 3D design is one of the most common applications of ICT in Taiwan's mold and die industry.
Japan, which is the source of technology, materials, and export orders for most Taiwanese makers, is taking advantage of ICT to make rapid, highly reliable forecasts for manufacturing simulations; to build advanced engineering management systems and databases of processing techniques that are highly integrated with computer aided design (CAD), CAM, and CAE technologies; to allow inline high-precision measurement of dies and molds; and to develop virtual technologies that enhance efficiency.
Promotion of the use of ICT in die and mold production is also a concern in China, as evidenced by its inclusion in that country's 12th Five-year Plan. Lin pointed out that with more than 30,000 mostly small-sized companies, China's mold and die industry now ranks third in the world in terms of output volume; in terms of technology, efficiency, and innovation, however, it cannot match the developed countries.
Lin reported that the Chinese government plans to nurture the industry in the coming five years by assisting local makers in the application of ICT so as to develop their capability to make middle-to-high-end molds and dies using standardized and modularized technologies; to boost integration in the industry as well as the formation of cross-industry alliances to create more synergies; to develop sound supply chains and industry clustering; to promote the use of automation management systems; and to upgrade industry models toward a focus on high quality, high precision, and innovation. "To catch up with the developed countries," Lin commented, "China is concentrating mainly on developing solutions relating to production, simulation, and CAM."
The MVCP of MIRDC
With the application of ICT having become a distinct trend in the global mold and die industry, it is imperative for Taiwanese makers to speed up their introduction of ICT if they are to remain globally competitive. To that end, the MIRDC has moved to set up an economical, convenient-to-use professional platform, dubbed the Mold Value Creation Platform (MVCP), to help Taiwanese makers gain R&D momentum, speed up their business model innovation, and enhance their added value.
Lin reported that the MIRDC was inspired to develop the MVCP mainly by the real-world needs of companies in the line, who are striving to accelerate R&D processes, build innovative operating models, and boost added value.
The MIRDC's platform is designed to make various resources and application services available to help Taiwanese mold and die makers with the synchronized online development of new molds and dies together with customers; the acceleration of R&D processes; the shortening of response time during production; the provision of synchronized services between makers and subcontractors; the integration of cross-industry technologies; the provision of value-added services; the integration of applied technologies in production operations; and the improvement of delivery and enhancement of the value of finished products.
In today's increasingly demanding market, there are many things that cannot be done without the application of ICT: synchronized R&D between makers and customers, for example. Thanks to the mature development of ICT, Lin said, the new platform can help Taiwanese makers not only obtain the know-how they need to improve their R&D capability, but also make the good use of sharable manufacturing resources to better boost the industry's overall competitiveness. ICT also enables users to strengthen their after-sale service.
"Despite the slow development of ICT applications in our industry, and the growing competition from underselling rivals globally, the future remains full of hope for Taiwanese makers," said Lin. He observed that orders from foreign customers for 3C (computer, communication, and consumer electronic) products and automotives have continued flowing into Taiwan in recent years. "Objectively speaking," he went on, "Taiwan's investment and manufacturing environments are actually improving, making the island more attractive to investors and buyers worldwide."
Moreover, Lin added, with the return of Taiwanese manufacturers from foreign countries, and with the development of different emerging industries worldwide, business opportunities for Taiwanese mold and die makers will certainly increase in the short term. Only those who step up the automation of their production and are willing to team up with their peers, academia, and local R&D bodies in order to hone their competitive edge, however, are likely to enjoy this promising future.