Leaderway CNC Technologies Co., Ltd. specializes in five-axis, vertical-type, and bridge-type machining centers for making vehicle parts, templates for electronics components, and parts for aircrafts and national-defense equipment.

The company has been focusing on five-axis technology, among the latest machine-tool technologies Taiwan's manufacturers are vigorously pursing to develop.

Acquiring five-axis technology from the Taiwan government-backed Industry Technology Research Institute (ITRI), the company has improved the machine from 15,000 RPM to 24,000 RPM.

Its five-axis machine category is mainly composed of 5XV, 5XD, 5XS and 5XA series, aimed at processing workpieces ranging from 100 kilograms to 20 tons.

5XV comes with a two-axis turntable, 5XD with a bridge-construction two-axis rotary head, 5XS with a one-axis rotary spindle and a one-axis turntable, and 5XA with a one-axis universal head and a one-axis turntable.

5XV 1100 a popular item among the company's 5-axis series, with its X, Y, and Z axes travelling 1,100mm, 600mm and 600mm while A axis swinging through 150 degree and C axis rotating 360 degree.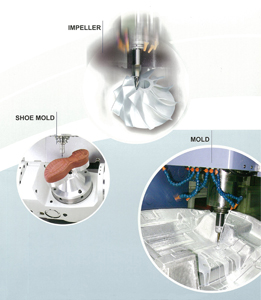 Leaderway's five-axis machining centers for making precision components for high-end industries.
Major structural parts in this machine are made of Meehanite cast iron and tempered for stress relief. A pneumatic-type balance system minimizes spindle head vibration due to spindle rotation. Five-axis synchronous motion shortens machining time, reduces repetitive workpiece setup and error, not to mention boosting accuracy.
Controlled by Siemens 840D, FANUC 31iA5, Heidenhain iTNC530, or Midasy 5NC, these machines take extremely short setup time, assuring high processing accuracy and high-speed machining, eliminating tool-to-workpiece collision, and user friendliness.
Leaderway is working with 10-plus local manufacturers, ITRI and several universities in Taiwan on intelligent five-axis technology. According to company chairman, Dr. Paul Chang, the project stresses "intelligence" of control system. The intelligence to be developed is the system's ability to enable remote control of machine by smartphone with cloud apps, detect remaining work cycle of spindle, and three settings: perfecting workpiece exterior finishing, speedy machining with acceptable accuracy, and high accuracy but slow processing.
Chang set up Leaderway 12 years ago after leaving the 33-year-old Leadwell CNC Machines Mfg. Corp. as the founder and chairman, who reportedly introduced the first Taiwan-made CNC machine tool.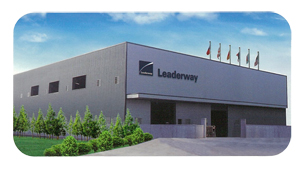 Leaderway focusing on several advanced-machine projects.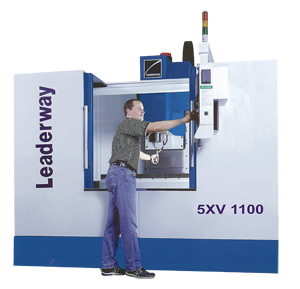 5XV 1100 is a popular five-axis machining center in the market.
Estimating software in controllers accounting for 20-30% of cost of machine tool, Chang laments that Taiwan's machine-tool industry lacks software specialists. "Software is the future of Taiwan's machine-tool industry for being able to boost machining efficiency by manifolds. With China emerging as the world's No.1 machine-tool supplier by volume, Taiwan is wasting time to compete in hardware manufacturing." Taiwan is the No.6 supplier, trailing Japan, Germany, Italy and South Korea in addition to China.
The maker's efforts on intelligent five-axis machining tool is not its only means to improve machines, with also a team of National Tsing Hua University and National Chiao Tung University doctorates working on machines to make precision medical equipment.