Leading maker exports 95% of output to Japan, USA and S.E. Asia
With very high output of motor scooters for domestic and export sales, Taiwan is one of the top-three global suppliers of high-quality, innovative scooter performance-tuning parts. In recent years, however, the island has advanced furthered by supplanting Japan to take the lead in the sector.

After electronic fuel-injected (EFI) engines became mainstream, ever more Taiwanese companies have focused on development of more innovative scooter performance-tuning items, making Taiwan the No. 1 supplier of such products, says Chen Chung-jung, president of Chian-yie Industrial Co., Ltd. (NCY brand), a major supplier in Taiwan of powered two-wheeler (PTW) performance-tuning products. Electronic-fuel-injection may be the earliest breakthrough to "easily" upgrade output of carbureted motors without changing existing engine parts.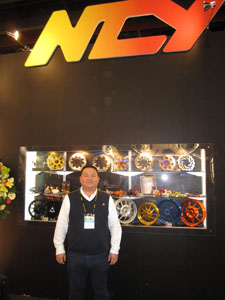 Chen Chung-jung, president of NCY, and his company`s high-end PTW tuning parts.
Summing up advancement of local scooter tuning-parts makers, Lee Chiou-ren, NCY's R&D department manager, says that most Taiwanese suppliers used to focus on products for sub-125cc scooters, for Taiwan has annual sales volume of about 800,000 units. But changing market trends, with global buyers demanding bigger motors, in recent years have motivated Taiwanese makers to develop newer and better products with success.
In the past, Lee says, buyers, especially those in Southeast Asia, have always sought out Japanese scooter tuning parts, but ever more Taiwanese brands have rapidly encroached on Japanese turf due to high-quality, innovation, and cost/performance (C/P)-value.
In addition to bigger product categories and higher quality of Taiwan-made scooter tuning parts, Lee says, the players are strengthening due to continued global marketing effort, savvy strategies as choosing target models for development, turning to developing model-specific products rather than universal engine and exterior items to upgrade added value, as well as steadily enhanced brand image globally.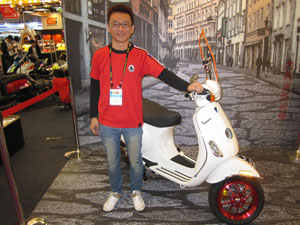 Lee Chiou-ren, NCY`s R&D manager, showcases parts and accessories developed for the Vespa LX125.
Focus on R&D
A major player in scooter tuning parts for about 15 years, NCY leads Taiwanese brands globally, with about 95% of output for scooters that are exported to major markets including Japan, the U.S. and Southeast Asia.
Company president Chen says that due to strong demand globally, NCY is constructing its second and third factories in Taiwan to continue its fully-Taiwan-made quality image and value. Every year, the 50-staffer company invests about US$1 million in new product development, with about one-third of workforces being R&D staff focused on electrical, styling and mechanism.
NCY's R&D head Chen points out that the department closely cooperates with subcontractors to share the latest market information, jointly mapping out new-product development projects for mainly NCY.
Specific-model Development
"In recent years, NCY's R&D projects mainly focus on targeted vehicle models that are also popular amid global scooter fans, rather than development of universal items, which makes our products more integrated, attractive, and value-added, says Chen.
A good example is the styling and performance parts/accessories that were showcased at the 2013 Taiwan International Motorcycle Industry Show (Motorcycle Taiwan) for the Vespa LX125/150, including special-style windscreen, side mirrors, genuine-leather grips, high-end forged wheels, high-end brake calipers, performance front and rear shock absorbers, around-body steel-tube bumpers, cargo boxes, eye-catching mufflers etc.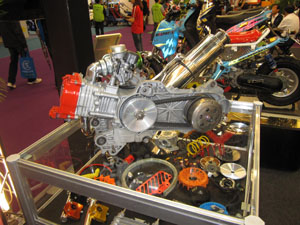 A scooter engine with NCY-developed high-end tuning parts.
Performance Brake Caliper
Another new item by NCY showcased this year is a performance scooter brake caliper with higher sensitivity in brake-lever response.
According to Lee, NCY's R&D team discovered that shortening the piston-actuation distance enables higher vacuum pressure and less possibility of oil leakage in the brake caliper, hence achieving more sensitive, rapid braking. Another advantage of the caliper, according to Lee, is its versatility, able to be installed on front and rear wheel with adapters for different scooter models.
Throttle Valve
NCY also exhibited a big-bore throttle valve to raise horsepower. Matching NCY's air/fuel rate electronic adjuster, horsepower can be raised 10%~15% for better fuel efficiency, also having developed different throttle-valve models for different engines.
Chian Yie's NCY brand PTW tuning parts are becoming rapidly more popular in major export markets, and the company's core advantages lie mainly in the small-batch, large-variety capacity, high-precision processing, and innovative development capability. NCY will ride the wave to a brighter future in the global PTW-tuning parts market pushed by rapidly enhanced image of Taiwanese brands, says Lee.