Many exciting new products, bikes and concepts were unveiled at the 8th Taiwan International Motorcycle Industry Show (Motorcycle Taiwan 2013) and the 3rd Taiwan International Electric Vehicle Show (EV Taiwan 2013) at the Taiwan World Trade Center Exhibition Hall on April 10-13, 2013.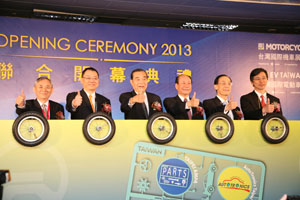 Economics Minister Chang Chia-juch (4th from left), TAITRA Chairman Wang Chih-kang (3rd from left), TEEMA Chairman Arthur Chiao (2nd from left), and other VIPs jointly open the four-in-one 2013 TAIPEI AMPA, AutoTronics Taipei, Motorcycle Taiwan, and EV Taiwan show.
The shows were organized by the Bureau of Foreign Trade, Ministry of Economic Affairs in conjunction with the Taiwan External Trade Development Council (TAITRA), Taiwan Transportation Vehicle Manufacturers Association (TTVMA), and Taiwan Electrical and Electronic Manufacturers' Association (TEEMA).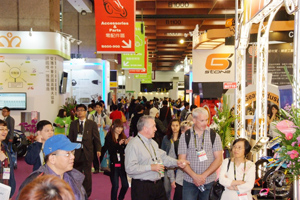 International visitors flocked to 2013 Motorcycle Taiwan and EV Taiwan at the TWTC.
The two-in-one event was synchronized this year with the 2013 Taipei International Auto Parts and Accessories Show (Taipei AMPA) and Taipei International Automobile Electronics Show (Autotronics Taipei) at the Nankang Exhibition Hall. The paired shows presented a full spectrum of the car and motorcycle manufacturing industries and related lines, creating a truly one-stop shopping experience for local and international buyers.
The joint opening ceremony was joined by TAITRA Chairman Wang Chih-kang, Minister of Economic Affairs Chang Chia-juch; Chief Secretary of the Bureau of Foreign Trade (BOFT) J.F. Wang, Chairman of the Taiwan Rubber & Elastomer Industries Association (TREIA) Lin Sheng-yi, TEEMA Vice Chairman Cheng Fu-hsiong; and TTVMA Chairman Chen Kuo-rong.
There were 112 exhibitors, 292 booths, and about 27,078 visitors (including 6,813 overseas buyers) at this year's Motorcycle Taiwan and EV Taiwan shows, according to the organizer TAITRA. Japan, China, the United States, Malaysia, Hong Kong, Indonesia, the Philippines, Singapore, South Korea and Germany were the top 10 buyer nations that participated in the two shows.
2013 Motorcycle Taiwan & EV Taiwan Exhibitor Profile

Exhibit Categories
Exhibitors
Booths
Domestic Exhibitors
85
263
Oversea Exhibitors
3
4
Cross-strait Exhibitors
20
21
Media
4
4
Total
112
292
Source: TAITRA
2013 Overseas Visitors Analysis*
Asia
4,591
North America
609
Europe
609
Middle East
354
Africa
225
Australia
210
South America
113
Central America
85
Others
20
Total
6,813
* Including 2013 Motorcycle Taiwan,
EV Taiwan, TAIPEI AMPA, and AutoTronics Taipei

Source: TAITRA
Top 10 Countries/Regions
of Visitors*
Japan
1,638
China
864
USA
530
Malaysia
440
Korea
284
Indonesia
268
Thailand
259
Singapore
245
Hong Kong
244
Philippines
166
* Including 2013
Motorcycle Taiwan, EV Taiwan, TAIPEI AMPA, and AutoTronics Taipei

Source: TAITRA
Comprehensive, Innovative & More
At the opening ceremony, Economics Minister Chang underscored Taiwan's international reputation for making a wide range of high-quality and innovative motorcycle products, combined with flexibility and first-rate customization capability. These assets, along with island's impressive electric vehicle key (EV) component R&D capabilities, position Taiwan well to develop in the global markets, he said.
High-quality, globally-competitive motorcycle parts and accessories made in Taiwan turned the heads of global buyers.
Taiwan has a more than 50-year history of producing powered two-wheeler (PTW) with outstanding manufacturing technology, R&D and innovation capabilities. Today the island's motorcycle industry has a local content rate exceeding 99%. In recent years, a number of Taiwanese manufacturers have begun to focus on larger-displacement (500cc and higher engine capacity) motorcycles and all-terrain vehicles (ATVs), with annual production volume growing by over 30% per year. In the motorcycle parts and accessories segment, including brake system components, engine system components, drive-train system components, exterior fittings, suspension system components and lighting system components, Taiwanese manufacturers boast first-class manufacturing technology, stable quality, flexible customized manufacturing capabilities, and reasonable prices.
These qualities have encouraged many leading European, American and Japanese motorcycle makers to use Taiwanese components, driving up the island's global market share in the segment to impressive levels, industry sources say.
Another fast-growing line on the island is the EV industry, which has been rapidly developing with support from the government-industry partnerships.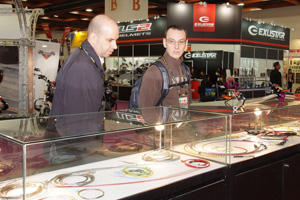 Taiwan`s assembled-PTW and parts makers are known for their production flexibility and small-batch, large-variety production mode.
The Ministry of Finance of Taiwan approved a 50% cut in the level of commodity tax levied on domestically sold EVs to help Taiwan grow as Asia's most vibrant platform for EV development. Additionally, since 2010, the BOFT has been offering R&D and consumer subsidies to drive up development and sales of electric scooters.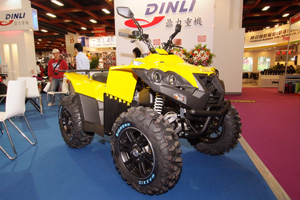 Taiwan is a formidable player in the global PTW market.
Benefiting from the strength of Taiwan's information and communications technology (ICT) sector, Taiwan's EV industry has been able to successfully develop environmentally-friendly, "smart", and high-end products, including both assembled EVs and key components. The key component technology that Taiwanese EV-related firms have developed—particularly with respect to EV lithium-ion power-cell materials, range, safety, and environmental friendliness—has won plaudits from buyers and enabled Taiwanese manufacturers to successfully break into the supply chains of leading European and North American EV makers.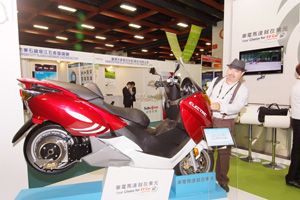 Taiwan has been aggressively developing as a global production base for assembled EVs and key parts.
The rising profile of Taiwan's EV-related companies attracted a strong turnout of overseas buyers to this year's EV Taiwan show, where local makers showcased their impressive capabilities.
Many well-known companies exhibited at 2013 Motorcycle Taiwan, including Dinli Metal Industrial, NCY Motor Sports, Yih Jing, King Tony, Che Li Wu (Frando), Chao Chia, Chicken Moto Parts, Hyderson International etc.; while nearly all of the major Taiwanese makers of assembled EVs, key systems, lithium-ion battery and pack manufacturers participated in the 3rd EV Taiwan: Pihsiang, Tung Keng, Dijiya, Delta Electronics, Fukuta Elec. & Mach., Luxgen Motor, Chroma ATE, Yulon Tobe, Kentfa Advanced Technology, Greentrans (CMC Motor), Asia Pacific Fuel Cell, Teco Group, CityPower Taiwan, TD Hitech Energy, and the Taiwan Automotive Research Consortium (TARC) .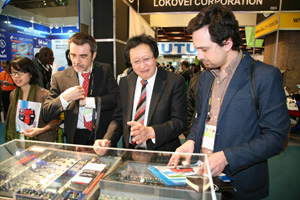 Several quality suppliers of EV-related technologies and products are based in Taiwan.
Procurement Meetings
The show organizers arranged a series of one-on-one procurement meetings, providing plenty of opportunities for one-to-one talks between exhibitors and global buyers. Among the big name buyers at the Motorcycle Taiwan procurement meetings were SIP Scootershop GMBH (Germany), Harley-Davidson Motor Company (China), Tucker Rocky (U.S.), Comercializadora de Motocicletas de Calidad S.A. de C.V. (Mexico), RMS SPA (Italy), and CJSC Motorcycle Company Minsk-Moto Motovelo Corp. (Belarus'). Many heavyweight international buyers took part in the procurement meetings at EV Taiwan as well, including: Swarco STS (Germany), Spijkstaal Elektro BV (The Netherlands), Moveo ZRT (Hungary), Master Electronics Corp. (U.S.), and Onlinecomponents.com (U.S.). The involvement of these leading international buyers has boosted procurement opportunities at the shows, TAITRA says.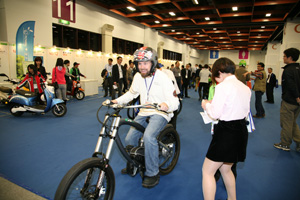 Showgoers test drive vehicles on display at EV Taiwan 2013.
International Forum & Seminars
Numerous supporting activities were held during the exhibitions, including the 2013 EV Taiwan Forum and 2013 EV Market Trends Seminar. The two events were joined by leading international experts from the U.S.-based Center for Automotive Research (CAR), Britain's Zero Carbon Futures and EV company Ricardo, French EV company BatScap, and the drive system division of German semiconductor maker Infineon. Attendees from Taiwan included senior managers from Taiwan's Advanced Lithium Electrochemistry, Intertek (Taiwan), Fukuta, CityPower, Kentfa, as well as officials of the Department of Industrial Technology under the MOEA, the Environmental Protection Administration (EPA), and the government-sponsored Industrial Technology Research Institute (ITRI). International speakers shared their experience, discussed the latest regulatory and technology trends, examined R&D activity, and looked at technology issues relating to the growing importance of green energy.
At the EV Taiwan Forum, Peter Huang, the executive vice president of TAITRA, stressed that the government has strongly supported development of the EV industry in Taiwan, including through the establishment the Intelligent EV Promotion Office and roll out of 10 national EV Development Action Plans in 2010, which aim to put 3,000 EVs on the road by 2013. Stephen Teng, the deputy director of the Intelligent EV Promotion Office, added that the EV Development Action Plans focus on different approaches. He noted that the government has formulated fuel consumption and CO2 emission regulations to reduce energy consumption and carbon emissions. The government has also announced commodity and license-tax holidays for EV, as well as injected money into the auto industry for technology innovation and transformation and building EV recharging infrastructure.
A forum and seminars were held during 2013 EV Taiwan.
Bernard Swiecki, the market analysis director of the Centre for Automotive, highlighted the levels learned from a decade of development in the EV market in the U.S. He said that three battles need to be won for an EV product to succeed: convincing automakers that your products must be on the car; winning over the government; and persuading consumers.
Colin Herron, the managing director of Zero Carbon Futures, explained why northeast England is leading the way for low carbon transport. He said that there are four key considerations for effective infrastructure roll-out, including placement, planning, power, and posts.
Test Rides
TAITRA and exhibitors arranged a Test Ride Zone (for both motorcycles and EVs), along with special product presentations, to give showgoers a chance to experience the products on display first-hand,
A total of 23 firms provided vehicles for test rides, creating an opportunity for direct interaction and exchange of ideas between manufacturers and visitors at the shows. Buyers who test rode the vehicles received lottery tickets for a chance to win plane tickets.
"Four-in-One" Extravaganza
TAITRA noted that the four-in-one "mega trade show" showcased the impressive capabilities of Taiwan's automobile, motorcycle and related industries. Besides helping to enhance the focus and appeal of these four exhibitions, holding the shows together is expected to create business opportunities in the automotive sector.
TAITRA claims that the four exhibitions, attracting a combined 1,350 exhibitors, 3,630 booths and 60,000 visitors, is one of the most comprehensive auto/motorcycle events. The four-in-one event is expected to generate over US$1.3 billion of business opportunities.