Yamaha Motor Taiwan Co. (Yamaha brand) expects a 10% sales volume growth in 2013, higher than the market's 7% volume expansion from the previous year, by selling more than 200,000 new powered two-wheelers (PTWs) on the island.

The company is also expected to replace major rival Sanyang Industry Co., Ltd. (SYM), to become the No. 2 PTW vendor in Taiwan in 2013, trailing only Kwang Yang Motor Co., Ltd. (KYMCO).

In fact, Yamaha Taiwan was mired in a fuel-pump recall in late 2012, involving all the employees and distributors to pick up the pieces throughout  the first half of 2013, with the PTW vendor having begun aggressive marketing in the second half, including launching the SMAX maxi scooter.

Hiroyuki Seto, president of Yamaha Taiwan.
Hiroyuki Seto, president of Yamaha Taiwan, points out that the company has been trying to provide better-than-expected products and services based on its brand spirit "Rev your heart", firmly believing that Yamaha will eventually pave an even-brighter future by being the No. 1 in operation, brand image, product quality and customer service.
According to Seto, since its establishment, Yamaha Taiwan has insisted on offering high-quality and -performance PTWs meeting consumer demand and being the trend-setter in the domestic market, including its Vino, Majesty, Cygnus, Cuxi, BWS, and the most recent SMAX scooters. Thanks to Yamaha Taiwan's outstanding assembly quality, the company exported about 5,000 SMAXs to Japan from October to December 2013, making a big hit in the Japanese PTW market.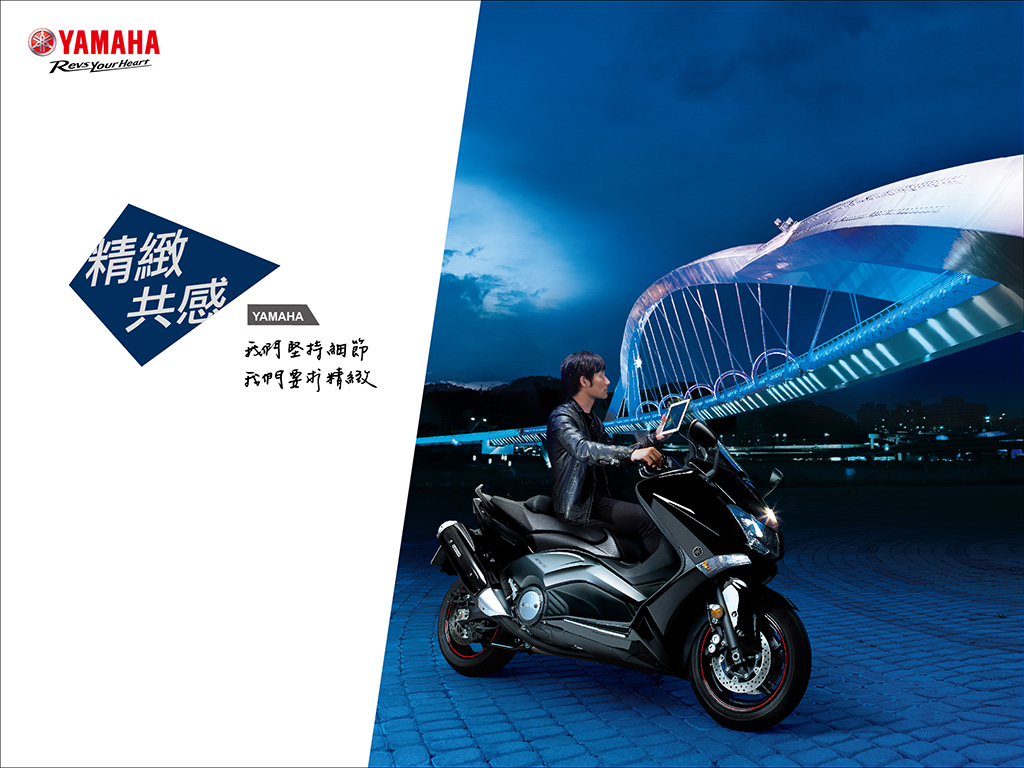 Yamaha Taiwan launched the 155cc SMAX scooter, winning immediate hot market response.
To enhance image in Taiwan, Yamaha began visual identity (VI) renovation works at all its dealers throughout Taiwan in 2013, which Seto stresses is not only to remodel dealers but also upgrade consumer satisfaction (CS). With SOP (standard operating procedure), Yamaha Taiwan evaluates if a distributor fully meets all  criteria to see if it qualifies for VI renovation, which aims to raise Yamaha's overall service quality to sharpen the brand  image.
Complete Repair & Maintenance Record
To upgrade consumer's trust in Yamaha Taiwan's service quality, each Yamaha PTW model gets a complete record of repair and maintenance. At each service point, the company installs a diagnostic monitor for the PTW being worked on, which shows all the information of the vehicle to both  technician and vehicle owner. Yamaha Taiwan says it will further upgrade the computer system to continue providing better-than-expected after-sales services in the future.
Seto adds that his company holds the annual CS meeting with all distributors every November or December to educate distributors with new standards, also to stir  distributors' passion in serving consumers.
Global Procurement
Regarding Yamaha Taiwan's role in Yamaha's global business deployment scheme, Seto says that the company is also responsible for procuring products globally and supplying Yamaha subsidiaries and affiliates around the world, also praising local subcontractors for high quality, competitive costs, high flexibility, and on-time delivery.
Yamaha Taiwan and its subsidiaries handle PTW manufacturing, product development, and trading, which together are critical to the division-of-labor scheme of Yamaha globally, he says.