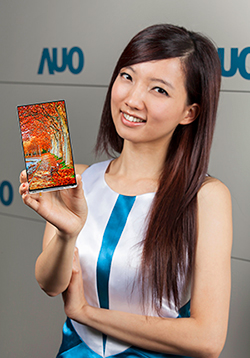 A model holds AUO's mass-produced 6-inch WQHD smartphone panel.
AU Optronics Corp. (AUO), a major maker of thin film transistor-liquid crystal display (TFT-LCD) panels in Taiwan, recently announced having pioneered mass production of 6-inch Wide Quarter High Definition (WQHD, 2560×1440 pixel resolution) ultra high resolution LCD panel for smartphones at the end of 2013, claiming that the panel boasts the world's highest resolution (based on available market research information as of January 15, 2014) for currently mass-produced smartphone displays.
Recently the first smartphone model using this WQHD LCD panel has also been released in the market. Setting new standards for smartphone display specifications, AUO said it will continue to offer consumers exceptional image quality and viewing experience with its large-sized, ultra high resolution products.
AUO's 6-inch WQHD LCD panel has resolution as high as 2560×1440 pixels, four times that of HD resolution, and can show exquisite details and depth.
The coming of the 4G era and the growth of smartphones with large screens allow users to access and share a considerable amount of images and videos, creating high demand for screens showing finer details, AUO explained. AUO's 6-inch WQHD LCD panel adopts the AHVA (Advanced Hyper-Viewing Angle) technology and is produced under low temperature poly-silicon (LTPS) technique. The panel's near-500 ppi (pixel per inch) capability allows for more complete presentation of web content and much sharper character display. In addition, its ultra-narrow 0.9 mm bezel design expands the display active area to its largest and makes the smartphone lighter and more compact, AUO said.
The company has so far successfully gained market shares in China for mid-range and high-end smartphones and secured clients from global brands. AUO said it will continue to enhance its R&D capabilities and develop high value-added products to satisfy diversified customer demand.