Lihpao Group, a land development and construction conglomerate in Taiwan, recently signed a cooperation letter of intent (LOI) with Hitachi of Japan to jointly develop advanced medical equipment, including particle and proton therapy and gene testing equipment, and may engage in other joint ventures in the future.

A. G. Chang, Lihpao Life Science Corp.'s president, pointed out that Hitachi is the world's 38th-largest enterprise and the largest home-appliance vendor in Japan with strong expertise in electrical machinery, especially in minimizing product size while keeping advanced functions. The plan calls for Lihpao to supply custom-made solutions to customers in Taiwan, China, Hong Kong and Macao, by  adopting Hitachi's advanced medical equipment.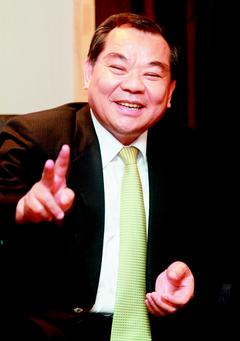 P.T. Wu, chairman of Lihpao Group of Taiwan. (photo of UDN)
Lihpao is a major construction group in Taiwan and a hotel chain operator on the island, having been developing the biotechnology business for more than 10 years.
Chang says that there are many potential and lucrative business opportunities in radiation therapy equipment, including gamma knife, computed tomography (CT), linear accelerator, and the most advanced particle and proton equipment; while only hospitals in Italy, Japan, the U.S., Germany, and China (Shanghai) are equipped with proton therapy equipment.
Industry sources said that Terry Guo, chairman of Hon Hai group, the world's largest EMS (electronics manufacturing services) provider based in Taiwan, has announced pouring NT$15 billion (US$500 million) to help the National Taiwan University Hospital install proton therapy equipment on the island; while the local Chang Gung Hospital has also introduced such equipment from IBA of Belgium. That, according to the sources, suggests the island has an emerging trend towards high-end proton medical equipment.
In China, the National Health and Family Planning Commission (NHFPC) announced in March 2013 its decision to loosen the ban on hospital procurement of high-end radiation therapy equipment (for between 2013 and 2015); while China's 12th five-year macro economic development plan is also aggressively cultivating high-end medical equipment and non-invasive testing agent industries.
In both Taiwan and China, the Lihpao group has developed vertically-integrated deployments in the biotechnology market, from stem cell treatment, gene detection and test, cosmetics, health foods to hospitals.
Caption: P.T. Wu, chairman of Lihpao Group of Taiwan. (photo of UDN)