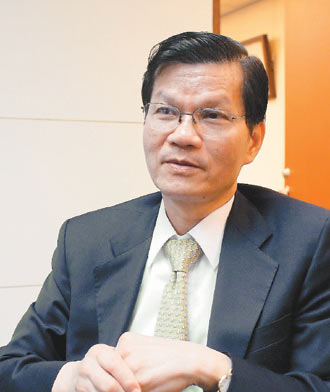 Wong Chi-huey, president of Academia Sinica.
The Academia Sinica, the highest academic institution in Taiwan, recently announced that it has authorized OPKO Health Inc. to produce and market a new influenza vaccine developed by the Academia's Genomics Research Center.
A team of scientists led by three principal investigators at the Genomics Research Center engineered the new glycoprotein-based flu vaccine, which induces a greater immune response and greater protection against the H1N1 flu virus strains in mice and ferrets than the traditional vaccine. The research results were published in the Jan. 28, 2014 issue of the "Proceedings of the National Academy of Sciences" (PNAS), and highlighted on the journal's cover.
According to the Academia Sinica, the World Health Organization (WHO) estimates that influenza virus infections cause about half a million deaths worldwide each year. Vaccination is the most effective method to control and prevent influenza infection and the related fatalities; however, as influenza viruses are constantly mutating, the current egg- or cell-based flu vaccines are effective only against closely matched circulating strains. To combat mutations, flu vaccines are reformulated every year; but the reformulated vaccines are not always effective, as their design is based on a prediction of the types of strains that will emerge in the coming season. Sometimes, the predictions are inaccurate and the newly formulated vaccines are not effective, as evidenced by the 2009 H1N1 pandemic.
The new type of vaccine engineered by the Genomics Research Center researchers--Academia Sinica President Wong Chi-huey, Associate Research Fellow Che Alex Ma, and Associate Research Fellow Kuo-I Lin--uses hemagglutinin (HA), an antigen present on the surface of influenza viruses that is commonly targeted by antibodies. They designed vaccines with various lengths of glycans (sugars) attached to the HA and inoculated mice and ferrets. They found that vaccines containing HA with only one sugar elicited a much stronger immune response than the other vaccines. When the animals were inoculated with three flu strains, the monoglycosylated HA (one sugar HA) provided much greater protection than the other vaccines. Further studies have elucidated the mechanism of the immune response to this new type of vaccine. Overall the results of the study suggest that vaccines with monoglycosylated hemaglutinin may confer broader protection against infection by different flu strains.
Recent human cases of avian influenza caused by the H5N1, H7N9, and H6N1 viruses in Asia highlight the particularly pressing need in the region for an improved vaccine that does not require frequent updates and annual immunizations, and that can provide cross-strain and cross-subtype protection, the Academia Sinica said.
Wong Chi-huey is an internationally recognized chemist, and the development of carbohydrate-based vaccines is a major research focus of his group. The current research results bring Wong one step closer to his ultimate goal of developing a universal vaccine. He recently received the 2014 Wolf Prize, a major scientific award.
Caption: Wong Chi-huey, president of Academia Sinica.