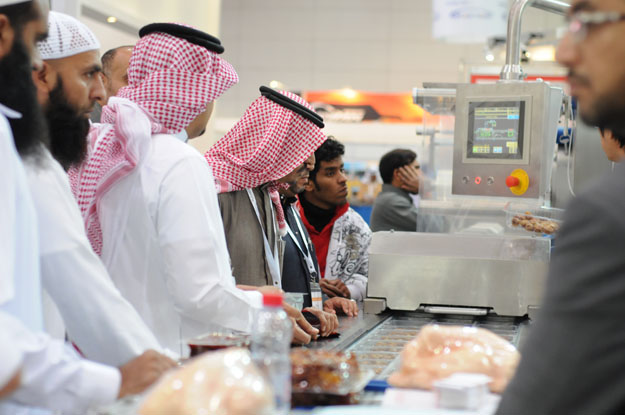 Saudi PPPP is known for being a diverse, effective business platform for packaging, packing, plastic and petrochemical industries in the Middle East. (provided by the show organizer)
The most important business event in the Middle East for packaging, packing, plastics and petrochemical industries, Saudi PPPP 2014 is scheduled for February 17-20 in the Riyadh International Convention & Exhibition Center with complete range of related technology, materials and machines.
Saudi PPPP this year will remain a 2-in-1 trade fair as usual: the 11th International Trade Exhibition for Printing and Packaging Technology (Saudi Print & Pack) and the 11th International Plastics Petrochemical Trade Fair (Saudi Plastics & Petrochem).
Organized by Riyadh Exhibition Company, the last edition of Saudi PPPP, or formally known as Saudi PP & PPSG for it was composed of the 10th Saudi Plastics & Petrochem and the 10th International Packaging, Printing, Sign and Graphics Technologies Exhibition, rounded off on December 1, 2011, with encouraging results.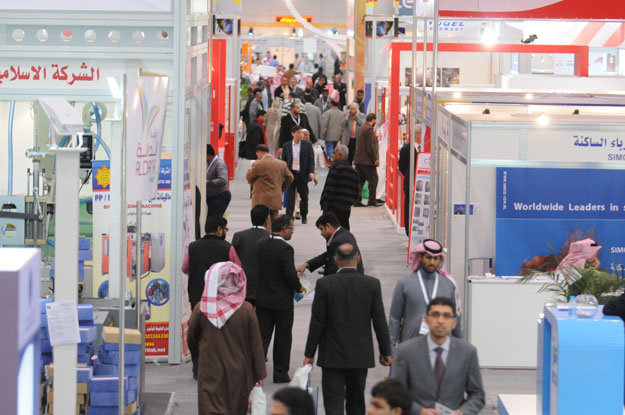 More than 21,000 buyers visited the Saudi PP & PPSG in 2011. (provided by the show organizer)
Resounding Success
In that year, the exhibition event, spread over 15,000 square meters, hosted 512 exhibitors with 10 national pavilions for companies at home and from Austria, China, Egypt, Germany, India, Italy, South Korea, Taiwan and the United Arab Emirates.
Meanwhile, the show lived up to its name as one of must-see business platforms of this kind across the EMEA (Europe, Middle East and Africa) bloc by attracting 21,423 visitors from 26 countries, such as Kuwait, Jordan, Oman, Qatar, Palestine, Sudan, Tunisia, Turkey, France, Germany, Pakistan, the U.K. and so forth, according to the organizer, who reported that the visitors were mostly high-quality buyers as industrialists, distributors and suppliers, traders, wholesalers, company managers and factory owners and retailers.
Further proof of the show's success was that 97% of exhibitors polled in the organizer's surveys agreed that their participation in Saudi PP & PPSG 2011 was worthwhile, 81% received orders thanks to participation, and 90% rated the quality of the visitors "Excellent" or "Very Good." In the meantime, 70% of polled visitors regarded their visit to the show very successful, while 95% of respondents said they would come to the exhibition again in the future.
Bigger Turnouts Based on Brisk Industry Growth
Saudi PPPP is expected to attain bigger turnouts than the 2011 edition and prove again the largest, most influential business platform in the Middle East this year, as related industries in Saudi Arabic have shown brisk growths over the past years.
According to reports by the organizer, with plastic increasingly applied in packaging to replace conventional materials as glass and metal in the country, local market demand for safe and sustainable packaging solutions is fast-growing, particularly sustained by food packaging requirements at a time when the country's food consumption is forecast to steadily grow at a compound annual growth rate of 4.6% during 2011-2015, and reach 51.1 million tonnes by 2015.
Also notable is that Saudi Arabia now commands a 70% share of the packaging market in the Gulf Cooperation Council bloc, and is likely to see its domestic market size to swell by 15% this year.
Coincidentally, the country's printing sector will also see bright outlook in the year ahead. Mainly driven by stable economic growth, increasing government expenditure, rising cultural and education activities, and soaring retail sales, the country's printing market has reached US$800 million a year, giving market observers a good reason to believe the local printing sector will witness an 8% annual growth in output value this year, which will call for more spending on equipment expansion to achieve.
Also an inspiring fact is that with local population persistently increasing, about 5.1 million copies of daily newspapers and nearly 2 million copies of magazines are printed every month to meet local consumers' demand.
Under the scenario, the Saudi PPPP 2014 is therefore forecast to enjoy a 15% surge in the exhibitor number and to bring more professional buyers together.
As Taiwan's largest export media, China Economic News Service will participate in the great event with a booth to  circulate its buyer guides, including
Taiwan Machinery and Taiwan Plastic & Rubber
,
Package and Printing Machinery Special
, to local buyers interested in the island's top-caliber, high-performance machinery, to help Taiwanese suppliers to further explore the lucrative market. (SC)