Thanks to falling production costs resulting in declines in average selling prices (ASPs), shipments of 4K×2K, or UHD (Ultra High Definition) desktop monitors are expected to increase steadily, according to the NPD DisplaySearch.

Even as overall desktop monitor demand is estimated to fall to 133 million units in 2014, 4K×2K UHD monitor shipments will reach two million units, the research firm said; and by 2017 shipments are forecast to reach approximately 8% of the market. The ASP for 4K monitors is forecast to decline from US$1,347 in 2014 to US$927 in 2017.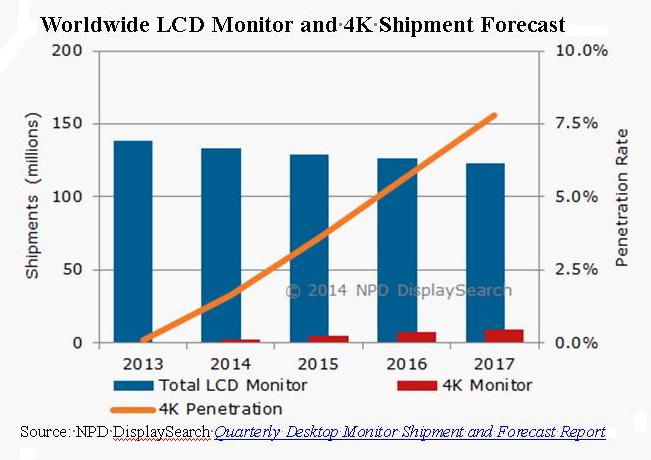 Worldwide LCD Monitor and 4K Shipment Forecast Source: NPD DisplaySearch Quarterly Desktop Monitor Shipment and Forecast Report
"Increased 4K-class monitor shipment volume will depend on how far and how fast ASPs decline," said Hidetoshi Himuro, director of PC and IT research at NPD DisplaySearch. "Although manufacturers hope to raise prices for 4K-enabled monitors, price competition has already begun."
NPD DisplaySerach said that 4K monitors are targeted for applications like computer graphics, photo processing, CAD/CAM, and multi-operation environments; however, as ASPs decline, the 4K market will expand to encompass standard office operations that require more data on a single screen. The majority (56%) of 4K×2K monitor demand in 2014 will come from advanced regions, like Japan, North America, and Western Europe, the company added.
Initial 4K×2K monitors from Sharp, ASUS, Dell and other brands include 23.8-, 28-, and 31.5-inch sizes. With many 4K monitors smaller than 30-inch launching in 2014, 27-inch is expected to be the average 4K×2K monitor display size. "During CES Lenovo, LGE, and Samsung all made 4K×2K monitor announcements, and we can expect several more from other brands this year, as well," Himuro said. "Sharp, Innolux, LGD, AUO, and Samsung will be the leading 4K monitor panel suppliers in 2014."
4K×2K Cellphones
In addition to the increasingly popular 4K×2K TVs and desktop monitors, NPD DisplaySearch forecasts that in 2015, the first year that 4K×2K smartphones will become available to consumers, and global shipments are expected to reach 23 million. The 4K×2K displays will account for more than 5% of smartphone shipments in North America and Japan in 2015, and just under 5% in Western Europe, the company added.
Global smartphone shipments are expected to reach 1.2 billion in 2014. With a three-year compound annual growth rate (CAGR) of 13%, shipments will rise to 1.7 billion by 2017. Although entry-level smartphones priced below US$200 will account for 35% of total smartphone shipments in 2014, the average display resolution will continue to increase globally.
Global shipments of smartphones with high-definition (HD) and full-high-definition (FHD) screens are forecast to reach 570 million in 2014. The 2K displays (also known as wide-quad-HD) shipments are also expected to reach significant levels, and NPD DisplaySearch forecasts 41 million units will be shipped in 2014.
Several flat panel display (FPD) panel manufacturers, including AUO, JDI, Samsung, and others already have 2K displays in production, and applications processor and GPU (graphic processor unit) vendors have products ready to support and handle display resolutions beyond 1080p.
All told, NPD DisplaySearch said, smartphones with HD and higher display resolutions would comprise over half of global shipments in 2014, up from 29% in 2013.