Taiwan's flat-panel display (FPD) industry turned out NT$377.05 billion (US$12.57 billion) worth of products in the third quarter of 2013, down 4.2% quarter-on-quarter (QoQ) and 2.3% year-on-year (YoY), according to the Industrial Economics & Knowledge Center of the Industry & Technology Intelligence Services (IEK-ITIS).


FPDs, a category that includes both large (over 10 inches) and small/medium-sized thin film transistor-liquid crystal display (TFT-LCD) panels, organic light-emit diode (OLED) panels, TN/STN (super twisted nematic) panels, and others, accounted for NT$241.87 billion (US$8.06 billion) in production value, a 4.2% QoQ decrease and a 0.2% YoY decline. FPD parts and components (color filters, polarizers, glass substrates, and backlight units) contributed NT$135.18 billion (US$4.51 billion) to total production, up 1.3% QoQ and 5.5% YoY.

Large-sized TFT-LCDs contributed NT$179.72 billion (US$5.99 billion) to overall production value (down 5.9% QoQ and 4.0% YoY), while small- and medium-sized TFT-LCDs contributed NT$58.52 billion (US$1.95 billion), up 2.0% QoQ and up 15.9% YoY. TN/super twisted nematic (STN)-LCD displays output fell to NT$1.87 billion (US$62.33 million), down 7.0% QoQ and down 39.5% YoY, while production in the organic light-emit diode (OLED) category was NT$1.65 billion (US$55 million), down 9.0% QoQ but up 0.6% YoY.

The production of color filters was valued at NT$25.22 billion (US$840.7 million), down 8.8% QoQ and 7.3% YoY; polarizers at NT$25.97 billion (US$865.7 million), up 0.6% QoQ and 10.5% YoY; glass substrates at NT$40.13 billion (US$1.34 billion), up 1.1% QoQ and 7.3% YoY; and backlit modules at NT$43.86 (US$1.46 billion), up 8.9% QoQ and 9.4% YoY.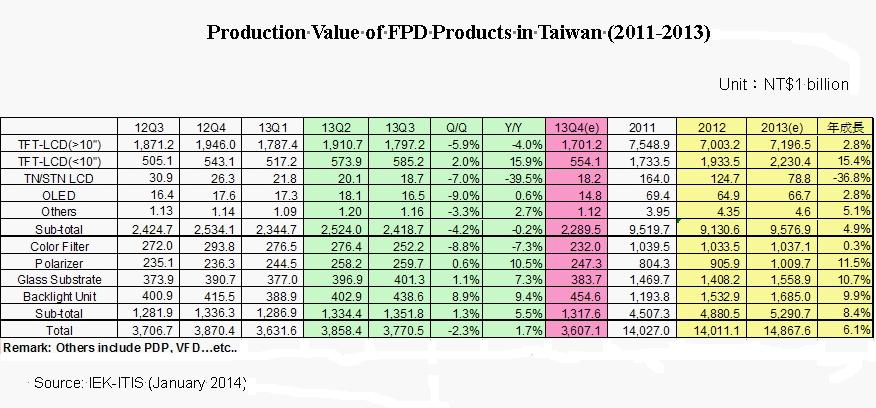 FPD Production Value in Taiwan (2011-2013)
IEK-ITIS says that the production value of large TFT-LCD panels slipped 5.9% sequentially in the third quarter, which is traditionally a high season, mainly because of the lower-than-expected demand from back-to-school purchases and from new Windows 8-platform notebook and desktop PCs. In addition, the demand for 4K2K, or UHD (Ultra High Definition), TVs in the United States and Europe was weak, while demand from emerging markets was nearly flat. As a result, TV-panel prices have been falling at a pace of US$4 to US$5 per half month from the third quarter, hitting revenue in the segment.
Small/Medium Panels
Helped by strong demand for smartphones and tablet PCs, shipments of small/medium TFT-LCD panels from Taiwan have been increasing, gaining 2.0% QoQ and 15.9% YoY in the third quarter. Rising demand in the segment has prompted all local panel makers to churn out small/medium panels, especially second-tier players Chunghwa Picture Tubes (CPT) and the HannStar Display Corp.
However, Taiwan's small/medium panel production outputs still focused on three application products, including cellphone, tablet PC and automotive panels. Demand for small/medium panels topped out in the second quarter and began to slide in the third quarter. Shipments will likely post slightly lower in the final quarter. In general, the production ratio of low- and middle-end small/medium panels in the third quarter was higher than in the previous quarter, implying that most local panel suppliers did not scale up production of higher-end panels.
Global demand for high-end small/medium panels has been growing, but it still has fallen short of expectations. Supplies of such panels are manipulated by higher-quality, -yield rate companies in Japan and South Korea. For a long-term point of view, a maker's technical capability and yield rate are the key factors for success in the increasingly competitive segment.
OLED
Local panel makers are not yet ready to turn out active-matrix OLEDs (AMOLEDs); so they are focusing on passive-matrix (PMOLED) products, especially monochrome and area-color panels, both of which are mature technologies with relatively low prices.
Shipments of OLED panels in Taiwan were affected by the weak global demand for consumer electronics products, and fierce competition from Chinese rivals, leading to a QoQ decline of 9.0% and a YoY increase of 0.6%. Local panel maker AU Optronics Corp. (AUO) has begun small-batch shipments of AMOLED panels, but the limited deliveries have provided only weak support for Taiwan's overall OLED production value.
TN/STN
The overall turnover in the TN/STN panel sector in Taiwan continued to drop 7.0% QoQ and 39.5% YoY in the third quarter. IEK-ITIS says these types of panels are in less demand due to shrinking cellphone applications. The center notes that more TN/STN panels are being replaced by amorphous silicon (a-si) TFT-LCDs, low temperature poly-silicon (LTPS) TFT-LCDs, AMOLEDs and touch panels.
Major Event in Q3 
Samsung of South Korea premiered the world's first curved-display smartphone, the Galaxy Round, priced at about US$1,000. The handsets have a flexible and self-illuminating AMOLED display that can be produced on flexible printed circuit boards (PCBs). Korean panel suppliers are now intensively developing the new display technology and setting up a comprehensive supply chain from upstream materials and equipment to downstream system makers in Korea. The IEK says that Korea's advances in AMOLED technology could put flexible displays into the mainstream: a trend that FPD industry in Taiwan should closely heed.
The not-so-hot market response to touch-control notebook PCs has led to worse-than-expected demand for the entire touch-panel supply chain in 2013. Still, most players in the segment remain optimistic that such devices will gather market steam in 2014. The top-two panel suppliers in Taiwan, AUO and Innolux Display Corp., have been aggressively pushing budget-priced OGS (One Glass Solution) touch solutions, which are expected to bring down the average cost of notebook touch-control display module to US$30 each, from about US$50 now. However, a lukewarm consumer response and poor market penetration of Win8 touch-control notebook PCs are still posing headwinds for touch panel notebook PCs.