After Google Inc. decided to further expand its cloud data center in the Changhua Costal Industrial Park (CCIP), two other big local companies recently announced to pour about NT$12 billion (US$400 million) into setting up a new factory or expand existing production capacity in the park, including Depo Auto Parts Ind. Co., Ltd., a major auto-lamp makers on the island, and the ChangChun Group, a  conglomerate with core business in petrol-chemicals.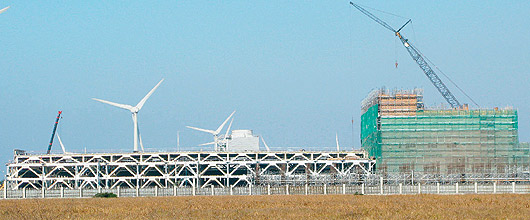 New factories being constructed in CCIP. (photo by EDN)
CCIP's administration office pointed out that Google just inaugurated its clod data center in the park in late 2013, and has announced pouring additional US$300 million to kick off the second-phase plant construction project.
Depo has bought 1.26 million square fee of land from AUO Crystal Corp. to build for  about NT$10 billion (US$333.3 million) an auto-lamp production base in the park. Industry sources pointed out that Depo is operating two local auto-lamp production bases in Changhua (central Taiwan) and Tainan (southern Taiwan), and the investment plan will be part of the company's long-term development strategy.
ChangChun Group already owns 16 hectares in CCIP, and recently bought another four hectares, on which the group plans to pour more than NT$2 billion (US$66.7 million) to set up new facilities to produce plastics. The  construction is expected to start soon and will be completed in two years.
Another possible investor in CCIP is NTT of Japan, which is considering to set up a cloud data-processing center.
So far, the office added, some  3,643 hectares in CCIP has been developed, and the park is divided into three zones, with cumulative investment in CCIP exceeding NT$800 billion (US$26.7 billion) by many big local and foreign companies such as Taiwan Glass, Taiwan Cement, China Steel, Google etc.
As allowed by government, one of the three zones in CCIP has been set up as the ninth Free Economic Pilot Zone in Taiwan, attracting ever more heavyweight companies to enter. In 2013, new investment in CCIP outstripped NT$50 billion (US$1.67 billion), leading to land shortage.
Caption: New factories being constructed in CCIP. (photo by EDN)