LCD TV shipments by Taiwanese contract, or system integration, makers in the fourth quarter of 2013 increased by 17.5% quarter-on-quarter (QoQ) but dropped 6.4% year-on-year (YoY) to 10.28 million units, according to WitsView, the display research division of the global intelligence provider TrendForce.

In 2013, local LCD TV contract suppliers together delivered some 35.85 million units, a 5.4% YoY decline, due to weaker-than-expected demand. However, the total volume in 2014 is forecasted to increase by 5% to 6% to 36 million to 39 million units, WitsView said.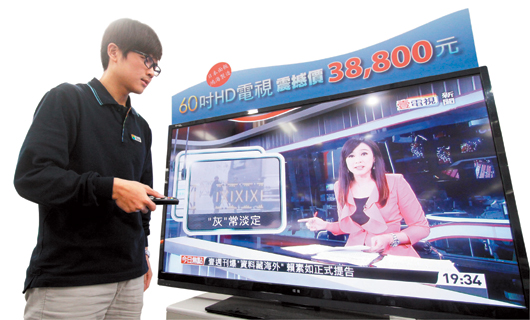 Taiwanese contract suppliers are expected to ship 36 million to 46 million LCD TVs in 2014.
"Because of the sluggish global economy in 2013, some brands' shipments declined sharply and dragged down SI makers' room for survival, which was the main factor that led to the lower-than-expected Taiwanese LCD TV SI makers' shipment," said WitsView research director Burrell Liu.
Industry sources said that Hon Hai's TV shipments are expected to rise 35% in 2014, thanks to stable order-placing by Japanese brands, as well as from Vizio in North America. Other Taiwanese contract suppliers, like Compal Electronics Inc., Wistron Corp., have booked orders from Japanese and Chinese vendors, and are expected to see over 30% shipment increase this year. Wistron won orders from Chinese vendors Haier and Xiaomi in 2013, while focusing on strengthening distribution channels in the U.S. this year., aiming to ship about four million TVs in 2014.
The sources added that after continued losses in the past few years, major Japanese TV brands have adjusted operation strategies for 2014. Sony, for example, has announced to spin off its TV business in July, and will turn to placing mainly original equipment manufacturing (OEM) TV orders, rather than Original Design Manufacturing (ODM) as before. Sharp will license its TV brand to BestBuy in the U.S. market, in which the Japanese vendor will focus on vending over-60-inch TV models. Toshiba's global TV shipments shrank in 2013, but Taiwanese company Compal acquired Toshiba's Polish assembly plant in late last year, and aims to ship some four million TVs to Toshiba in 2014.
Liu pointed out that the stagnant global demand for LCD TVs has immediately affected international vendors and their contract suppliers' shipments; while vendors' increasingly conservative outsourcing policy is also driving down the contract supply volume. "In addition, brands tended to be conservative on outsourcing orders, which have been staying around 30% for three consecutive years. Only TPV and Hon-Hai's TV SI shipments enjoyed 5.2% and 19.2% growth, and the remaining SI makers showed shipment declines," he explained.
Industry sources said that all major Taiwanese contract LCD TV makers have announced to ship a total of 43 million to 46 million TVs in 2014, higher than WitsView's forecast.