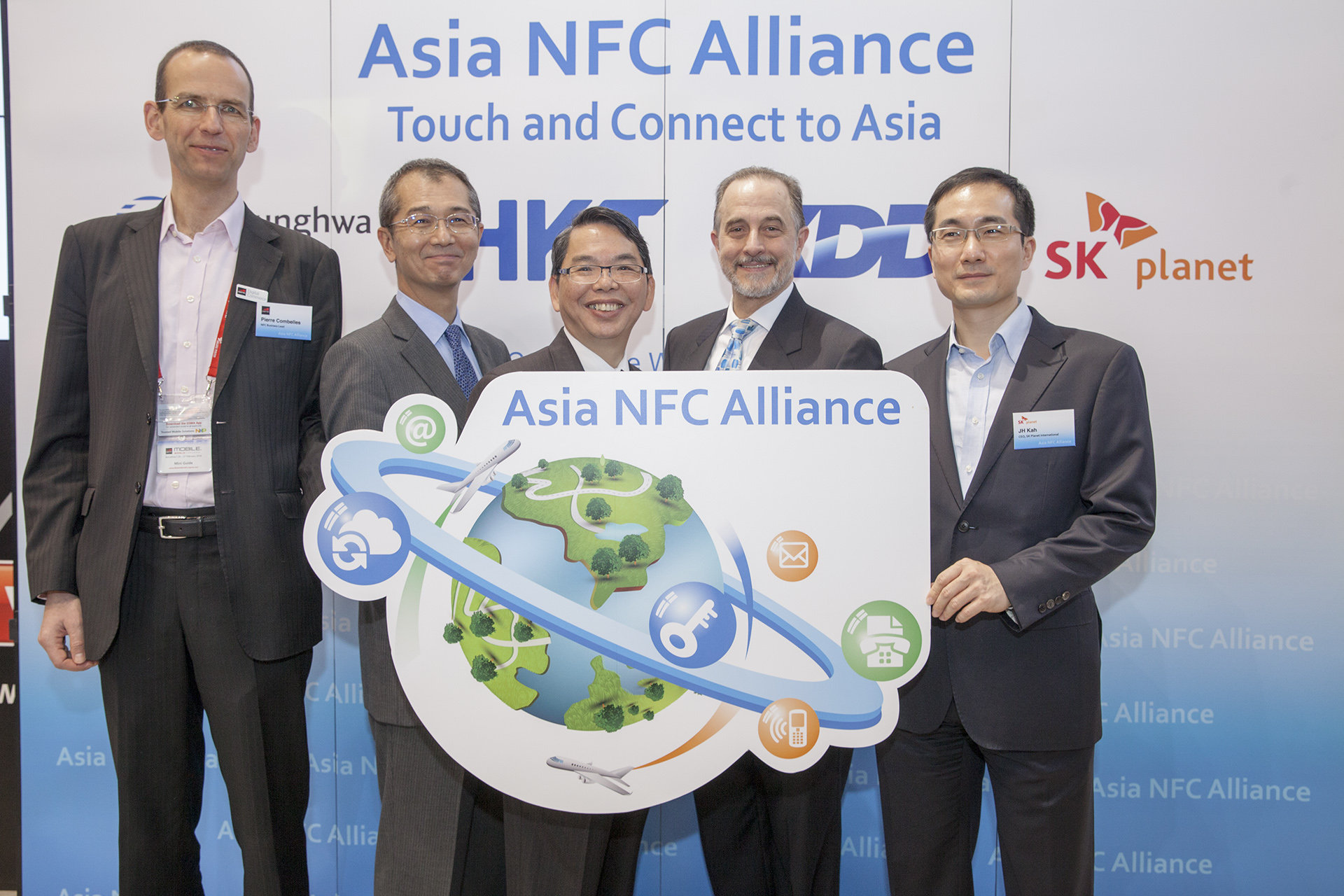 Asia NFC Alliance representatives from GSMA, KDDI, Chunghwa, HKT, and SK Planet (from left to right).
Chunghwa Telecom Co., Ltd., a major telecom in Taiwan, recently announced forming a mobile-service consortium named "Asia NFC Alliance" at the telecom-technology trade show Mobile World Congress of Spain with Hong Kong Telecommunications (HKT) Corp., KDDI Corp. of Japan, and SK Planet of South Korea to boost cross-boarder mobile pay service in Asia's developed economies.
The alliance will set up a mobile pay system based on near field communications (NFC) technology, with which consumers in these economies can pay for mobile computing devices cross boarder for tour-guide download, ticketing, hotel booking, and coupon.
The alliance has one goal each for its three stages of development. In the first, the goal is developing compatible NFC technology and diversified applications. In the second, the alliance will develop itself into an information hub for Asia-Pacific NFC industry. Ultimately, the alliance hopes more organizations to come aboard to create more innovative and mature NFC applications.
According to G.F. Lin, general manager of Chunghwa's Mobile Business Branch, who was elected chairman of Asia NFC Alliance, the alliance has been endorsed by Global System for Mobile Communication Association (GSMA), which represents nearly 800 mobile operators and more than 200 companies in the broader mobile ecosystem worldwide including handset makers, software developers, equipment suppliers, Internet companies, and media and entertainment organizations.
The two alliances, Lin said, will work together to establish a more internationalized ecosystem for the NFC industry.
Lin pointed out that Chunghwa is Taiwan's first telecom to offer NFC service when it rolled out trial service in 2012. It worked with KDDI in November last year to roll out Japanese version of downloadable NFC-based coupons for Japanese tourists to Taipei's Youkang market district. KDDI, in return, specifically offers Taiwanese tourists to Okinawa to  download coupons on mobile phones from Chinese version of posters published by local stores.
He said the alliance will foster Asia's setting for NFC applications in retail, tourism, distribution, transportation industries. (KL)