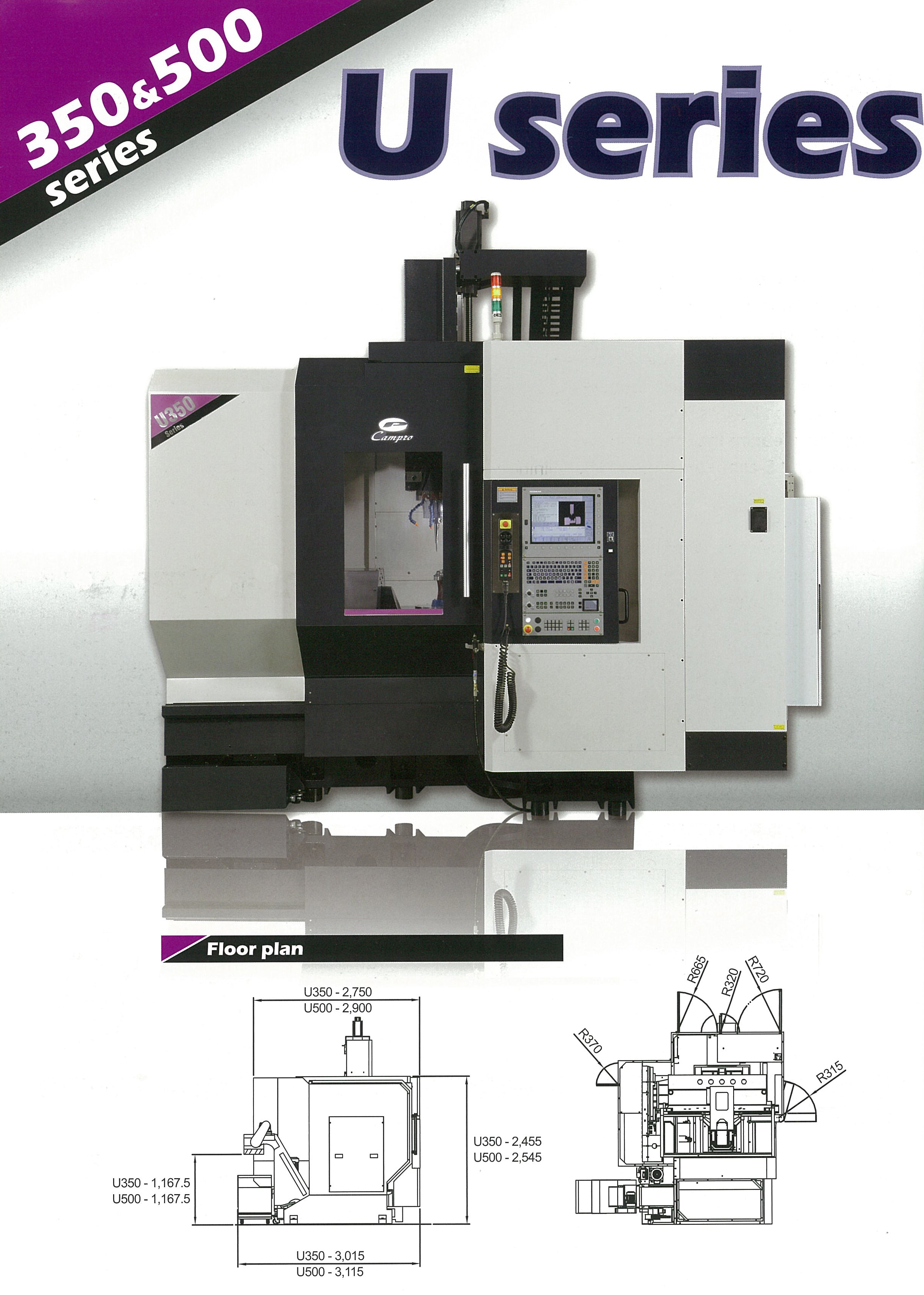 Campro's U series of five-axis synchronous motion machining centers features many advantages.
A specialized supplier of CNC machine tools founded in 2003, Campro Precision Machinery Co., Ltd. has recently released its newest U series of 5-axis synchronous-motion machining center for making medical equipment such as artificial joints.
Capable of excellent milling and lathing at precise angles on front or sides of workpieces, the U series come with standard accessories including the Heidenhain iTNC530 controller, a built-in spindle running at 12,000 RPMs, a water cooler, a BBT-40 tooling & spindle, a 32-tool chain-type automated tool control (ATC) system, Heidenhain linear scales on X/Y/Z axes, Heidenhain learner scales & encoder on A/C axes, roller-type linear guides on 3 axes, built-in chip screw & chip conveyor with collection bucket, a through spindle coolant with 20-bar filter system, oil-mist collector, an oil-mist collector, an air conditioning for electrical cabinet, and an oil skimmer. Optional accessories include 15,000/18,000-rpm built-in spindles, HSK-63A tooling & spindle system, 40-tool chain-type ATC, 60-tool chain-type ATC, Heidenhain DCM 5 crash protection software, auto-tool length measurement, workpiece measurement, and CE modification.
This is a pioneering machine that is water- cooled instead of oil-cooled, suggesting a technical breakthrough. Its X, Y, and Z axes come with heavy-duty roller-liner guideway to ensure processing precision on rapid motion and heavy loading. Its high-performance rotary table, moving in A and C axes, is supported by a double-arm design and driven by a DD motor on C axis. The table rotes 360 degrees in C axis and tilt from 30 to 120 degrees in A axis. The 12,000 RPM spindle is driven by a powerful 28kW motor.
The operational rigidity and stability are  assured by a super heavy one-piece FC300 cast iron coupled with a monoblock column.
The U series mostly goes to Europe for high value-added market. The five-axis machining center series is available in high-speed, linear-guideway, and hard-guideway models as part of the company's strategy to supply machines for light-duty, mid-duty, and heavy-duty industries.
Campro specializes in vertical machining centers, horizontal machining centers, CNC lathes, CNC turning centers, CNC double column machining centers, CNC traveling column machining centers and 5-axis double-column machining centers.
Its name combines the acronyms "CAM" for computer-aided manufacturing and "PRO" for professionalism, backed by some 20 years on average of experience in R&D, production management, manufacturing process, quality management, application, marketing and machine-tool manufacture.  
CAMPRO machines meet Japan's JIS and Europe's VDI 3441 standards, qualifying them for sale in most developed economies.
In addition to the Taiwan headquarters in Taichung, central Taiwan that makes major lines of products, the company runs a branch in Shanghai to develop and manufacture vertical machining centers and CNC turning machines. So far the company has introduced at least 50 models of machines under its own "CAMPRO" brand that are marketed through 30 dealers worldwide.
To assure that ambient conditions don't impact quality of machines, the company assembles them in air-conditioned buildings and examines each outsourced component and material with coordinate gauges for precision of specifications.
Campro does not make standard machines in large volumes to avoid competition with big international players. Other competitive advantages include in-house R&D unit, coordinated gauges, assembly lines, quality-control, rigid mechanical structure and quality main spindles. (KL)