Taiwan's assembled-bicycle exports to China grew by 165.7% in 2013, and the big market there has become the major revenue growth engine for the island's top-three bicycle makers--Giant Manufacturing Co., Merida Industry Co., and Ideal Bike Corp.

Anthony Lo, president of Giant, the largest Taiwanese bicycle maker, and chairman of the Taiwan Bicycle Exporters' Association (TBEA), recently noted that in 2013 Taiwan's assembled-bike exports declined by 11.6% to about 3.83 million units, a more than 30-year low. Lo attributed the decline to weak demand from Europe and bad weather in major export markets; he said, however, that 2014 is expected to be a better year for Taiwanese bike makers thanks to recovering economic conditions in major export markets such as Europe, the U.S., and Japan, as well as increasingly stronger demand from China.

Regarding fierce price-cutting competition from Cambodian bike makers, who reportedly captured orders for about 400,000 to 500,000 bikes that were originally planned for Taiwanese companies last year, Lo said that Taiwan's comprehensive parts supply chain and better quality have helped win back many of the lost orders.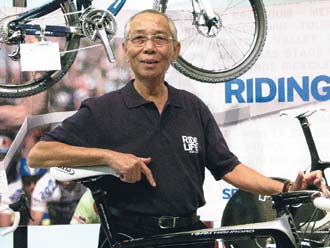 Giant chairman King Liu. (photo by UDN)
Giant's chairman, King Liu, pointed out that the recovering economy in the U.S. and Europe, and continued market growth in China are expected to benefit Taiwan's bicycle industry this year and boost its growth by 5% to 10%.
Lo stressed that Giant is currently the No. 1 bicycle brand in China and that sales of Giant-brand bicycles in that market have been growing at an annual rate of more than 10%. The company sold about two million units there in 2012 and 2.4 million units in 2013, boosting its global sales volume to 6.31 million units last year.
Ike Tseng, chairman of Merida, Taiwan's second-largest bike maker, pointed out that he is optimistic about the growth of the Chinese market over next 30 years. This year, he said, Merida will continue to add new sales points there and inaugurate a new factory in Nantong, Jiangsu Province, in April. The company's exports of Taiwan-made bikes to China soared 25.3% last year, and Tseng expects his sales there to continue growing by 20% a year.
Tseng reports that his company's new bike factory in Nantong will have an annual capacity of some 250,000 units in the initial stage, and that the number of Merida's sales points in China will be expanded to 2,500 this year, from 2,200 in 2013. He expects Merida's 2014 sales volume in China to grow to some 2.6 million units in 2014 from about 2.4 million in 2013.
Ideal Bike's president Andy Lee said that his company has completed vertical integration at its factory in Dongguan, Guangdong Province, following the EU's cancelation of anti-dumping tariff on the facility. The Dongguan factory's annual production capacity of some 600,000 units is expected to be fully utilized over the next two years.