By KEN LIU

Kamioka Corp., a leading CNC machine-tool maker that was founded in Taiwan in 1965, has recently added a number of innovative computerized machine tools to the lineup of its products featuring high cost-performance (C/P) ratios.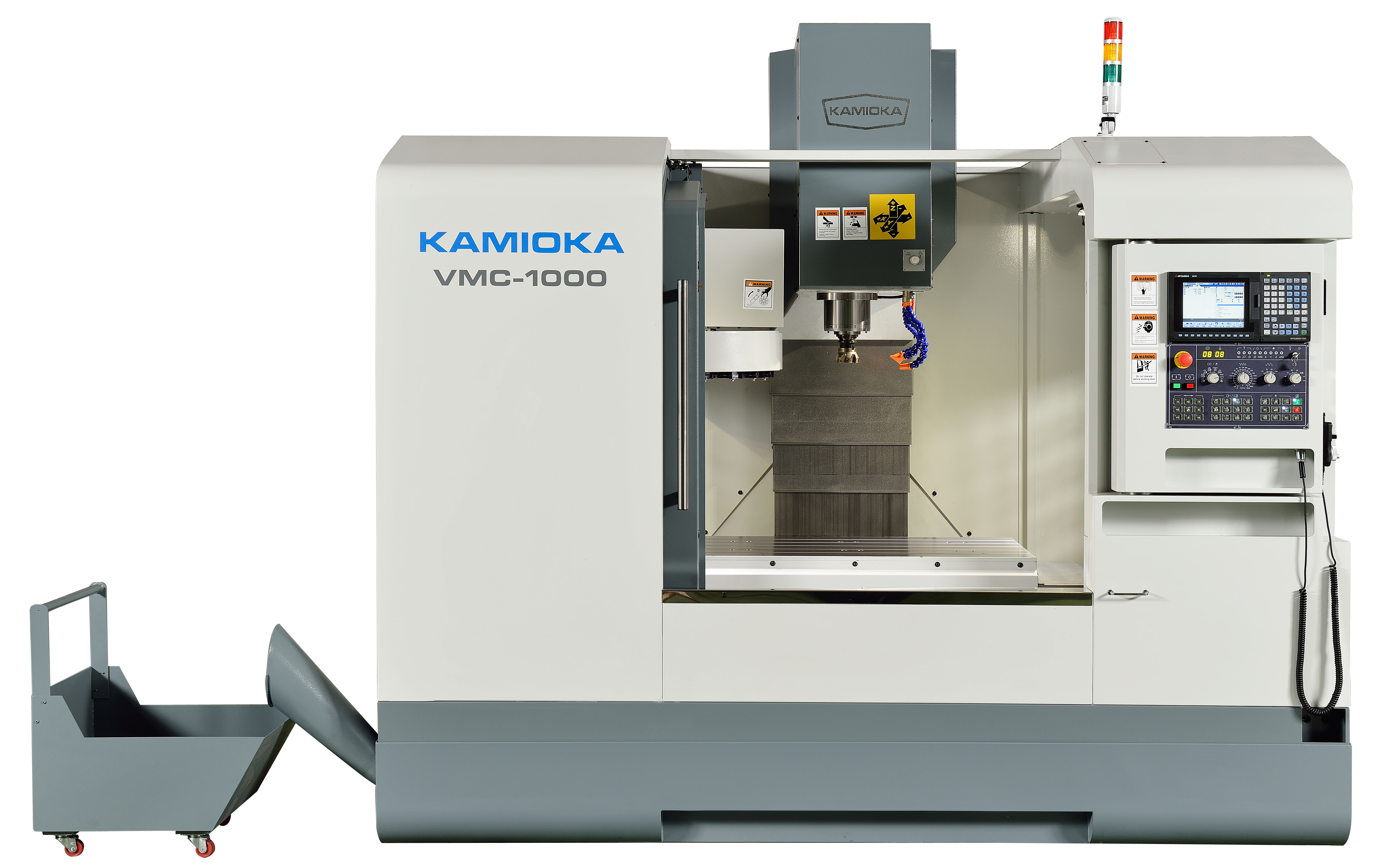 Kamioka's VMC-1000 is an advantageous machining center.
Among these new products are a CNC vertical machining center codenamed VMC-1000, the M406479 semi-gantry portal-type CNC machining center, the M363349 double-column machining center, and the LG-2500 semi-gantry machining center.
The VMC-1000's main spindle traverses 1,000mm in the X axis, 600mm in the Y axis, and 600mm in the Z axis. These are the largest traverse distances for this type of machine in the industry, making it ideal for processing precision metal parts and molds of various specifications.
The VMC-1000 meets the precision required in light-duty cutting and the rigidity required in heavy-duty cutting thanks to the four-sideway uphold base for its Y axis, its 1,100mm by 600mm fully supported worktable, its linear X/Y guideways and hard Z guideway, the extensive span of its support saddle/table, the L-shape reinforced joint between its base and column, its eight base screw-supported foundation, and its rib-braced column with widened span construction.
Furthermore, this machine is outfitted with a BT40 10,000rpm belt-driven spindle, carousel-type 16-cutter automatic tool changer, slant back design, ergonomic control-display and worktable heights, bright LED indicators, and oil-water separator. Each month, the company turns out around 30 VMC-1000 machining centers.
Like other Kamioka machines, the VMC-1000 is compliant with CE standards, qualifying it to enter the European market.
The M406479 machining center is equipped with unorthodox design features which are claimed to make the it 30% more efficient than legacy double-column models. The company developed this machine using its grinding machine technology and self-designed double-column models, together with cooperation with domestic mechanical-technology institutions. 
Its M363349 double-column machining center is another proprietary product, with a one-piece L-shaped mechanical structure and a size as small as semi-gantry machines yet with the efficient production and control of typical double-column machines. These double-column machines, with multiple functions and high efficiency, are ideal for the mold-tooling, aircraft-building, energy-equipment, and car-parts industries.  
Kamioka's brand-new semi-gantry machining center, the LG-2500, was chosen as a winner in the 18th Taiwan SME Innovation Awards by the Ministry of Economic Affairs (MOEA) for its unique, integrated one-piece of L-shaped structure with semi-gantry axle overhangs, helping it to achieve minimized footprint together with the optimal accessibility and operational control needed to improve operator safety and convenience during the monitoring of cutting operations and the loading/unloading of large-sized workpieces.
Over 70% of the crucial components and parts used in the company's machines are either made in-house or outsourced to Taiwanese manufacturers of modularized standard parts.
The company sells its machines on an OEM or ODM basis, or under its own "Kamioka" brand. The products are well received among a broad range of customers in Taiwan, Indonesia, Vietnam, Thailand, Egypt, Turkey, and Ukraine, thanks to their high machining performance. To better serve Southeast Asian customers, the company plans to open a service office in the region.
As a supplier mainly of CNC machining centers, CNC complex lathes, and double-column machining centers, Kamioka builds its advantages on technological cooperation with a Japanese firm specializing in electromechanical integration, as well as on its own ability to design and develop high-tier products. An R&D facility in Kobe, Japan and an office in the United States further help to sharpen its competitiveness.
About 10 years ago, Kamioka began designing and commercializing CNC multi-tasking lathes as well as vertical and horizontal machining centers. All of its products are thoroughly tested in the real world before being put on production lines. 
"Each Kamioka machine is subject to more than 200 quality assurance tests, including examination during parts machining, 100% ball-bar testing, real cutting testing for 12 continuous hours, and at least 120 hours of actual running before shipment," says Chad Huang, the company's marketing director.
Huang notes that vertical machining centers are the company's best sellers, thanks to the strict standards it demands of them. "For example," he claims, "our box-way motion VMCs have achieved an error tolerance below 0.01mm in laser inspection and ball-bar testing. Also, tests have proven that their rigidity reliability approaches 125% in terms of coefficient, compared to 100% for competing products."
In addition to meeting stringent testing standards, Huang adds, the quality of his firm's products is assured by in-house design and manufacturing processes that include everything from casting to shipping.