Major global thin film transistor-liquid crystal display (TFT-LCD) panel makers have been boosting low temperature poly-silicon (LTPS)-TFT production capacity since 2013 with the addition of 5.5-generation (5.5G) and 6G lines. The new capacity is expected to boost global LTPS capacity from 6.74 million square meters in 2013 to 14.89 million in 2016, according to WitsView, the display research division of the global intelligence provider TrendForce.

Within the next three years, the research firm said, total global LTPS production capacity is expected to increase by a factor of two, in terms of area. AU Optronics Corp. (AUO), a major TFT-LCD panel supplier headquartered in Taiwan, is expected to account for about 16% of global LTPS panel shipments over next three years, making it the second-largest supplier of such products, trailing only Japan Display Inc. (JDI) of Japan (to account for 21.6%).

WitsView pointed out that global panel makers are turning their sights to higher-technology LTPS panels to meet the constantly rising demand from mobile devices.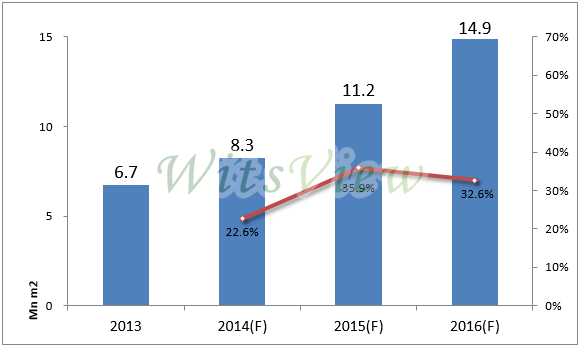 Forecast for Global LTPS Capacity by Area (2013-2016)
In the past few years, Japanese panel makers have been pulling ahead of global rivals in both LTPS technologies and production capacity. JDI, a joint venture formed in 2012 between Innovation Network, Sony, Toshiba, and Hitachi, became the world's No. 1 supplier of LTPS panels after its 6G line kicked off production in 2013. JDI currently accounts for about 40.8% of the LTPS panel area produced.
Korea's LG Display has begun to expand its 6G LTPS capacity as well. Taiwanese player AUO earlier this year announced that its Kunshan investment plan would be shifted from an 8.5G TFT-LCD line to a 6G LTPS line. Tianyi Display Technology Inc. of Taiwan's Hon Hai Group has also restored its 6G investment plan in Chengdu, China.

Global Major Panel Makers' LTPS Capacity Shares (2013&2016)
It is projected that by 2016 the Japanese grip on the LTPS panel market will weaken as Taiwanese, Japanese, Korean, and Chinese companies compete for a piece of the pie. China's Shenzhen China Star Optoelectronics Technology Co., Ltd. (CSOT) and LG Display are expected to account for 13.5% and 13.3%, respectively at that time. As a result, WitsView said, Japan is expected to hold a 32.4% area share of the global LTPS market in 2016, compared to 25.7%, 22.3%, and 13.3% shares for Taiwan, China and Korea, respectively.
"Panel makers everywhere are focusing on high-end products and aggressively working to expand LTPS capacity," said WitsView research manager Boyce Fan. "However, the new capacity coming up in the next two to three years creates concern of oversupply."
Profitability in the LTPS sector will depend on technology edge, product yields, cost, and product pricing, Fan added. Competition will heat up as the market rapidly expands and suppliers with strong client networks and production ability and scale will have the edge, he concluded.