Makers see promising recovery of export orders as the global economy is increasingly on the mend
By STEVE CHUANG

After a disappointing year in 2013 when Taiwanese machinery industry's overall exports dropped amid a sluggish global economy, most domestic extrusion machine manufacturers are generally seeing market demand recover this year, hence their more upbeat outlook.

According to the latest statistics released by Taiwan Association of Machinery Industry, the industry's overall exports for January-October 2013 totaled US$16.751 billion, diving 4.3% from US$17.495 billion during the same period of 2012. Of the total, exports of plastic and rubber processing machinery, including extruders, dropped 9.8% year-on-year to US$1.018 billion from US$1.129 billion and made up a 6.1% share as the second-largest product category.

In fact, slowdown in the plastic extrusion machine sector occurred during the third quarter of last year, a traditional high season, as insiders reported to CENS earlier that export orders received August-September had significantly shrunk for a couple of reasons, particularly global enterprises' lukewarm-to-gloomy view of economic prospects that forced them to slash investments in fixed assets. For 2013 the sector's overall exports have likely declined to some extent, perhaps not less than the above-mentioned drop for the January-October period.

Despite widespread downturn, some local suppliers of extrusion machine said they managed to stay buoyant last year, being increasingly optimistic about market outlook this year as the global economy is increasingly on the mend.

Jeng Chong
Among them is Jenn Chong Plastics Machinery Works Co., Ltd., whose general manager, Tony Wang, confirmed that the company is seeing promising recovery of export orders this year after scoring robust growth last year.

"With market demand recovering, our production capacity is booked throughout the middle of this year," said Wang in an interview with CENS in early March. "One notable thing is that our company's shipment volume in the first two months of this year was almost unchanged compared to a year ago, but shipment value significantly shot up mostly thanks to optimized product mix."

Wang indicated that Jenn Chong began by producing flat yarn making machines, plastic extruders and blown film extruders, and then tapped its know-how to expand into PP & PET strapping band extrusion machines, PP and HDPE monofilament extrusion machines to move up the segment of the global market to fend off underselling competitors from China.

Due to an optimized, broaden product mix, Wang proudly says, Jenn Chong could extend into other segments to keep growing throughout 2013, during which Taiwan's machinery industry remained depressed.

Wang mentioned that the strapping band extrusion line, dubbed JC-STP, has been the hottest seller so far this year, which is remarked for fully automated operation, high precision and high tensile strength of strapping bands. Additionally, Wang said, "The strapping band extrusion line also has high productivity, able to turn out 160 meters of band a minute, which few Taiwanese peers can match."



The JC-ST series PP & PET strapping band extrusion line is Jenn Chong's mainstay product among its product lineup.
R&D Establishes Distinct Profile
Certainly the current success of Jenn Chong, which has established a distinct profile in the middle-to-high-end segment of the market for extrusion machines, is underpinned by its steady efforts on R&D to keep pace with the ever-changing market.
To that end, Wang mentioned that nearly all R&D engineers, salespeople and operators and electricians are involved in R&D to improve performance, enabling the company to work out improved machines that meet market demand and suit customers' production lines.

The JC/MNP series PP/HDPE monofilament extrusion line from Jenn Chong
To make sure extruders truly address requirements from increasingly fussy end-users, Wang noted that the company, for instance, builds beefed-up servo motors and fully automatic control into machines to meet market trends toward energy-saving, high-performance machines that minimize waste output throughout production. For higher added-value, the company also tries new materials to change machine's exterior design.
The company's R&D capability has been continuously sharpened not just through feedback from customers, but also through long-term partnerships with foreign high-profile companies. Wang stated that his company has been developing machines that handle high transparency shrink film of PE, in cooperation with its upstream supplier, Dow Chemical, a globally known chemical company.
"Through R&D, Jenn Chong has gradually leveraged competitive advantages over underselling rivals. Additionally, we also ensure customers unparalleled flexibility in production to hold our lead in the line," said Wang. "With these efforts paying off, our company has successfully penetrated the Indian market by delivering monofilament extrusion machines last year, while gradually building solid ground in Central and South America and ex-USSR nations over the past few years." Presently, 30-40% of the company's machines are exported to Asia, mostly to Japan, and 20-25% to ex-USSR states.
This year will see Jenn Chong set up more overseas footholds to score stronger growth, according to Wang, who said: "Jenn Chong paid little attention to marketing and distribution in the past, and now, with proven R&D capability, looks to acquire the market share that we should have commanded before."
Leader Extrusion
Leader Extrusion Machinery Ind. Co., Ltd., the largest supplier of extruder of PC, ABS and PMMA sheets for baggage production by market share in Taiwan, is also seeing rising export orders this year, particularly in the first two months, after maintaining robust growth last year, according to the president Johnson Hsu.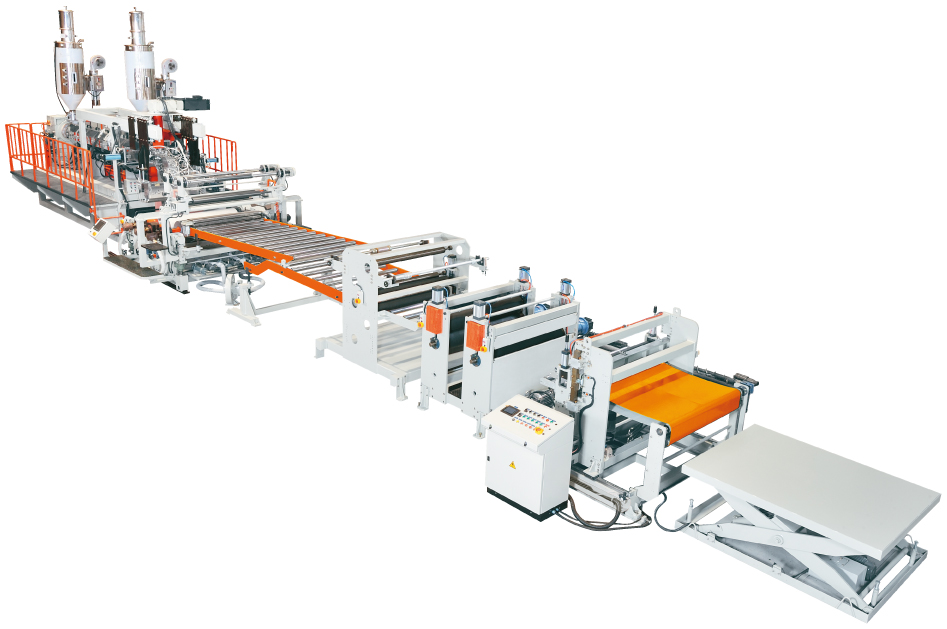 Leader Extrusion is Taiwan's largest supplier of extrusion lines for baggage production by market share.
"So far, we have seen a flood of orders from customers worldwide, especially from Japan despite the depreciating yen, and order visibility has extended to August," confirmed Hsu. "Among our machines, customers' demand for extruders to make building materials is particularly strong." In fact, the president said that such extruders have remained the company's hot-sellers since last year, and those destined to Central and South America particularly helped sustain growth as a result.
The company offers plastic extruders, extrusion machines, plastic machines, PP hollow profile extrusion machines, PC & ABS co-extrusion machines, optical sheet extrusion line, PMMA & PC sheet co-extrusion machines, A-PET & PET-G sheet co-extrusion lines, PP corrugated sheet extrusion machines, CPP film extrusion machines, PET film co-extrusion machines, TPU film co-extrusion machines, PET or PVC shrinkable film extrusion lines, etc. Hsu said that his company's machines are sought-after in the said markets due to better price-to-quality ratios than competing models from Europe and Japan.
"We are very optimistic about outlook this year, as the global economy recovers to drive market demand for extruders for building materials compared to the past years. To further boost growth momentum, we will take part in ChinaPlast 2014 in Shanghai and other machinery trade fairs in Japan and Brazil, while keeping exploring new markets worldwide," said Hsu.
Successful Product Diversification
Leader Extrusion is another Taiwanese machinery supplier who has evaded nagging downturn in the past two years, largely thanks to its successful product diversification strategy.
Hsu indicated that Leader Extrusion's current machinery category can be divided into three different groups, according to end-user segment, for building materials, optoelectronics and disposable food containers, with one category at least driving sales yearly.

The PLA/PET/PS/PVC Traverse Orientation Machine from Leader Extrusion
For instance, Hsu said, the company's growth in 2012 was attributable to strong shipment of optical sheet making machines for 3C (computer, communications and consumer electronic) device manufacturing. Worth mentioning is that Hsu's company is the only Taiwanese traditional machinery maker capable of supplying such higher-end machines, which are also comparable with large-sized competitors in Japan and Europe in quality and functionality.
Hsu stressed that in the recent two years it is apparent that extruders for making building materials and disposable food containers alternately propel his company's growth rather than optical sheet making machines, as the construction sector worldwide along with consumer spending in emerging countries surge while the Taiwanese optoelectronics industry wanes.
Hsu said that Leader Extrusion will keep focusing on developing new machines and problem-solving solutions to meet different customer requirements to weather and step up vertical and horizontal integration from talent incubation to manufacturing, quality control, technology R&D and customer services to better enhance operating efficiency.
Poly Machinery
Despite daunting rivalry from Chinese competitors, Poly Machinery Works Co., Ltd. still maintained "acceptable" growth last year, and aims to find more new customers to further drive sales this year, according to the president, Chang Jin-chiu.
"Over the past years, we have found soaring inquiries and orders from the Middle East and North Africa for extrusion lines for making disposable food containers and building materials, hence our roust shipment of EPS and EPE foam sheet extruders to sustain growth," said Chang.
Plus, Chang mentioned, orders for EPS foam net and EPE sheet making machines for packaging agricultural products from emerging countries have also increased rapidly. "This trend prompts us to help customers develop not just suitable machines but source necessary packaging materials, therefore strengthening our capability to upgrade into a solution provider," the president said.
Poly Machinery is versed particularly at developing XPS plank making machines.
Customization Services
To sustain growth, Chang said that his company will keep focusing on customizing existing mainstay machines to satisfy customers'  requirements.
One way to achieve such goal is to work with Japanese customers to enhance performance of its machines starting two years ago. For example, Chang said his company, by improving die heads in cooperation with  partners, has worked out several beefed-up foam sheet making machines that lay out sheets flatly, neatly without lumps and other defects, which are suitable for packaging electronic products.
"Additionally, we have also redesigned and developed fully automatic rewinders that feature easier thermo-control and higher stability, hence being sought-after by customers and enabling Poly Machinery to set itself apart from Asian competitors," said Chang. To better help customers keep competitive in the increasingly challenging market, the president said that his company provides various machine upgrading services and troubleshooting as part of its product customization strategy.
Founded in 1969 in Taipei, northern Taiwan, Poly Machinery has concentrated on designing and manufacturing EPS and EPE product manufacturing machines for over 40 years. Chang stated that his company is Taiwan's first developer of foam material and related machines.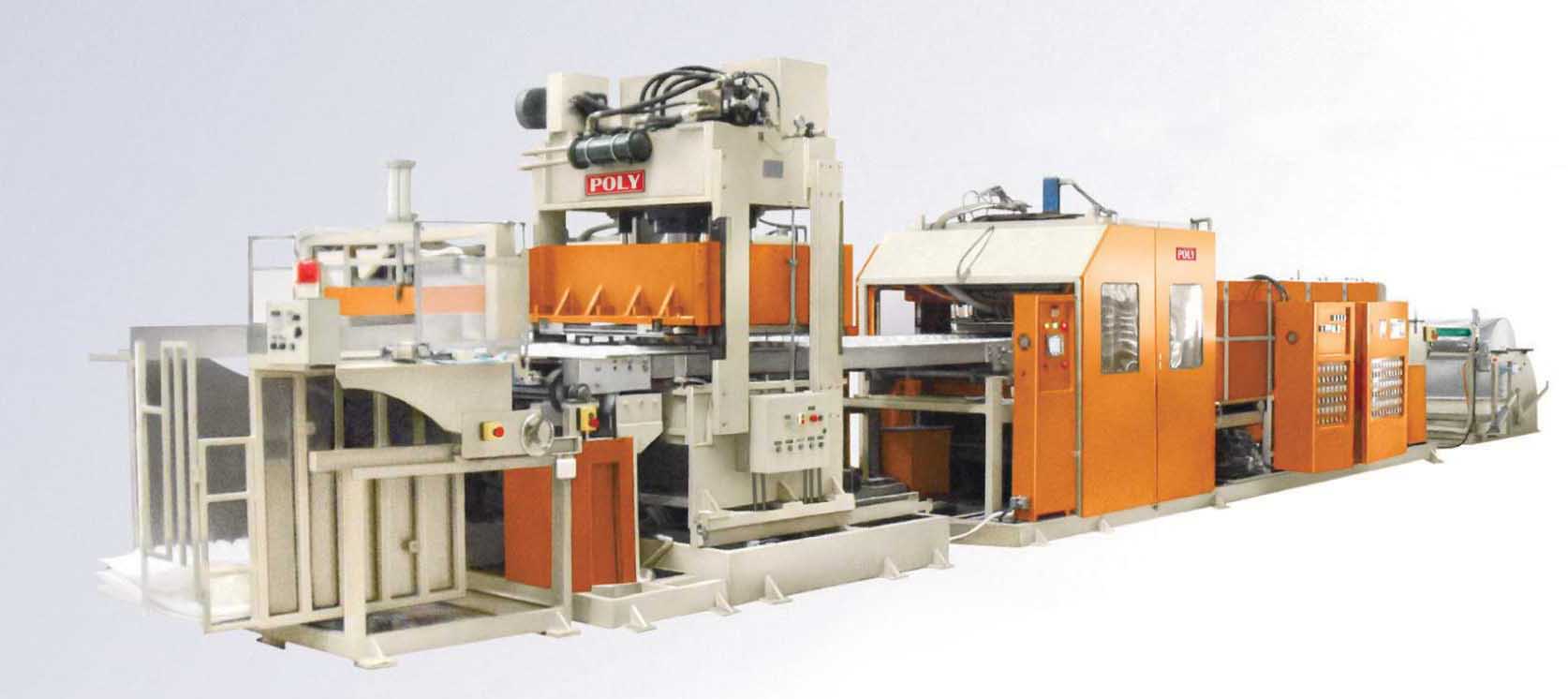 Poly Machinery's in-line die cutting forming machines is highlighted for completing a production cycle in 3.4 seconds.
The company offers a wide range of plastic extrusion machines, including EPS and LDPE sheet extrusion lines, EPE foam sheet extrusion lines, EPE tube and rod making machines, EPE foam net machines, EPS disposable container machines, laminating machines for food packaging materials, laminating machines for cement bags, heavy-duty laminators and other peripheral equipment, which are mostly  exported to Japan, Canada, the U.S., Australia, New Zealand, Poland, Ukraine, Russia, and countries in Middle East and Latin America.
Cumulative Exports of Taiwan's Machinery Industry During Jan.-Oct., 2013
Products

Jan.-Oct., 2013

Value for Jan.-Oct., 2012

Year-on-Year Growth Rate

Value

Contribution Rate

Machine Tools

US$2.937 Bn.

17.5%

US$3.596 Bn.

- 18.3%

Plastics & Rubber Machinery

US$1.018 Bn.

6.1%

US$1.129 Bn.

- 9.8%

Pumps, Compressors, Fans

US$1.007 Bn.

6.0%

US$996.620 M.

1.1%

Bearings, Gears, Ball Screws

US$999.307 M.

6.0%

US$1.029 Bn.

- 2.9%

Other Special Machinery

US$971.909 M.

5.8%

US$1.028 Bn.

- 5.5%

Valves & Parts

US$969.076 M.

5.8%

US$972.005 M.

- 0.3%

Paper Making, Printing Machinery

US$746.531 M.

4.5%

US$751.377 M.

- 0.6%

Parts & Components

US$656.362 M.

3.9%

US$733.331 M.

10.5%

Textile Machinery

US$498.157 M.

3.0%

US$473.670 M.

5.2%

Material Handing Equipment

US$453.250 M.

2.7%

US$439.051 M.

3.2%

Food & Packaging Machinery

US$432.963 M.

2.6%

US$413.212 M.

4.8%

Woodworking Machinery

US$421.755 M.

2.5%

US$417.143 M.

1.1%

Sewing Machines, Leather & Shoes Making Machines

US$415.355 M.

2.5%

US$396.521 M.

4.2%

Molds & Dies

US$408.414 M>
2.4%

US$421.501 M.

- 3.1%

Others

US$4.814 Bn.

28.7%

US$4.696 Bn.

2.5%

Total

US$16.751 Bn.

100.0%

US$17.495 Bn.

- 4.3%

Source: Taiwan Association of Machinery Industry