Manufacturers buck the doldrums affecting other sectors of Taiwan's machinery industry
By STEVE CHUANG

Although 2013 was a year of declining exports for most Taiwanese machinery suppliers, makers of packaging machines finished the year with robust growth.

The latest statistics published by the Taiwan Association of Machinery Industry show that exports of Taiwan-made food and other packaging machines amounted to US$432.963 million during the first 10 months of last year, up 4.8% from US$413.212 million during the same period of 2012 and second in export growth only to the textile machinery with an increase of 5.2%. Exports of machine tools and plastic and rubber processing machines, by contrast, plummeted 18.3% and 9.8%, respectively, year-on-year.

The packaging machinery sector's growth was achieved largely due to the constantly growing global population that sustains the worldwide consumer market and drives demand for food and packaging.

Insiders generally hold a more optimistic view of market prospects in 2014, and are mapping out different strategies to assure stronger growth this year, when global GDP growth is forecast by the International Momentary Fund to reach around 3.7%--up from an estimate of 2.9% a year ago.

Tru-Brite Machinery
To secure brisker growth, Tru-Brite Machinery Co., Ltd., a specialist in aluminum foil and cling film rewinders, is placing its bets on heavier promotion of an integrated packaging line composed of the company's cutting-edge Six-shaft Automatic Aluminum Foil and Cling Film Rewinder coupled with an Automatic Shrinking Film Packaging Machine, according to the firm's owner, Y.S. Wu.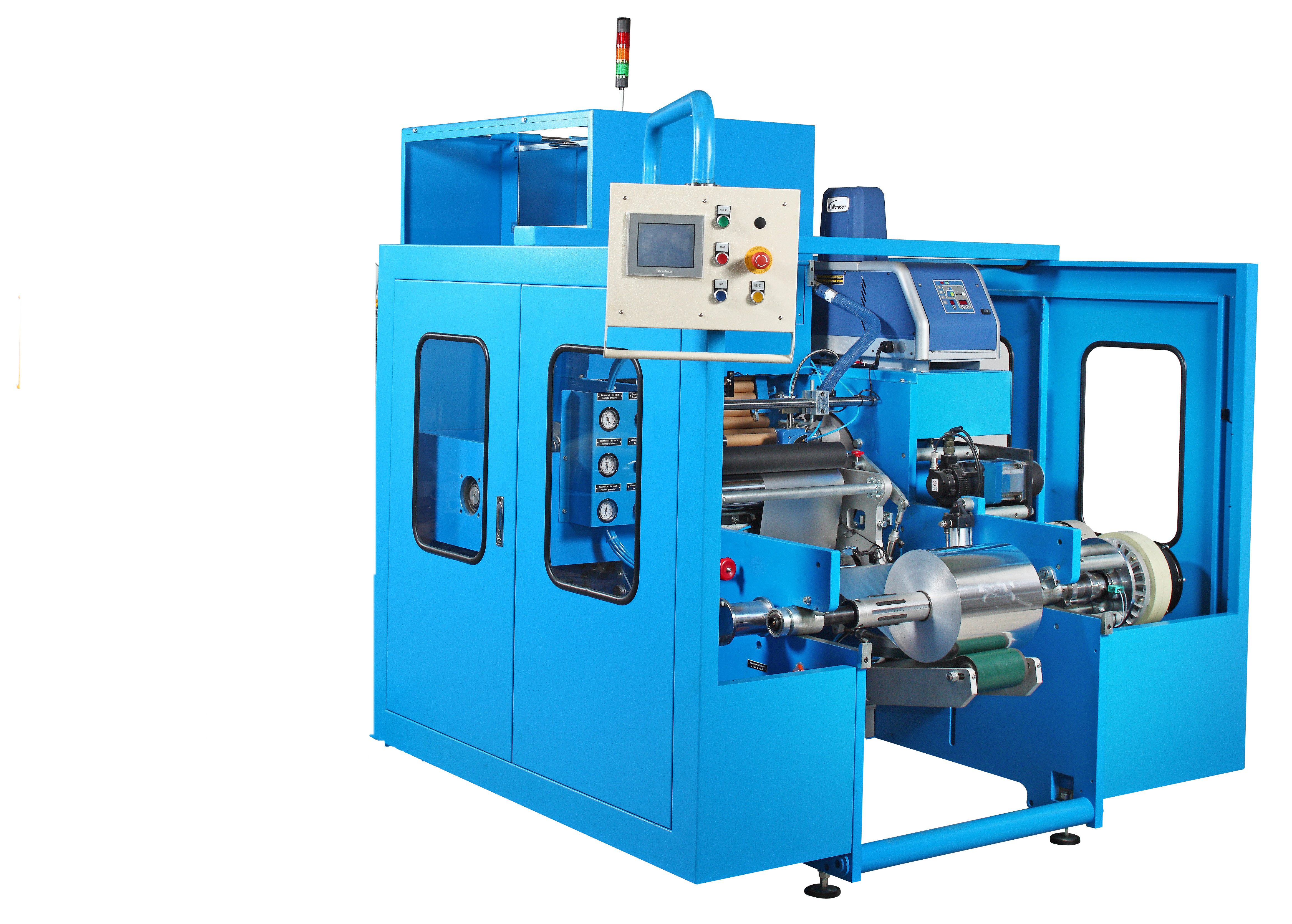 Tru-Bright's AH-6S six-shaft auto-aluminum foil/cling-film rewider
This packaging line is one of the fruits of the company's strong R&D capability. Wu explained that at the front end of the packaging line, which also incorporates Nordosn's hot melt module, an improved labeling system, and a hot-air system, is the AH-6S automatic rewinding machine, while at the back end there is the fully automatic packaging machine, coded TPG50.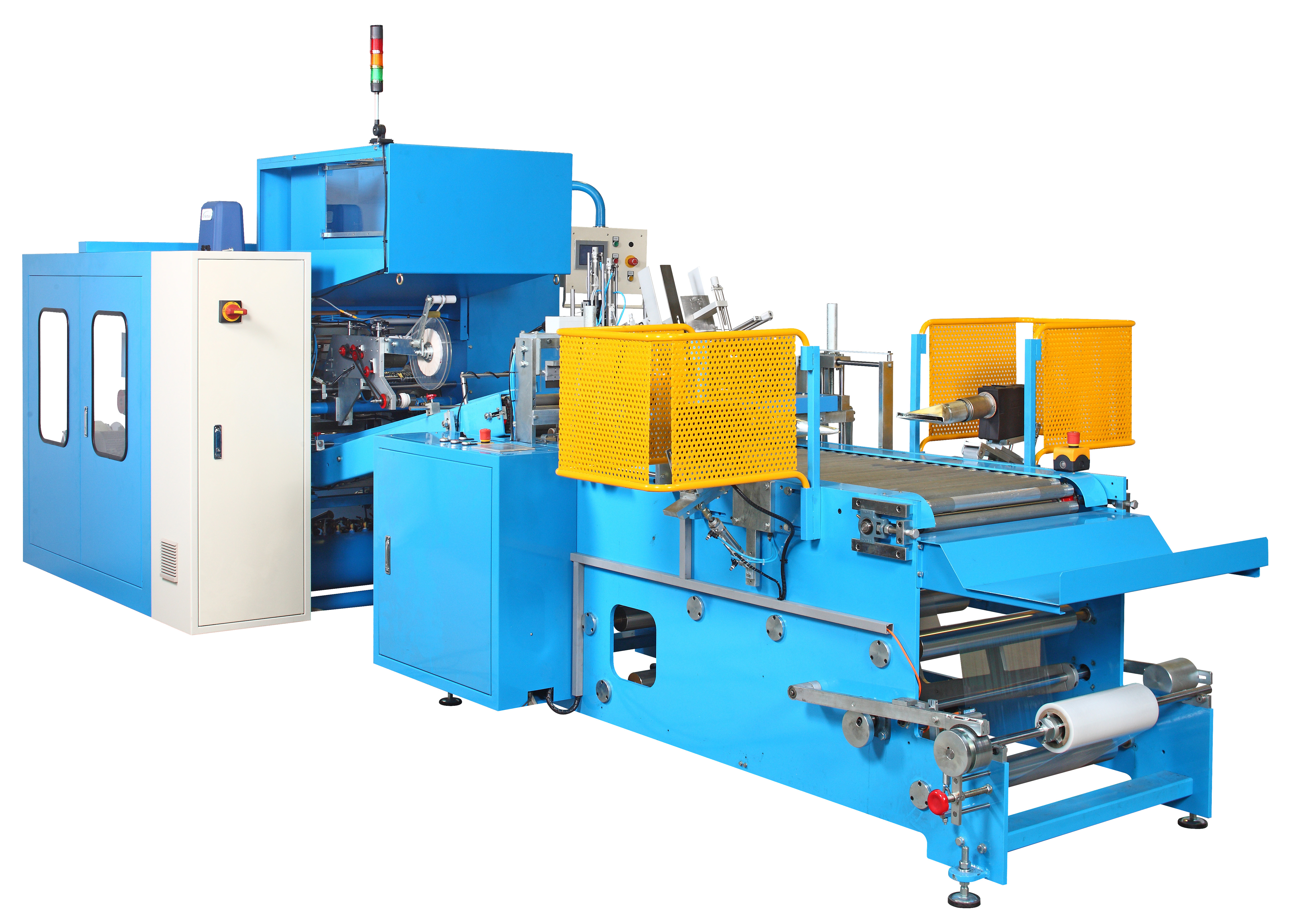 The TPG 50 automatic shrink film packaging machine is expected to serve as Tru-Bright's growth drive this year.
"This packaging line can turn out 20 rolls of 10-meter aluminum foil and PE or PVC film a minute, and glue or tape the rolls without turning off, with the tolerance for foil and film length minimized to just plus and minus 10mm," explained Wu. "This effectively enhances the productivity of this line to ensure customers considerable savings and profits." The owner revealed that his company is trying to further boost the line's functionality by adding an automatic box packaging machine, and will soon start promoting it at professional trade fairs worldwide as its ace in the hole for this year.
Wu stressed that "The features that Tru-Brite's machines have in common are excellent functionality and great stability that can boost end-users' profitability. At present, we are the only manufacturer of 6-axle automatic rewinders in Taiwan, so we are known by professional users worldwide."
A Proven Supplier
With a focus on continuous R&D and customer satisfactions, Tru-Brite Machinery, which was founded in 1998 in New Taipei City, northern Taiwan, has evolved into a proven supplier of rewinders and aluminum foil and plastic film packaging machines in the short space of 15 years.
The company supplies a wide-ranging lineup of rewinding machines, including automatic cling film rewinders, automatic aluminum foil rewinders, semi-automatic cling film slitting rewinders, and semi-automatic aluminum foil and cling film rewinders, which are able to handle aluminum foil and plastic film from 3mm to 250mm in width. The firm exports 95% of its machines all over the world, mostly to the Middle East, Southeast Asia, and Africa.
"In fact," Wu recalled, "we started up by making lamination machines, and then were inspired by our customers to focus on developing and making rewinders for both aluminum foil and plastic film mainly for cooking and food preservation. Despite having only a few Taiwanese players in the competitive landscape, we still keep working hard to work out high-productivity models that can match those from Italy in quality and performance."
Wu went on to say that his company has gradually shifted its R&D emphasis to the development of complete packaging lines, as well as individual units that handle eco-friendly materials. This is the strategy that will power Tru-Brite's next phase of growth.
Benison
Understanding that marketing and promotion are key for Taiwanese suppliers competing in the global market, Benison & Co., established in 1962 in Taoyuan County, northern Taiwan, intends to continue following its unique marketing strategy with the aim of achieving banner growth this year.
Benker Liao, Benison's general manager, reported that "Our company scored a 30% growth in 2013, when all of our three overseas factories, in China, the Philippines, and Thailand, generated profits. In Europe, Greece was the market where we achieved the best sales last year, despite the financial reconstruction and fiscal reforms there."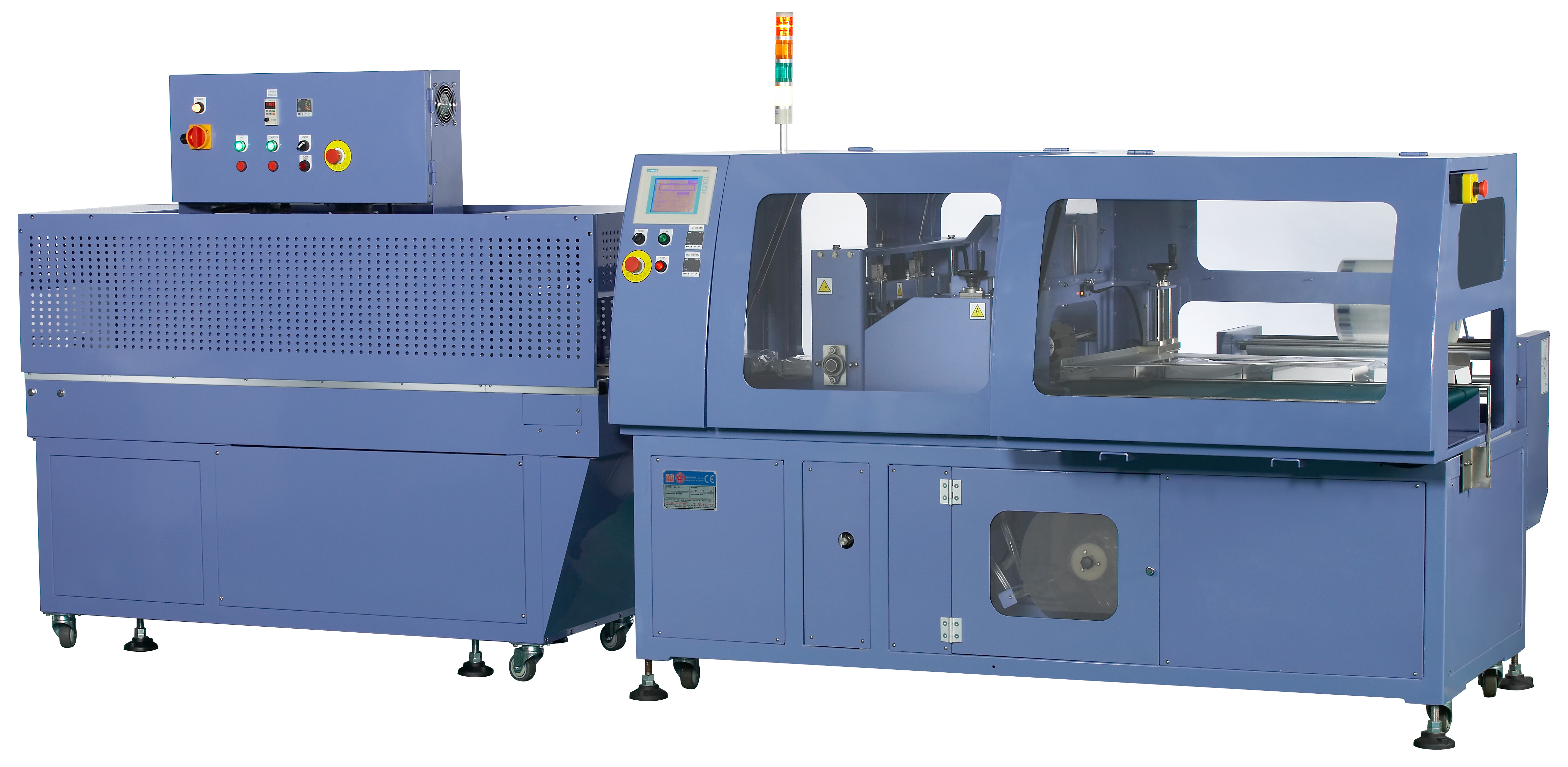 The auto Side-seal wrapping machine has been Benison's hot-seller among others since 2013.
Liao attributed this performance mainly to the company's devotion to maintaining high-quality partnerships with foreign agents. He emphasized that for decades his company has constantly promoted different machine models in different markets in accordance with local social and cultural characteristics so as to help local customers ensure the highest possible profits. The company is also committed to providing clients with "heart-touching services" in an effort to build a distinct image as a trustworthy, irreplaceable supplier.
"I religiously believe that demand for packaging is eternal, no matter how good or bad the economy is, and that to survive and grow sustainably in the marketplace depends on the development of special core competencies," said Liao.
While insisting on diverse marketing and continuous improvement of its products, Benison has also put priority on developing eco-friendly, lightweight packaging materials in recent years. One striking result of this emphasis is the white PETG (Polyethylene Terephthalate) shrinking sleeves unveiled at a technology exchange conference held by the company last August in Taichung, central Taiwan.
Liao said that the material features high opacity, eco-friendliness, a special sense of touch for enhancing the packaged products' added-value, and exceptional shrinkage. "In the modern times when packaging is increasingly required to be harmless to the environment," he stated, "we have developed several green, value-added packaging materials to help the local packaging industry ride this trend."
A Leader in Shrinking Packaging 
Benison originally produced spray hoses, shrinking tubes, and wiggery before venturing into shrinkable packaging materials and machines in 1975. Following decades of development in the field, today the company employs more than 200 workers in four plants in Taiwan and 100 more in three overseas factories, making it one of the largest suppliers in the line. Furthermore, the ISO-9001-certificated company won the 5th Rising Star Award presented by Taiwan's Ministry of Economic Affairs (MOEA). The award honors top-notch small and medium-sized enterprises which are competitive in export and innovation.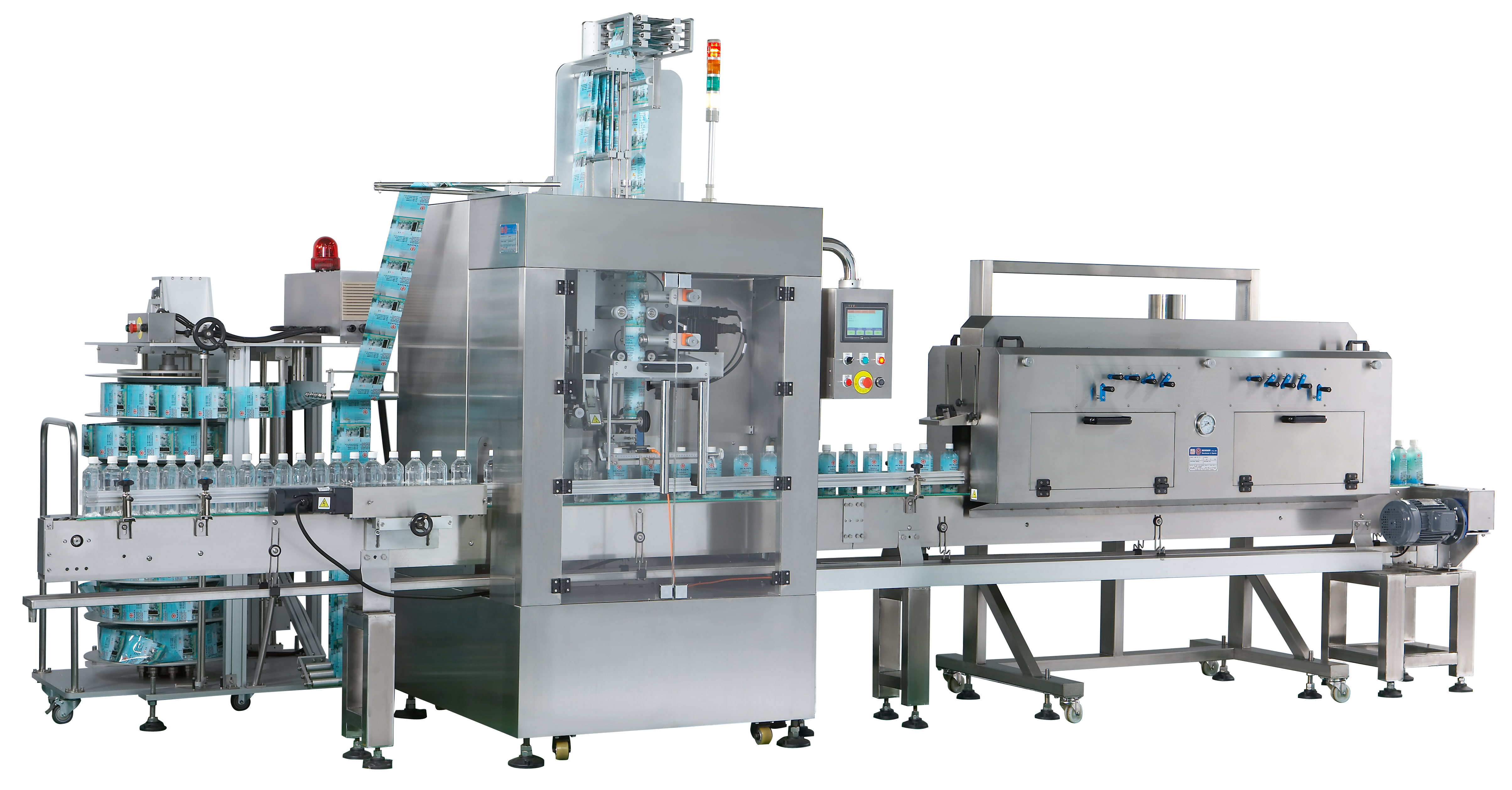 Benison's super hi-speed label/tamper-evident sleeving machine features unparalleled performance.
Its product line covers a broad range of packaging materials such as polyolefin, OPP, PE, PVC, heat shrinkable labels, cap seals, and insulating tubes, along with packaging and labeling machines like sealing machines, and customized packaging lines.
Liao concluded by saying that in addition to R&D, marketing is key to success for Taiwanese suppliers. "It's just like in the auto industry," he explained, "where Nissan has more excellent engine technology than Toyota, but the latter is now world's largest car vendor mainly because of its better marketing." To underline its leading status among Taiwanese peers, the general manager said, his company will continue its manning of a large booth at this year's Interpack in Düsseldorf, Germany, on May 8-14.
Gold Great Good
Gold Great Good Machinery Co.'s expanded manufacturing base, spread over nearly 5,000 square meters in Taoyuan, northern Taiwan, is expected to drive growth for the company this year.
According to company executives, their expansion of the manufacturing base was completed in 2013 and incorporates state-of-the-art information technology-based management systems for warehousing, production planning, and delivery, which not only enhances operating efficiency and output but also generates added value for customers. There is also an R&D center, which provides the company a strong basis of developing more competitive packaging and labeling machines.
Enhanced transparency of production in the base, Gold Great Good noted, is expected to give foreign visitors and buyers a better impression of how the company's efforts have paid off in the continuous improvement of quality and production efficiency.
A Labeling Machine Expert
A professional supplier of labeling machines founded in 1993 in Taoyuan County, the company has built up a solid reputation for providing a full range of the best-quality after-sales services, claimed L.H. Tsai, the firm's general manager. The firm's current product line includes servo-labeling machines, front and back labeling machines, eco-friendly labeling (OPP roll-reed labeling) machines, labeling machines for thermal-film bottle packaging, auto shrinkable label inserting machines, multifunctional two-sided labeling machines, and round bottle labeling machines.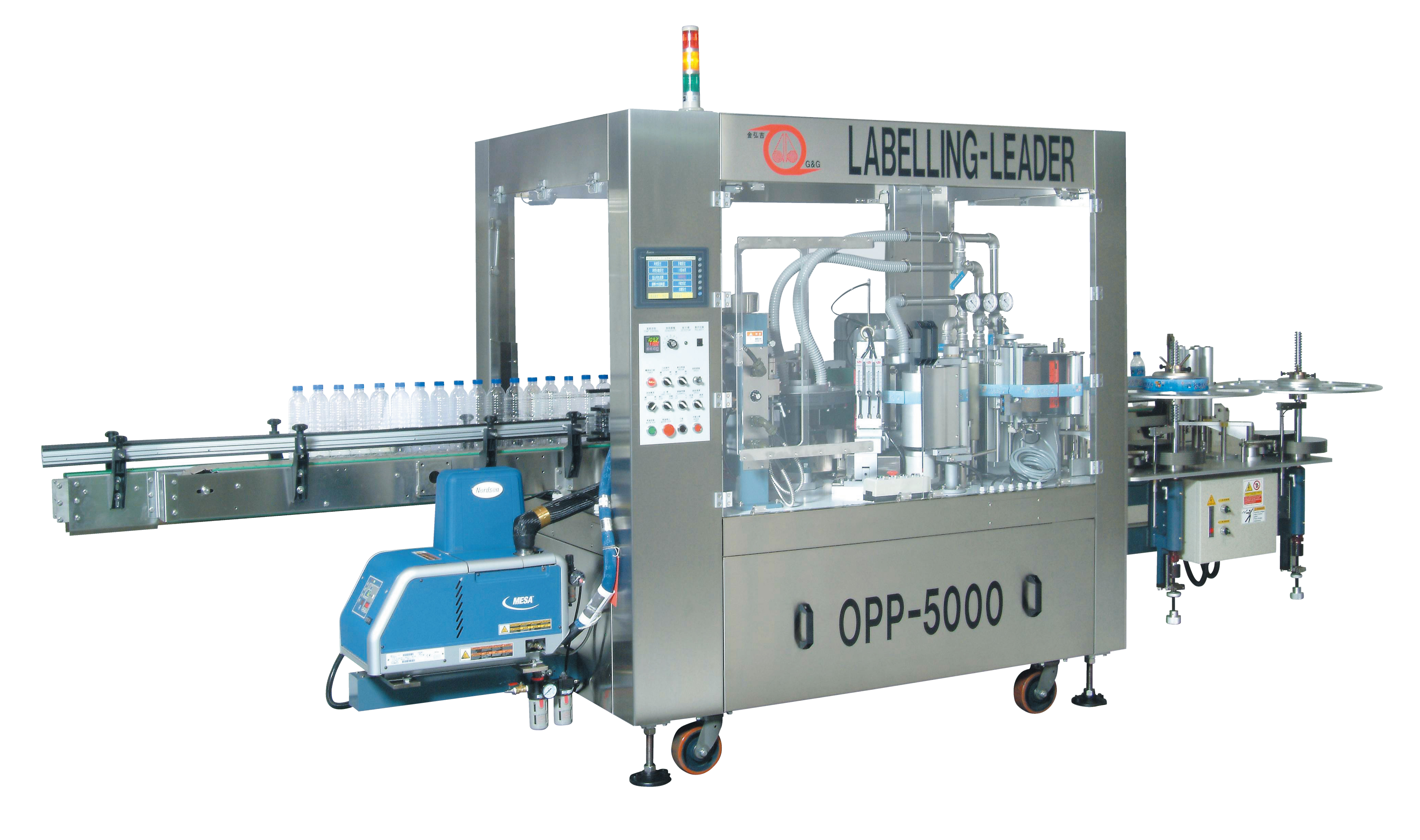 Gold Great Good's MD-5000-OPP automatic high-speed OPP labeling machine for round bottles features labeling speed of 60-800 bottles per minute.
Tsai pointed out that to achieve exceptional quality and boost competitiveness, the company's R&D department is dedicated to the development of new labeling technology and spends considerably on innovation. The new optional 24-hour operation of its automatic labeling machine is a product of these efforts, improving production efficiency by over 98%.
The company's automatic high-speed OPP/BOPP/Paper hot melt glue labeling machine series is particularly noted for high performance. These machines all feature 360-degree labeling and can turn out 800-1,000 glass, plastic, and PET containers under 3,000 c.c. per minute, using label materials including OPP, BOPP, and paper. The machines also features the use of an improved human-machine interface and next-generation PLC system with a self-diagnosis function, allowing easier operation, higher precision, and better labeling quality.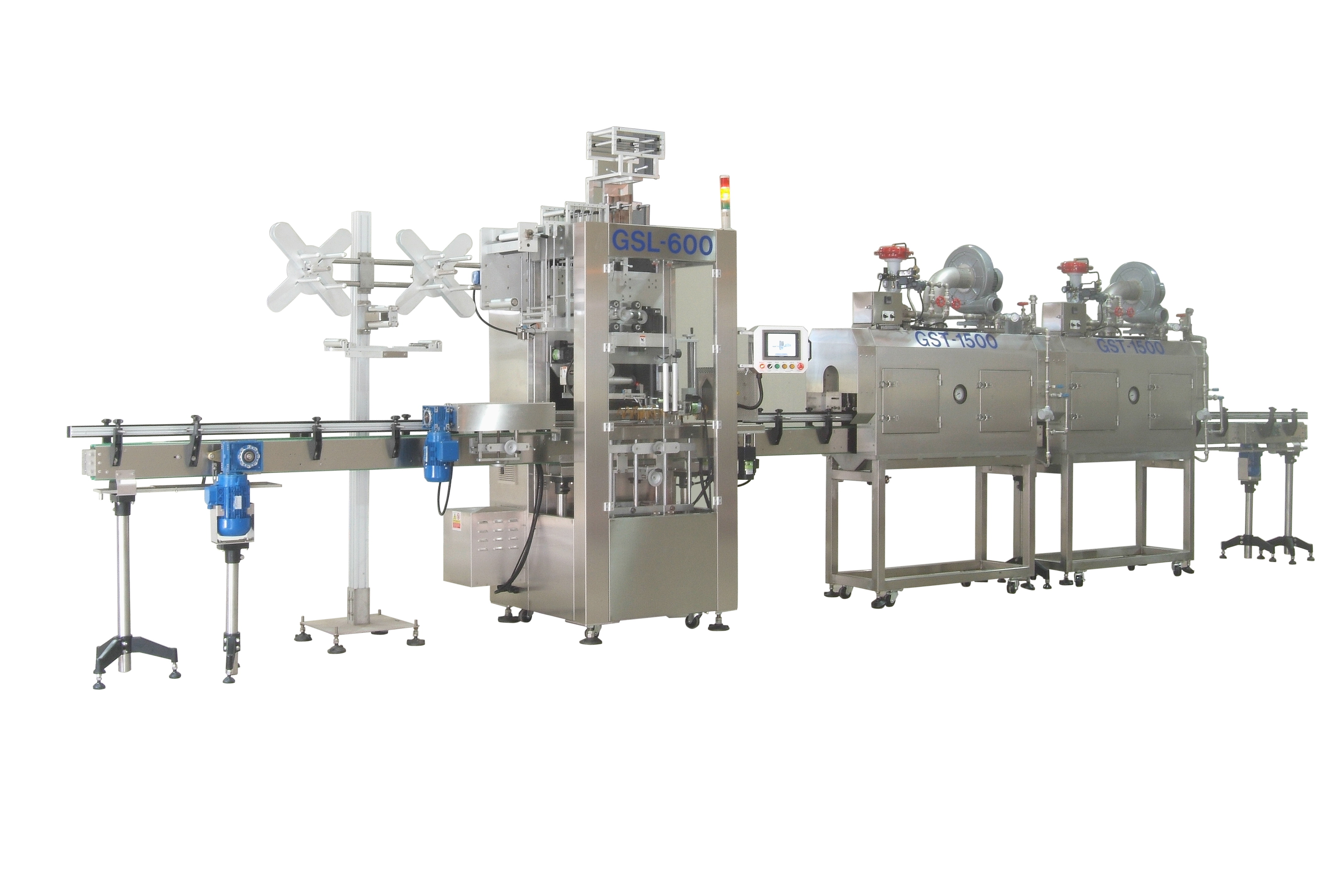 The GSL auto shrinkable label inserting machine is applicable to cylindrical and square bottles from 25-155mm in diameter.
A number of famous companies such as Coca Cola, Pepsi, P&G, Unilever, Quaker, Uni-President, and Kinmen Kaoliang Liquor, a state-owned liquor brewing company in Taiwan, are on Gold Great Good's customer list, while nearly 99% of all bottled mineral water sold on the island is labeled by the company's machines.
Backed by well-honed R&D capability and a time-tested reputation, Tsai said, his company will step up the development of overseas markets from China and the Middle East to North and Latin America and Europe, and will strive to have its machines pass CE, UL, and CSA standards with the aim of increasing its export-to-output ratio to 60% in the near future.