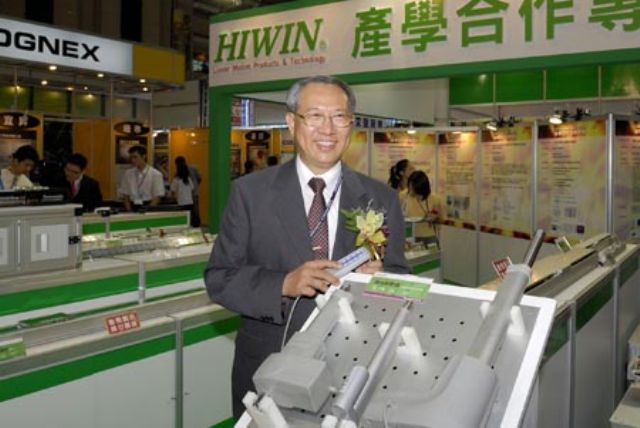 Hiwin Chairman and CEO Eric Chuo. (photo courtesy of Hiwin)
Hiwin Technologies Corp., a Taiwan-based maker of key components for precision machinery, targets consolidated revenue up to US$1 billion for this year with its subsidiaries. Company chairman and chief executive officer (CEO), Eric Chuo, is confident of achieving the goal for several advantageous developments in the automation market.
He feels that the aircraft-building industry will continue prospering for around four or five years, China's markets for intelligent automation equipment and semiconductor equipment are looking up, and the company's industrial robots are entering into volume production.
Chuo points out that China's economy has yet to pick up, but its automation, environmental-protection, high-speed railway, and subway projects are under way. In addition, China's  precision-machinery, intelligent-automation, semiconductor, and machine-tool industries are looking up.
The company's industrial-robot unit has begun taking orders for articulated robotic arms, horizontally moving robotic arms, silicon-wafer handling robots, and robotic arms for LED production. Chuo estimates the company's robotic-arms shipments to surge to 100 units per month beginning this July from five currently.
In the first two months this year, Hiwin and its subsidiary, Hiwin Mikrosystem Corp., had consolidated revenue of NT$1.9 billion (US$64.3 million), surging 24.72% year on year, with total consolidated revenue of NT$15 billion (US$500 million) last year.
Industry executives estimate the company's consolidated earnings for last year at NT$7-8 per share. Also, they believe the company's global investments to help achieve the 2014 goal. The company will begin to construct a  factory on a 26,400-square-meter site in Offenburg, Germany, in May this year and spend RMB300 million (US$49.1 million) to construct a factory in July or August in Suzhou, China.
This year, the company plans to acquire half of a Brazilian agent and approach a Japanese partner over an acquisition.
In central Taiwan, the company is accelerating the construction of a factory on 19,800 square meters or so near its headquarters at the Taichung Precision Machinery Innovation Technology Park.  (KL)