With Taiwan's machinery industry gradually recovering from last year's slump, CENS (the China Economic News Service) will boost its participation in ChinaPlas 2014 (the 28th International Exhibition on Plastics and Rubber Industries) by circulating a larger number of its industrial magazines and buyer guides in an attempt to connect more Taiwanese suppliers with global buyers.

ChinaPlas 2014, which will run April 23-26 at the Shanghai New International Expo, is touted as the second-largest trade fair in the world (and the biggest in Asia) for plastics and rubber and related machinery, after only K Fair, a triennial exhibition held in Düsseldorf, Germany.

Over nearly three decades of development the exhibition has built up a high global profile among industry professionals. It is approved by the Global Association of the Exhibition Industry (UFI) and endorsed by EUROMAP (European Committee of Machinery Manufacturers for the Plastics & Rubber Industries) as the only expo of its kind in China.

Last year the show, held in Guangzhou, southern China, and spread over 220,000 square meters of space, drew 2,969 exhibitors from 39 different countries and over 114,000 visitors and professional buyers from all over the world. These figures were all up from the 2012 edition, underscoring the show's increasing influence over its targeted industries.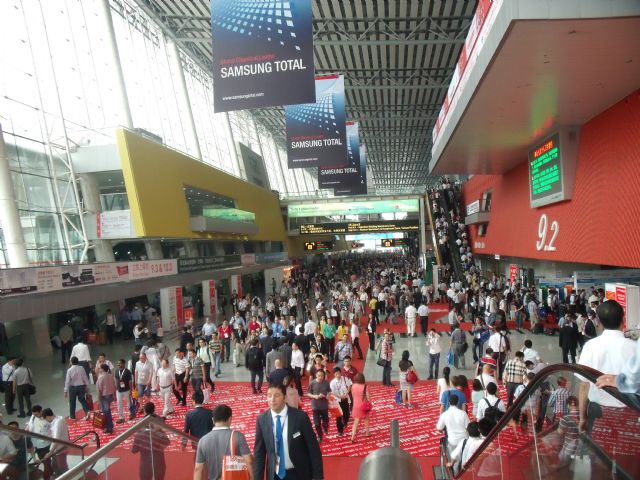 ChinaPlas 2013 in Guangzhou drew over 114,000 visitors and buyers worldwide.
With the brightening global economic outlook reviving corporate investment in fixed assets, ChinaPlas 2014 is expected to draw over 3,000 exhibitors and attract some 120,000 visitors during its four-day run, according to the organizer, Adsale Exhibition Services Ltd. of China.
More than 3,200 sets of machinery will be displayed in 14 national pavilions organized by Austria, Canada, France, Germany, Hong Kong, Italy, Japan, Korea, Switzerland, Turkey, the UK, the USA, China, and Taiwan.
Additionally, this year's ChinaPlas will feature patronage by global enterprises such as L'Oreal, Nike, New Balance, Toyota, BMW, Dongfeng Nissan, Geely, Lenovo, Foxconn, Samsung, TCL, Midea, Hitachi, Coca-Cola, Wahaha, Danone, and Mattel.
The show will have not just a high turnout that affords great business opportunities, but also good organization that allows easier sourcing achieved by a systematic layout of exhibits from raw materials to related machines, molds and dies, and technologies in 11 exhibition zones: Auxiliary & Testing Equipment, Chemicals & Raw Materials, Dies and Molds, Extrusion Machinery, Injection Molding Machinery, Film Technology, Semi-finished Products, Plastics Packaging & Blow Molding Machinery, Rubber Machinery & Equipment, Bioplastics, and Chinese Export Machinery & Materials.
Concurrent Events Echo Show Theme 
The growing concern over environmental protection has set the tone for ChinaPlas 2014, as the show will feature various concomitant events, including "The City of Tomorrow" and "Green Conference," that echo its theme of "Greenovation – Solution to Sustainability."
The City of Tomorrow is an outdoor exhibition area located in the Central Square of the Shanghai New International Expo Centre. It focuses on exhibits featuring key aspects of the manufacturing cycle, namely Green & Alternative Raw Materials, Energy-efficient Machinery, Green Solutions for Customers & Products, and Recycling. This venue will allow visitors to personally interact with the exhibits while exploring the latest green technologies and trends in the plastics and rubber industries in a fun-filled atmosphere.
Green Conference is a half-day event covering hot topics encompassing green molding, 3D printing, plastics recycling, and solutions for end-of-life plastic wastes. Eminent speakers from Austria, China, Germany, Italy, Japan, the U.S., and Taiwan will share their invaluable experiences and insights.
Moreover, to assist global enterprises interested in accessing the ASEAN market, the organizer will hold the "Key to Open Up ASEAN Market" on 26 April, a seminar designed to provide useful information on the business environment, investment, and challenges and opportunities in entering the markets in ASEAN member countries. Representatives of the ASEAN Federation of Plastics Industries and overseas experts will be on hand to share their experiences at the seminar.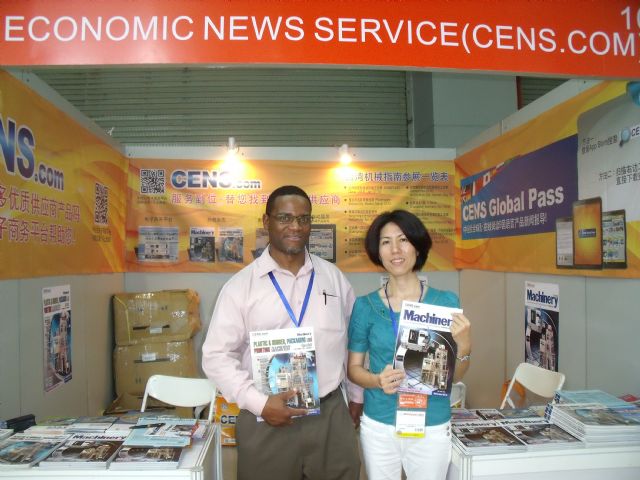 CENS publications proved popular with foreign buyers at ChinaPlas 2013.
Amid growing optimism among Taiwanese machinery suppliers about this year's economic and market prospects, CENS will occupy booth E6R61 in Hall E6, where it will offer useful buyer guides, including
Taiwan Machinery
and
Taiwan Plastic & Rubber, Package and Printing Machinery Special,
along with real-time business matchmaking services to professional buyers in need of high-performance plastic and rubber machinery from Taiwan.
Drawing on more than 40 years of experience in promoting Taiwan's exports worldwide, CENS, the island's best-known export media firm, aims to help materialize more business opportunities between Taiwanese suppliers and international buyers at Asia's largest trade fair for the plastic and rubber industries. (SC)